Pacific Northwest heat wave to break records, worsen Canada wildfires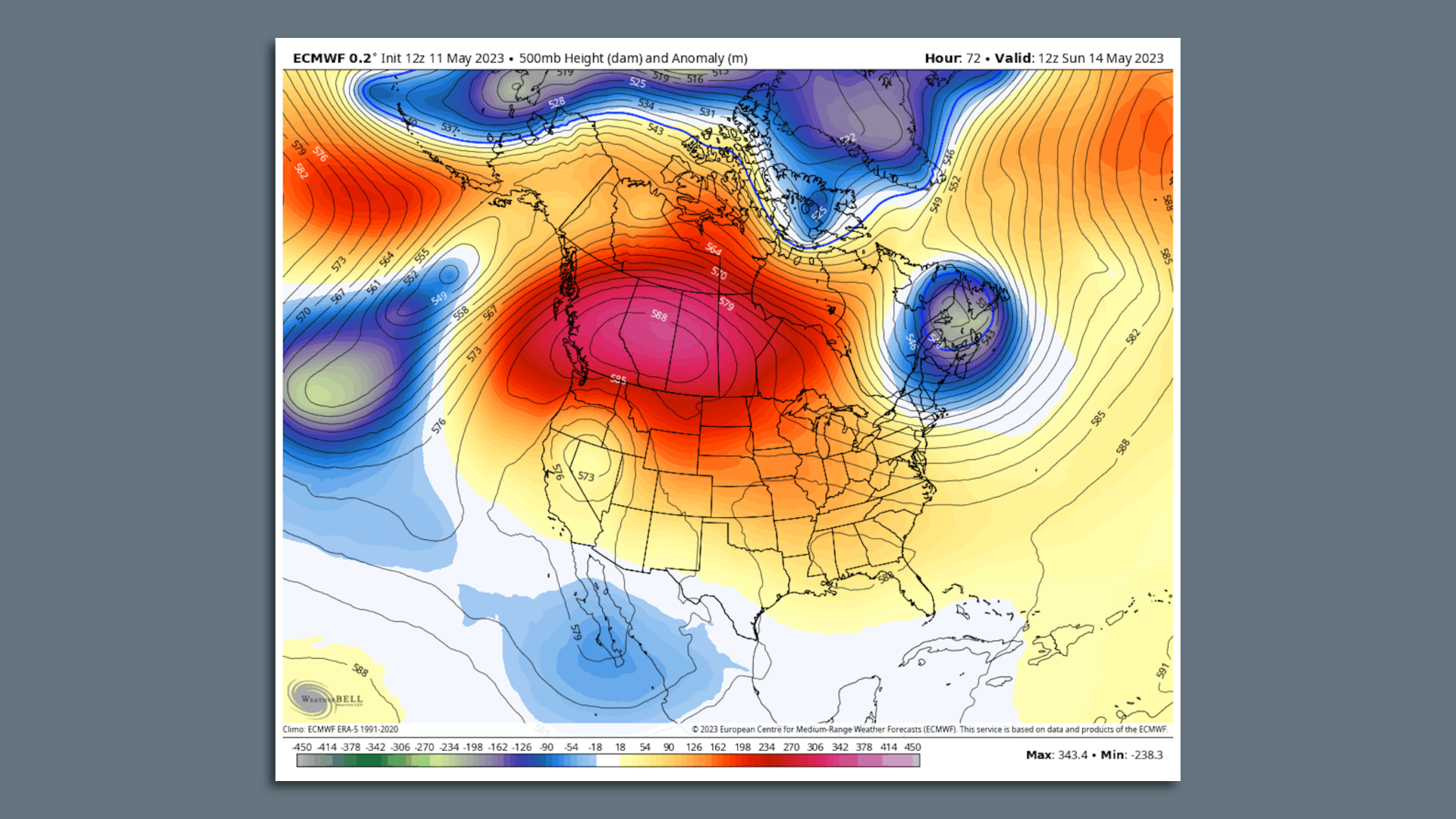 An intense early season heat wave will strike the Pacific Northwest starting Friday, breaking records for several days from Oregon to Alberta. Both Seattle and Portland, Ore., may see their first 90-degree days of 2023
The big picture: The heat wave may last well into next week and pose a danger to public health, the National Weather Service (NWS) warned.
Excessive heat watches are in effect from coastal Washington southward to coastal Oregon, including the Seattle metro area and Portland.
Some areas of Oregon and Washington could see daytime highs reach 95°F, while overnight lows remain elevated at about 65°F, the NWS' Seattle forecast office warned. "Preparation for abnormally warm conditions is strongly advised," the NWS stated in an online forecast discussion.
Seattle's average high temperature at this time of year is in the mid-60s, with a low in the mid-to-upper 40s.
Canada heat and wildfire threat
Zoom in: The heat wave will be courtesy of a large and strong area of high pressure centered over southwest Canada starting this weekend and continuing next week.
This weather feature will act like a stop light in the atmosphere, rerouting other weather systems around it, and setting up a large area of sinking, warming air.
The High pressure area itself will be historically strong for this time of year, comparable to another event in the same region in 2010. This helps to signal the anomalous nature of this event.
Computer model projections are showing the heat wave will bring parts of British Columbia and Alberta high temperatures that reach at least 30°F above average for this time of year. The heat will likely extend into parts of the Yukon as well.
Zoom in: The heat wave comes at a risky time for Alberta, as firefighters try to control dozens of large wildfires that erupted earlier this month during an earlier extreme heat event.
The fire situation has been severe enough for Alberta's officials to declare a provincial state of emergency, as about 29,000 people were forced to evacuate.
More fire starts, along with tougher firefighting conditions, are likely starting this weekend.
In addition, new fires may start, given the drying conditions and potential for dry lightning strikes.
The wildfires are affecting the U.S., too, with smoke creating milky skies across parts of the Great Lakes, Northeast and Mid-Atlantic, along with fiery red sunrises.
Context: Climate change is causing heat waves in the U.S. and around the world to be more intense, longer-lasting and more frequent.
Yes, but: Though significant and potentially deadly, this heat wave will not come close to the historic temperatures seen during the Pacific Northwest's 2021 extreme heat event.
Go deeper