First buses carrying migrants from NYC arrive in New York suburb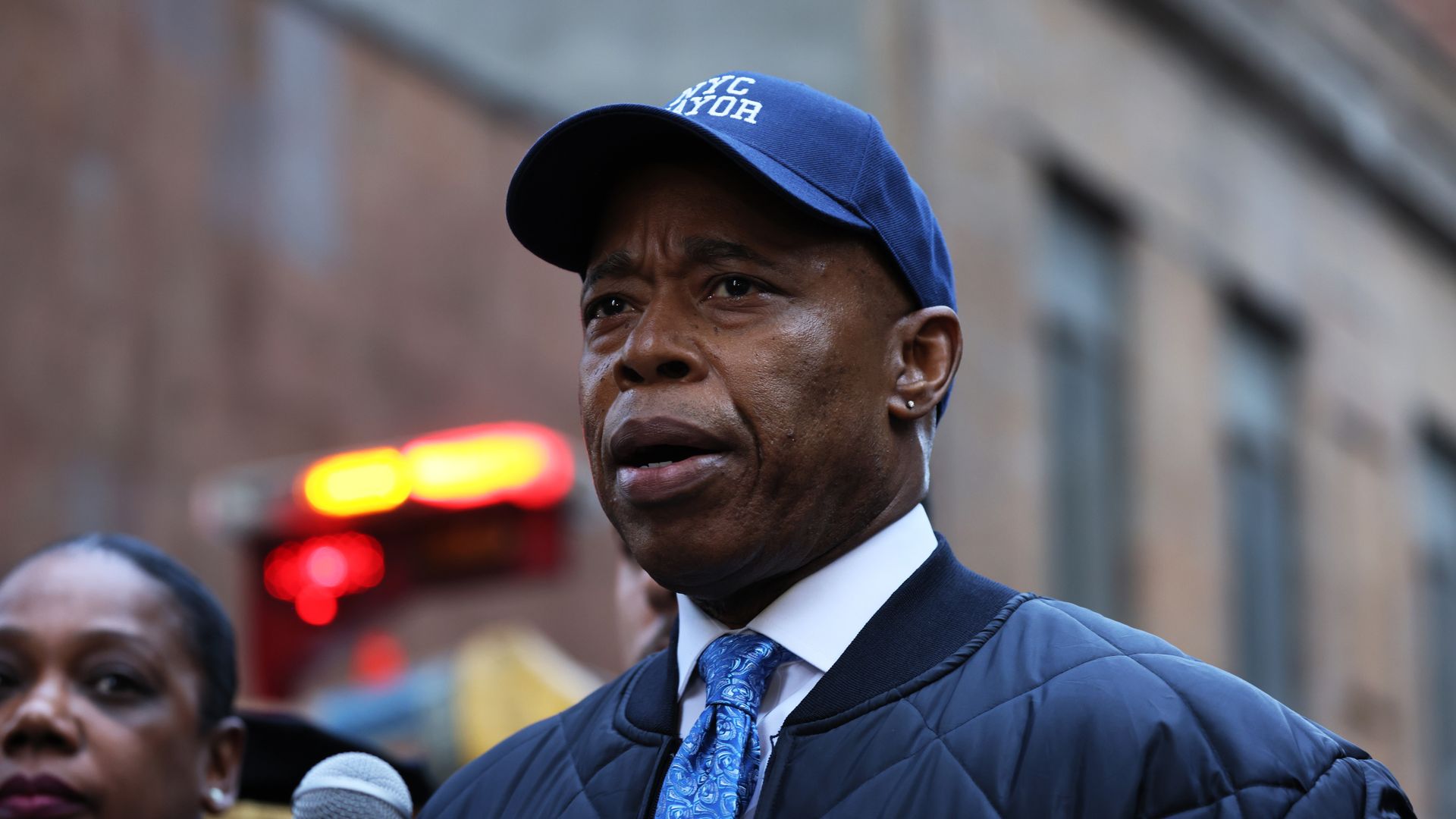 Buses carrying migrants from New York City arrived in a nearby suburb on Thursday, marking the start of a new effort by NYC Mayor Eric Adams to send migrant families elsewhere ahead of an expected influx of new arrivals.
Why it matters: The decision comes as Title 42 is set to expire Thursday. The pandemic-era public health policy permitted authorities to rapidly expel migrants at the U.S.-Mexico border without allowing them to seek asylum.
Officials expect that as many as 1,000 people per day will arrive in New York City when the federal policy ends, the New York Times reported.
Driving the news: Adams announced last Friday that the city would send migrants to hotels in New York's Orange and Rockland counties, where they could receive shelter for up to four months, to reduce the strain on city shelters.
Adams' office confirmed to Axios that a bus carrying about two dozen migrants from New York City had arrived in Orange County on Thursday.
Buses carrying migrants out of the city arrived in Newburgh, New York on Thursday, CBS News New York reported.
Orange County Executive Steve Neuhaus said in a statement Thursday that the county was assured on Wednesday that no buses would be arriving imminently.
"The process has been a disorganized disaster and the blame lies with the Mayor of New York, who originally opened the door for as many undocumented immigrants as possible to his self-proclaimed sanctuary city, and the Governor," Neuhaus stated.
State of play: New York City Mayor Eric Adams (D) signed an executive order on Wednesday suspending parts of the city's longstanding right-to-shelter rules.
The executive order suspends a rule requiring New York to secure a bed for those seeking shelter within a set time frame.
The rule had guaranteed that families with children seeking shelter by 10 pm would be placed in a shelter that night, per NBC New York.
Adams' order also suspends a rule that families be housed in private dwellings with bathrooms and kitchens, and not group settings.
It also loosens protections against eviction for those who have been in shelters for 30 or more days.
What they're saying: The Legal Aid Society and Coalition for the Homeless issued a joint statement Wednesday condemning the executive order and noting that "Mayor Adams is heading down a dangerous road."
The changes could "force families with children to languish at the City's intake facility for extended periods of time, potentially days on end, prolonging suffering that no human being should experience."
The organizations added they are currently considering ways to respond, including litigation.
Adrienne Adams, the New York City Council speaker, called the mayor's executive order "confounding" at a Thursday press conference, noting that right-to-shelter rules are critical to ensuring the safety of children, families, and individuals seeking shelter.
The ACLU of New York announced Thursday that it had filed a lawsuit against New York's Orange and Rockland counties for using emergency orders to prevent migrants from being housed in hotel rooms.
"Migrants have every right to travel and reside anywhere in New York, free of xenophobic harassment and discrimination," Amy Belsher, Director of Immigrants' Rights Litigation at the NYCLU, said in a statement.
Zoom out: Adams has criticized Texas Gov. Greg Abbott (R) for "deciding to play politics with people's lives" by sending migrants to Democratic-run cities like New York City, Los Angeles, Chicago, Denver and Washington, D.C.
Abbott's office, in turn, has accused Adams of "spreading falsehoods" about the migrant arrivals, saying migrants had willingly chosen to go to New York.
Adams said last month that New York City was "being destroyed by the migrant crisis."
Worth noting: Texas sent another round of migrant buses to Vice President Kamala Harris' Washington, D.C. home this week, with one bus arriving Wednesday night and another Thursday morning, an Abbott spokesperson confirmed to Axios.
Go deeper: The end of Title 42 at the U.S.-Mexico border
Editor's note: This story was updated with additional reporting and context.
Go deeper