Path to a debt-ceiling deal: Fail, then succeed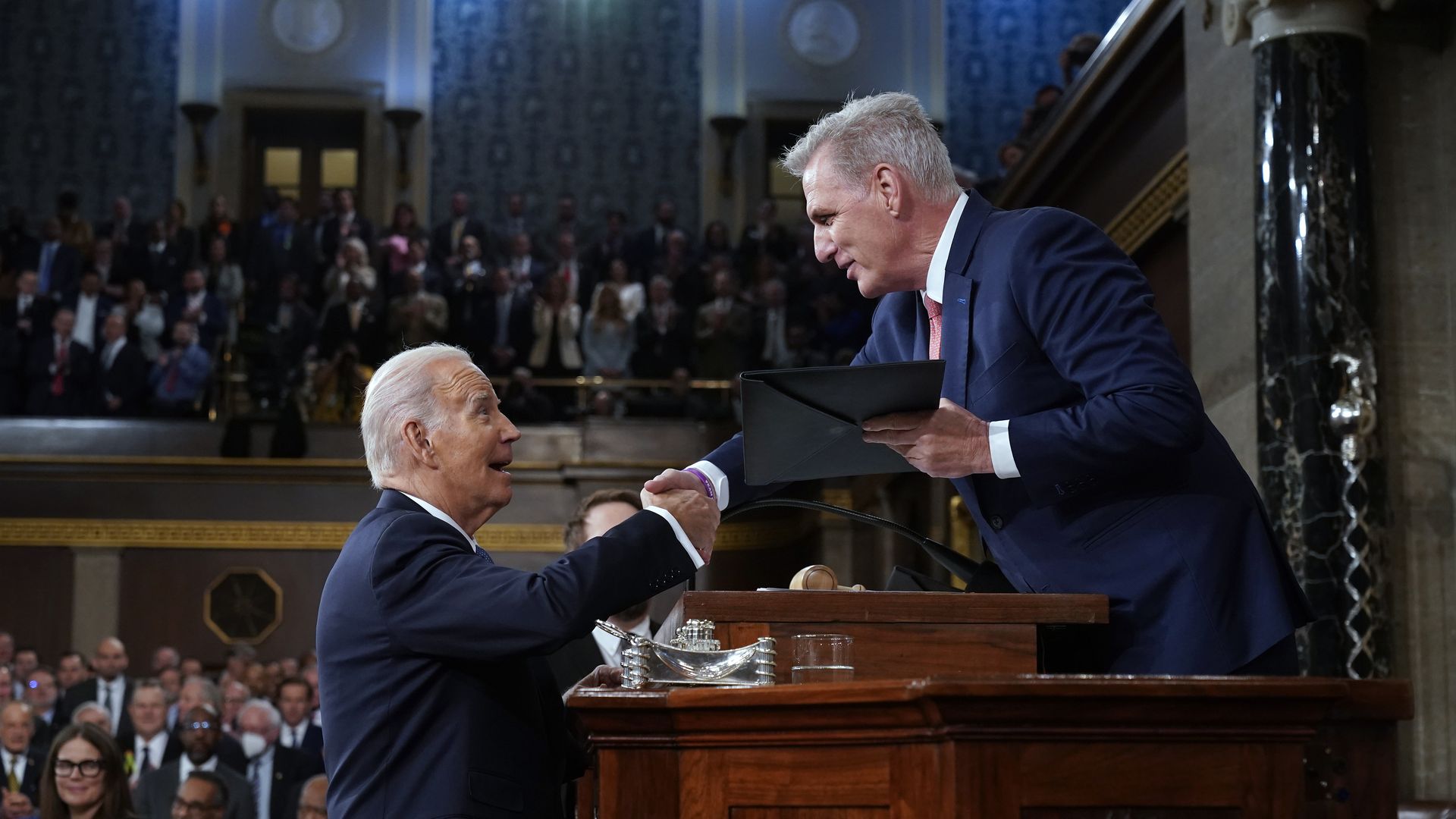 Failure is not an option in the debt ceiling talks. But flirting with it may be necessary to reach a deal.
Why it matters: For a compromise between President Biden and House Speaker Kevin McCarthy (R-Calif.) on raising the nation's $31.4 trillion debt limit to be possible, the political environment needs to change dramatically, top Democrats and Republicans privately acknowledge.
That's unlikely without an outside event — such as a massive stock market plunge in response to (or in fear of) a government default — that shocks the parties into reconsidering their positions.
Another potential game changer: If Treasury is forced to stop issuing certain payments, like checks to Social Security recipients.
The danger for the country— and the global economy — is that any failures en route to a compromise could have long-lasting damage.
Both sides appear comfortable shaving it close.
Driving the news: Ahead of today's 4 p.m. ET meeting between Biden and the "Big 4" — McCarthy, Senate Majority Leader Chuck Schumer (D-N.Y.), Senate Minority Leader Mitch McConnell (R-Ky.) and House Minority Leader Hakeem Jeffries (D-N.Y.) — negotiations have been frozen.
McCarthy's Republicans don't want to raise the debt ceiling without budget cuts that Biden says would hurt millions who receive government benefits. The president wants Congress to approve raising the debt ceiling before he'll discuss any cuts.
"There's a very big gap between where the president is and where the Republicans are," Treasury Secretary Janet Yellen said Monday in a CNBC interview.
"There is no Plan B," National Economic Council deputy director Bharat Ramamurti told CNN.
Without quick action, Yellen says, the government could default on its debt as soon as June 1 — though many Republicans are skeptical that's the true drop-dead date.
Zoom in: We seem to be headed toward a scenario like what happened in the 2008 financial crisis, when House Republicans — including a freshman named McCarthy — voted down the first version of the Troubled Asset Relief Program (TARP) and sent the stock market into a brutal plunge.
"I was looking at my phone and yelling, 'The Dow is 300 down, 400 down, 600 down. What's it going to take folks?' " former Rep. Joe Crowley (D-N.Y.) recalled screaming at Republicans on the House floor.
Five days later, the House passed a slightly modified bill to provide some $700 billion in assistance to financial institutions.
"It's going to have to take something similar, at some point, for Republicans to do the right thing and raise the debt limit," said Crowley, now a lobbyist at Dentons.
"It shouldn't be all that difficult, or all that painful, but it's going to be."
The big picture: Biden's strategy is clear: Raise the political temperature on House Republicans, accuse them of planning to gut crucial benefits — and land Air Force One in the backyards of vulnerable Republican lawmakers to make his point.
On Wednesday, the president plans to travel to New York Republican Rep. Mike Lawler's Hudson Valley district, which Biden won by 8 points in 2020.
State of play: Biden continues to insist he won't negotiate over raising the debt ceiling.
McCarthy's game plan: Keep fellow Republicans behind the bill he got through the House against long odds, and force Biden to negotiate.
Some moderate Republicans are getting nervous, worried that McCarthy is letting members of the right-wing House Freedom Caucus get their hopes too high.
Between the lines: If both side's playbooks are hiding in the open, so is the pathway, however perilous, to a potential deal.
McCarthy needs to find a way to persuade at least half of his conference to raise the debt ceiling without any conditions, satisfying Biden's only firm demand.
Then Biden and House Republicans could hammer out a separate compromise package on spending cuts and other policy changes, like the GOP's big energy legislation, including provisions to speed energy project permits.
If a dual-track compromise comes into view, a short-term extension of the debt ceiling is possible, pushing back the default date while talks could continue.
The bottom line: Washington, and Wall Street, are waiting for some clarity from today's meeting.
If the meeting goes south, look for centrists in the Democrat-led Senate, starting with the six Republicans who didn't sign onto Sen. Mike Lee's (R-Utah) letter demanding substantive spending changes, to start exploring options.
They would need to pair up with moderate Senate Democrats to see whether there's any room for a compromise plan to avoid a default.
Go deeper