Intense heat waves occur primarily because of climate change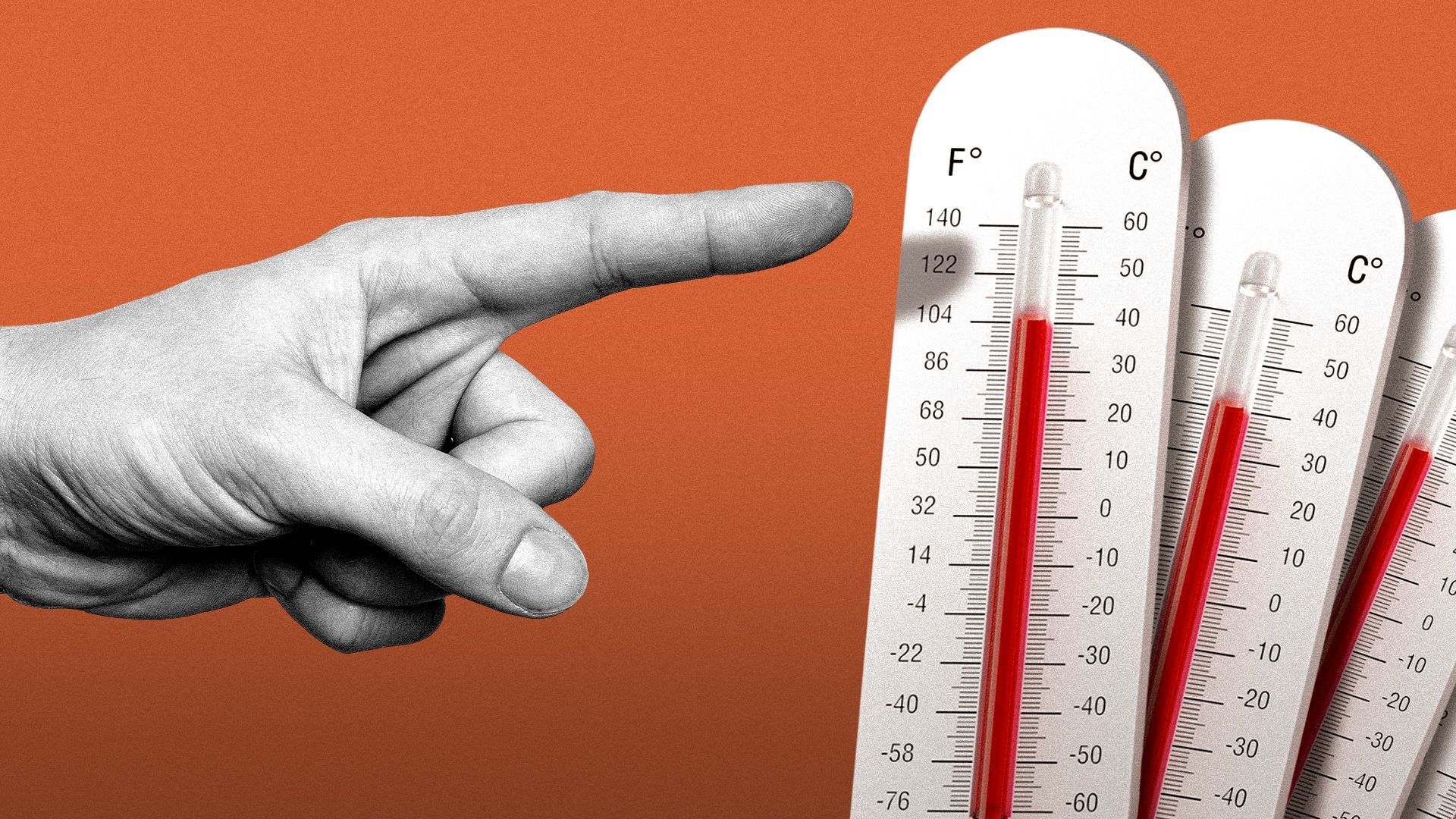 Climate change made a heat wave that struck Western Europe and Northwest Africa in April at least 100 times more likely to occur, a new study finds.
Why it matters: The study, from the World Weather Attribution initiative, concludes that without human-caused warming, this heat wave would have been "almost impossible." Its findings are based on peer reviewed, published methods, but the new research has not itself been peer reviewed yet.
This is one in a string of studies to come to similar conclusions on extreme heat events.
Zoom in: The heat wave comes as a severe multiyear drought bakes the region, with reservoirs running especially low in Spain, and crops impacted.
The new study found that a heat wave of this magnitude in this region is currently about a 1-in-400-year event.
In other words, such a heat wave has about a 0.25% chance of occurring in any given year.
The study concludes that human-caused climate change made the heat wave at least 100 times more likely to occur, cautioning that this is likely a conservative estimate.
It also finds that climate change also made the heat wave far more severe by increasing temperatures during the height of the event by up to 3.5°C (6.3°F) when compared to a world without added amounts of heat-trapping greenhouse gases.
Driving the news: The researchers examined a heat wave that broke national records for the month of April in Portugal and Spain, with other records broken in Morocco and Algeria.
They did so by looking at weather data and computer model simulations of the climate today, which is altered by about 1.2°C (2.16°F) of warming since the early 1800s, compared to the pre-industrial climate.
Scientists zeroed in on average maximum temperatures for three straight days in April in parts of Spain, Portugal, Morocco and Algeria.
In Portugal, for example, the temperature reached 36.9°C (98.4°F) and 38.8°C (101.8°F) in Spain, both of which exceeded all-time records for the month.
The record from Córdoba, Spain, also set provisional monthly high temperature record for all of Europe.
Context: This new study is part of a trend toward making more definitive and stronger statements about the link between heat waves and climate change. It is the latest to quantify the low likelihood of extreme heat events without human-caused warming.
Between the lines: Strong attribution statements on extreme heat reflects experts' straightforward, high-confidence in the effects of human-caused climate change.
As the climate warms, the probability and severity of heat waves dramatically shifts.
Other events tend to be associated with greater uncertainty, such as droughts and extreme rainfall; though there too, the climate change signal is quickly emerging.
Yes, but: Other researchers, outside the attribution initiative, may yet use different methods to study some of the same extreme events, and come to less strident conclusions on their climate change ties.
Go deeper:
Go deeper