Florida moves to restrict foreigners from property buys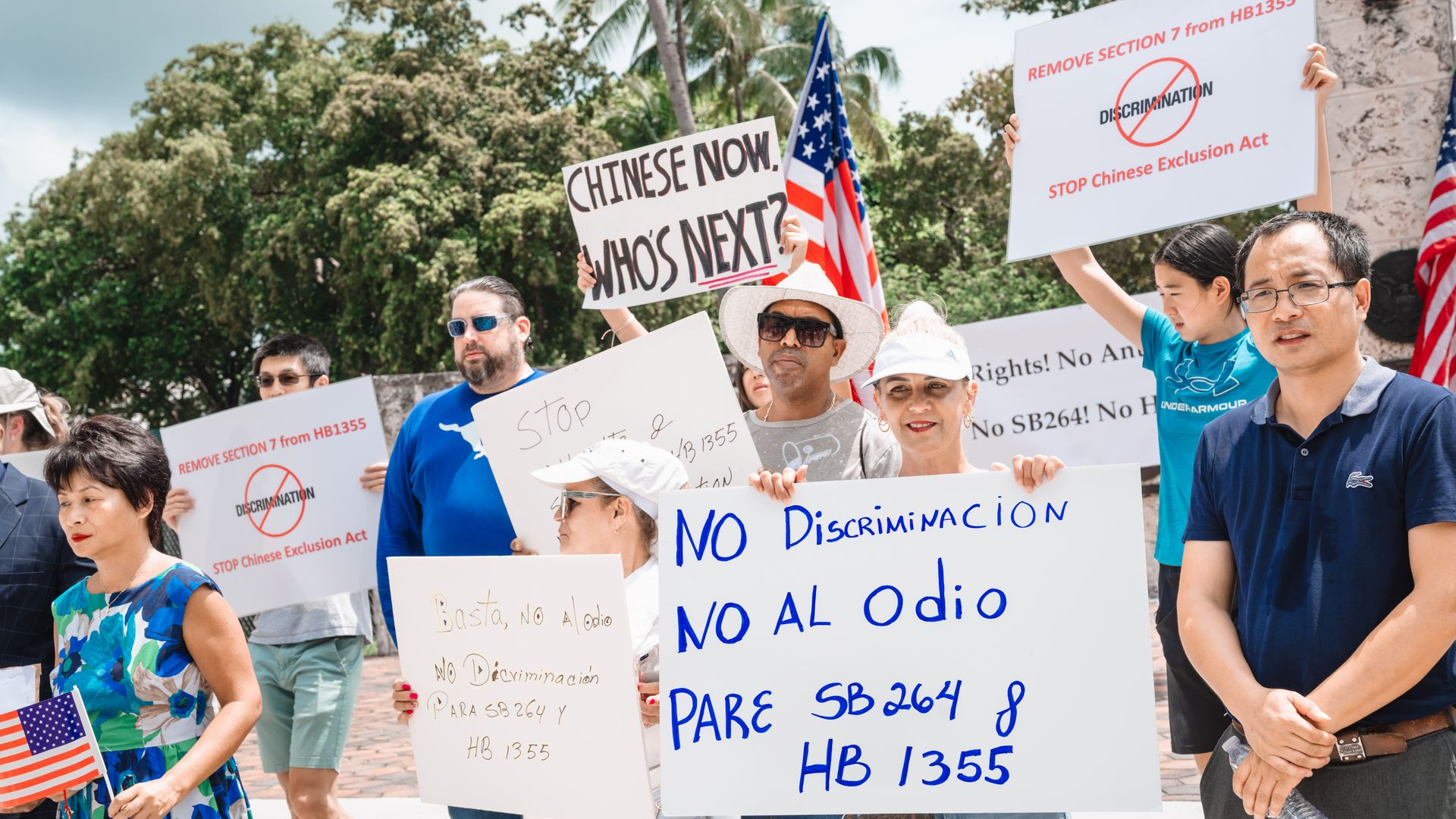 Real estate professionals and Asian American groups are alarmed at a Florida bill that's designed to prevent operatives in hostile nations from acquiring sensitive American land but could actually impact a much wider immigrant population.
Why it matters: CS/CS/SB 264: Interests of Foreign Countries could chill Miami's real estate market and exclude certain foreign nationals from buying in Doral (home to many Venezuelan people), Coconut Grove, Key Biscayne and Sweetwater, the Miami Herald reports.
What's happening: The bill, (which passed the state Senate, was amended by the House, and now heads back to the Senate), restricts citizens of China, Russia, Iran, North Korea, Cuba, Venezuela and Syria from acquiring farmland or any property within 20 miles of a military installation or infrastructure such as a seaport or airport.
Chinese people who are not U.S. citizens or lawful permanent residents would be barred from owning Florida property altogether.
An amendment allows visa holders to own one home, but such landowners must register with a state agency.
The bill also establishes criminal penalties for knowingly selling land in violation of the new regulations and a mechanism for land to be forfeited to the state.
Between the lines: Gov. Ron DeSantis has said China is "gobbling up land" and suggested it is a national security threat.
What they're saying: Local attorney Hongwei Shang tells Axios that most Chinese people in Florida are not members of the Chinese Communist Party. "They're just regular people. Actually, they're being oppressed by the CCP."
Raúl Leoni, a real estate broker, told the Herald that the Venezuelan community in Miami generally opposes the regime that the bill seeks to punish.
Context: A recent study found that nearly 75% of Chinese Americans reported racial discrimination in the past 12 months, Axios' Russell Contreras reports.
What's next: Miami attorney Hongwei Shang tells Axios that Asian American groups in Florida are prepared to sue.
"The 14th Amendment of the U.S. Constitution specifically prohibits a state from discriminating against a group of people based on their race or national origin," she says.
Go deeper