Nonprofit grocery stores rehab America's food deserts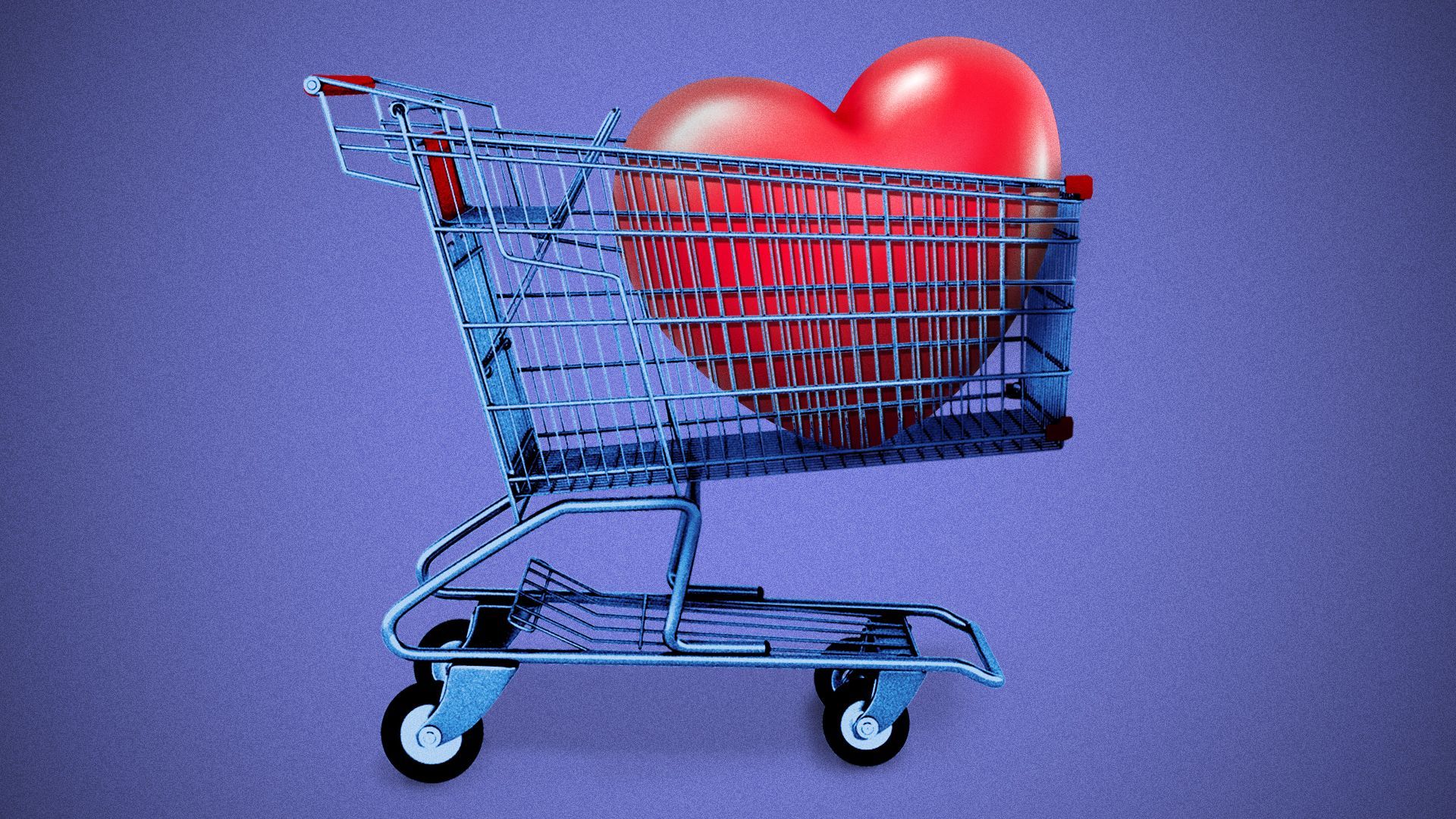 Nonprofit grocery stores are springing up with renewed fervor as a tried-and-true remedy for America's increasing food insecurity problem.
Why it matters: These models are filling food access gaps in budget, equity and mobility for low-income households across the country amid disintegrating safety nets and inflating financial pressures.
Context: "Food deserts" are primarily low-income communities that have little to no access to food retailers and affordable, nutritious food.
The big picture: According to the latest USDA data, 76 counties nationwide are without a single grocery store, NPR reports.
But communities expanding healthy food access through small grocers, local gardens and farmers' markets are "ignored" in traditional food desert mapping models, per a 2021 Brookings Institution report.
Zoom in: Nonprofit grocers, typically found in the form of a small, locally owned co-op that may offer free or marked-down produce, help fill this "grocery gap," according to D.C. Hunger Solutions' interim director LaMonika Jones.
"Think of those [co-ops] as small businesses. ... Not only am I purchasing my groceries from a small business owner, this small business owner is investing in the community," says Jones.
She notes that the neighborhoods with a legacy of historic disinvestment are the same ones facing equity barriers in purchasing everyday groceries.
Zoom out: A 2021 D.C. Hunger Solutions report found that there were significantly fewer full-service grocery stores in the city's wards with the lowest-income households and the highest percentage of Black and Latino residents.
More and more community-owned food retail businesses are being created to fill that growing need, as well as other local access points facilitating affordable, equitable food, says Jones.
Of note: "The hunger cliff that we anticipated is here," Jones tells Axios.
She cited "huge concern" over what the end of COVID-19 relief benefits will mean, particularly for seniors, as D.C. has the highest rate of food-insecure older adults in the U.S.
Plus, people living in areas where healthy food is scarce face an increased risk of chronic health conditions and adverse cardiovascular outcomes, per a 2019 study in the Journal of the American Heart Association.
State of play: First opening in 2021, nonprofit-operated Good Food Markets sold fresh produce in one of D.C.'s food deserts.
Grocery operations shuttered in November due to pandemic-era financial challenges, reports DCist/WAMU.
Similarly, over in Oakland, California, a key community-led solution to a neighborhood's food desert was lost when the long-standing Community Foods Market was forced to close down last year, per the Guardian.
Yes, but: It's not all grim — some community-owned retail businesses have weathered the COVID-19 economic storm.
St. Louis, Missouri's MARSH Grocery Cooperative is one example. Opening in 2021, the nonprofit's "pay what you can" model, allowing for customers to pay up to 20% more or 20% less than the price of products, has reportedly helped keep them afloat.
Meanwhile: Community donations are also powering the Grocery Spot, a mutual-aid market operating for the past few years in one of Atlanta's many food deserts, per Capital B News.
What we're watching: The end of emergency food stamp allotments compounded with rising food costs is further driving demand for these kinds of community-powered solutions across the country.
New Census Household Pulse Survey data reveals that 1 in 4 households receiving SNAP benefits in states affected by ending allotments now report "sometimes" or "often" not having enough to eat.
What they're saying: Parker Gilkesson, senior policy analyst at the Center for Law and Social Policy who specializes in SNAP, anti-poverty and racial equity, tells Axios that the Biden administration could do a "much better job" of addressing hunger and the root causes behind it.
The bottom line: "Nonprofit grocery stores are oftentimes a part of the heartbeat of the community," Gilkesson tells Axios. "Hunger in the U.S. is so much more common than we think. Food deserts and food apartheid play a major role in that."
Go deeper