Self-driving trucks struggle to deliver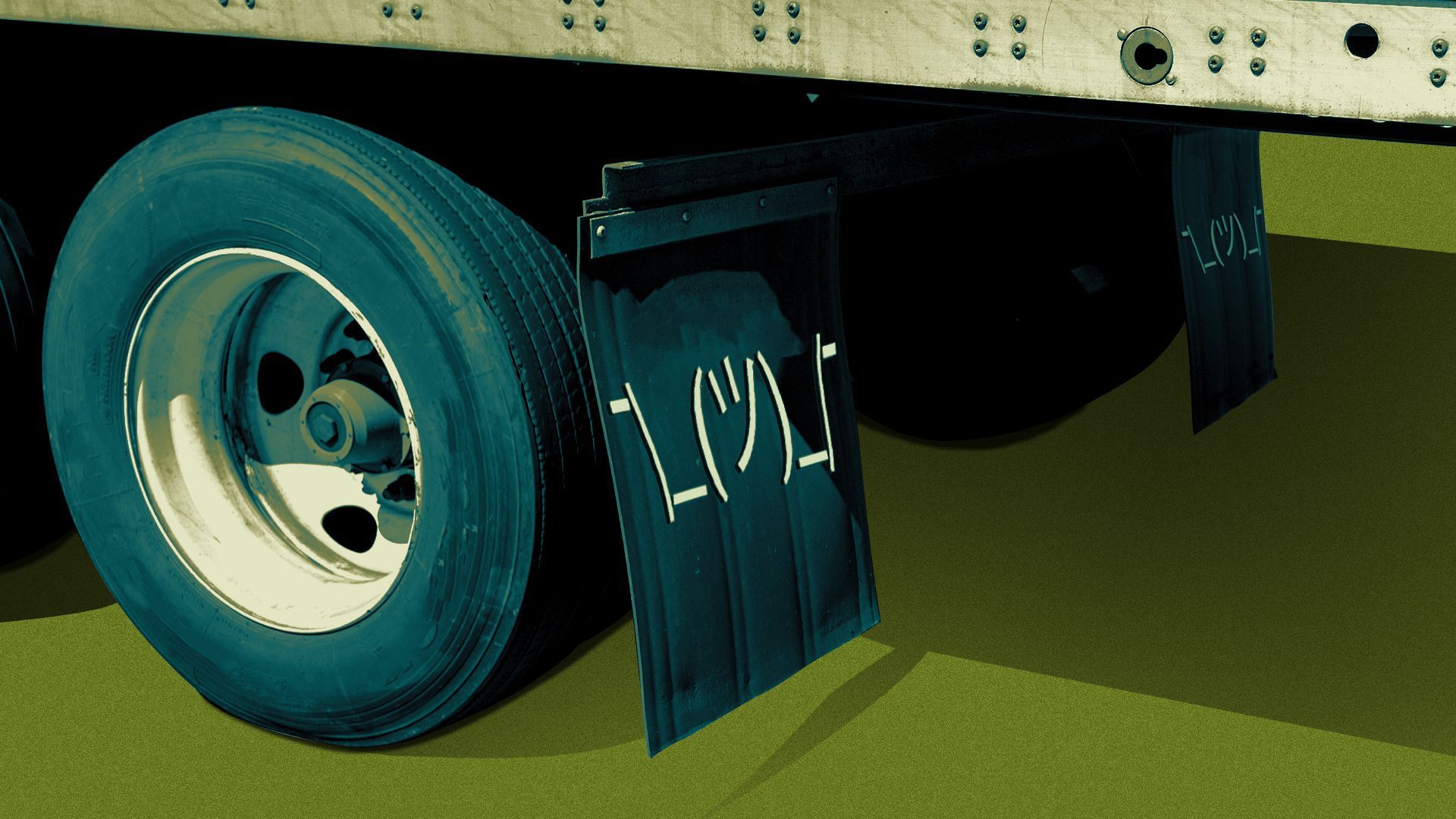 Several startups working on self-driving trucks — viewed by many as an easier challenge than autonomous passenger cars — have stalled in recent months, leaving only a handful of players aiming to deliver on a huge promise.
Why it matters: Autonomous trucks could help freight companies meet increased demand amid a nationwide driver shortage, while lowering costs, reducing fuel consumption and boosting safety.
But it's not easy to commercialize self-driving 18-wheelers — especially as investment capital dries up amid rising interest rates.
That's left some to wonder whether autonomous trucks will ever arrive.
What's happening: There's been an industry shakeout over the past year, causing once-giddy investors to pull back, while survivors shed workers and struggle to fund continued development.
Embark Trucks, which went public in a SPAC deal in 2021, is liquidating, while onetime leader TuSimple is trying to regroup after months of corporate infighting that torpedoed a partnership with Navistar. (U.S. regulators are also concerned about TuSimple's ties to China.)
Even Waymo, the industry pioneer, says it's delaying its driverless truck rollout while it focuses on scaling up its fledgling robotaxi business.
Where it stands: A few contenders remain on track to deploy autonomous trucks within the next year or two, including Aurora Innovation, Torc Robotics (a subsidiary of Daimler Truck) and Gatik.
Smaller players, such as Waabi and Kodiak Robotics, are also looking for traction.
Aurora says its technology is transitioning from the "exploratory" phase to "refinement." It's aiming to launch fully driverless trucks in Texas in the latter half of 2024.
Yes, but: Aurora lost $1.7 billion last year and will need to raise more cash to fund its commercial rollout, co-founder Sterling Anderson tells Axios.
One advantage that gives him confidence, he says, is that Aurora has strong partnerships with two of the leading truck manufacturers: Paccar and Volvo Trucks.
It's also hauling freight — with a backup safety driver — for logistics partners such as Schneider.
What they're saying: Anderson acknowledges that views on autonomous driving technology have soured.
"People have become jaded about the industry and whether they can believe it," he says.
To bolster its credibility, Aurora has shared a quarter-by-quarter roadmap to commercialization. "These are the steps that have to happen for this to reach the market because until now, it's been a bit of a black box," Anderson explained.
Aurora has so far delivered on its quarterly goals, Anderson says. The hardware is now "feature complete," in industry parlance, and the company expects to fully validate the safety of its "Aurora Driver" by the end of 2023.
Waymo has pushed plans for its Via trucking business off "by a few quarters, not years," according to Boris Sofman, senior director of engineering and head of Waymo's trucking business.
"There's a lot of well-justified pressure to show commercial traction and success, to level off the costs and let the revenues catch up," he tells Axios. "That's led us to take a few things and stagger them more."
"It feels like we've turned a corner. Now it's a hard executional problem versus an open R&D problem."
While Waymo is focused on its driverless taxi business, lessons learned there will flow into its autonomous trucking effort, Sofman says.
Gatik, meanwhile, is automating a narrower slice of the freight business for companies including Walmart, Kroger, Georgia-Pacific and Pitney Bowes.
Instead of trying to perfect autonomous long-haul trucking, it's tackling the "middle mile" between warehouses and stores, co-founder Gautam Narang tells Axios.
Its trucks are smaller, and the routes are shorter and relatively easier, avoiding schools, hospitals and fire stations, for example.
They also keep to the right lane, and make three right turns instead of a more dangerous left turn.
The bottom line: Self-driving trucks are stuck in low gear.
Go deeper