Scoop: Inside Biden's strategy to repair Harris' image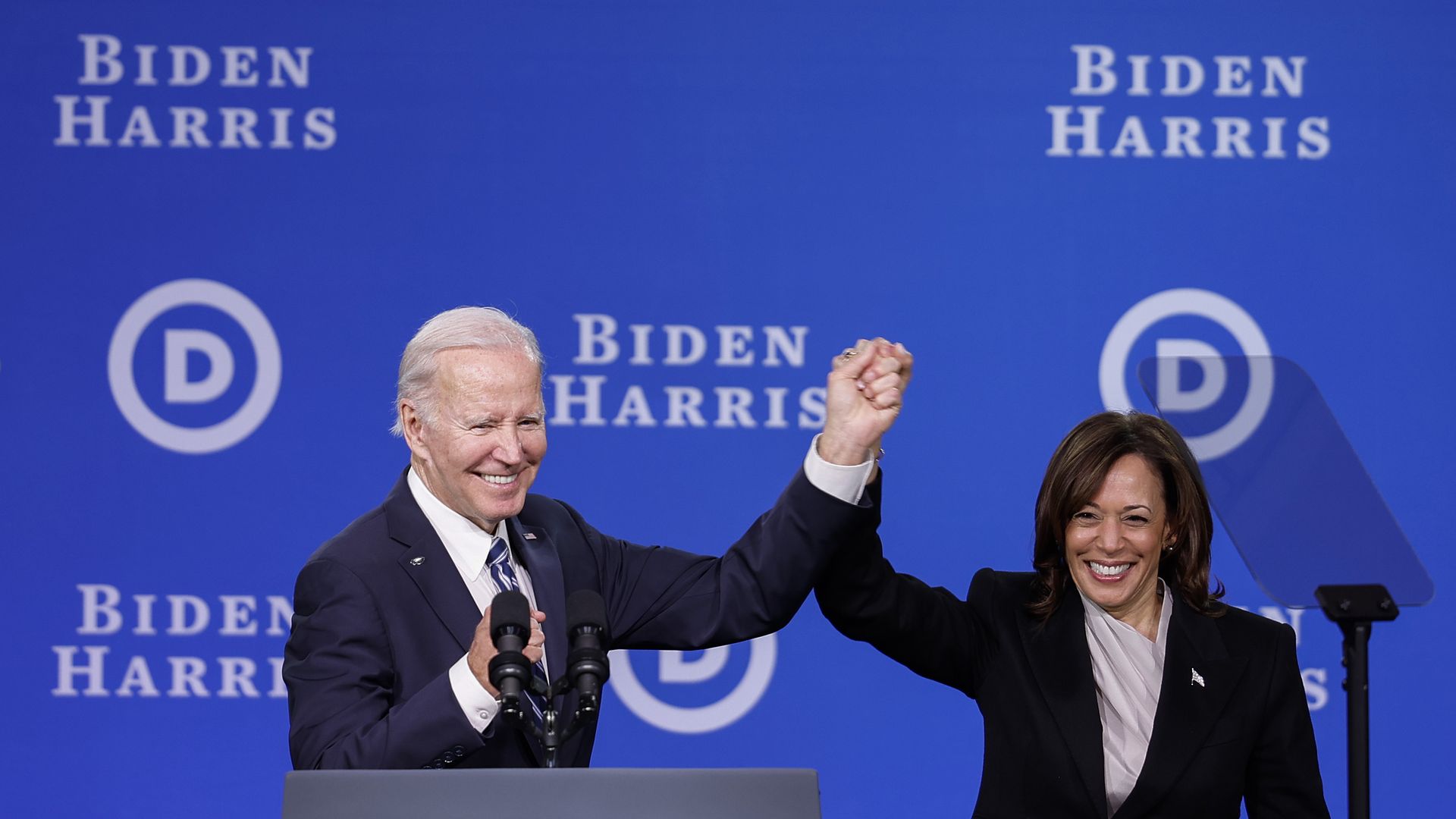 Top White House officials are rushing to the aid of Vice President Kamala Harris to try to shore up her underwhelming poll numbers heading into 2024.
Why it matters: Harris' numbers are even worse than President Biden's (approval in the high 30%s versus low 40%s). Officials believe that could make her a drag on the ticket as Biden begins a reelection campaign that likely will boil down to a few tight states.
What's happening: There's zero chance Biden will replace her on the ticket — doing so would be an admission that he botched the most important decision he made as a candidate. So the White House and campaign team are working to give Harris a boost — which her allies feel is long overdue.
Biden's campaign announcement video featured shot after shot of the president and Harris together, as well as her meeting solo with voters.
She's also featured prominently with Biden on the homepage of Biden's revamped website.
Anita Dunn, one of the most powerful West Wing officials, recently directed the White House political and engagement teams to help schedule events with Harris promoting popular Democratic causes such as infrastructure spending and abortion rights.
The backstory: This is a huge shift from much of Biden's first two years, when there was mutual distrust and anonymous sniping between the vice president's team and the West Wing.
Between the lines: Harris, initially saddled by Biden with no-win issues such as immigration and a stalled voting-rights bill, has frustrated many of his top aides. She has suffered frequent staff turnover, and rarely has been entrusted with high-profile assignments.
Harris' allies point out she has faced sexism and racism, and argue that the White House has not helped her enough. But detractors say her approval ratings are self-inflicted, and include some missteps in high-profile interviews.
What we're hearing: Biden will turn 82 before his second term would begin, and Republicans plan to argue that reelecting him could mean a Harris presidency. If former President Trump, 76, is the GOP nominee, look for him to spend lots of time running against Harris, 58.
The intrigue: Last year's book by Jonathan Martin and Alex Burns, "This Will Not Pass," reported that then-White House communications director Kate Bedingfield had privately criticized Harris. Bedingfield publicly denied the story — but walked over to the vice president's offices and asked to see Harris so she could apologize, according to people familiar with the event.
Much of Harris' team didn't believe Bedingfield's denial and told her the vice president was unavailable.
Harris' aides made Bedingfield wait roughly two weeks until they granted her a meeting with the vice president. Harris' aides insisted the meeting be 15 minutes, max.
The meeting did soothe some tensions. About a week later, when Bedingfield had COVID, Harris personally called to see how she was doing and offered tips for feeling better.
Bedingfield declined to comment.
White House spokesperson Andrew Bates told Axios that "after winning the most votes of any ticket" in 2020, "you've seen the results of the strong, consistent partnership between Joe Biden and Kamala Harris and their teams."
Harris spokeswoman Kirsten Allen added that "our teams have been focused on lifting up the priorities of President Biden and Vice President Harris as they build a future where every person in our nation can thrive, and will continue to remain focused on this work together."
What we're watching: Some White House and administration officials say the vice president's team has started to steady because of chief of staff Lorraine Voles, who took over the post a year ago.
Voles, trying to improve the office's culture, had everyone take the Myers-Briggs personality test, then compare their personality profiles, according to two people familiar with the moves.
Some in the office rolled their eyes at Voles' efforts. But others liked it, with one person comparing her to the gushy Ted Lasso character on the Apple TV show.
Harris hasn't had a communications director since Jamal Simmons left in January. Her office did pitch veteran Democratic strategist Jennifer Palmieri about the post, but she demurred. Palmieri declined to comment.
Go deeper