Washington becomes 10th state to ban assault weapons sales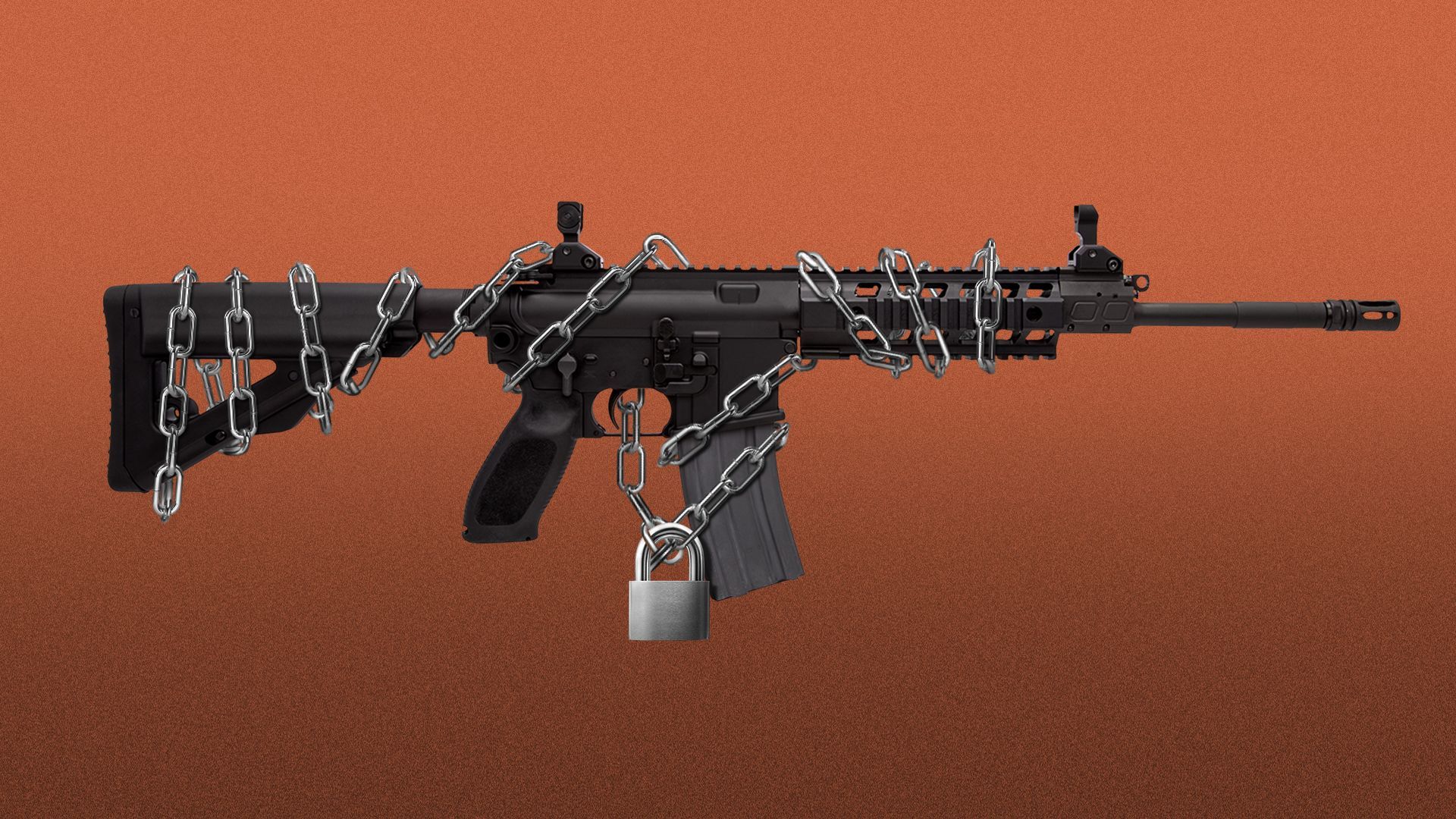 Sales of AR-15s are now banned in Washington state, as are sales of dozens of other firearms the state has classified as assault weapons.
Driving the news: Gov. Jay Inslee (D) signed a measure into law Tuesday that bans the sale, manufacturing and distribution of more than 50 specific types of semiautomatic firearms.
In addition to those models, the ban applies to all semiautomatic rifles less than 30 inches in length, as well as other semiautomatic firearms with features such as thumbhole stocks and additional hand grips.
The big picture: The new law, which took effect immediately, makes Washington the 10th state to ban sales of military-style firearms.
The others are California, Connecticut, Delaware, Hawaii, Illinois, Maryland, Massachusetts, New Jersey and New York.
Washington, D.C., also has similar restrictions in place.
Why it matters: Officials around the country have faced calls to crack down on AR-15s and other military-style rifles, which have been used in some of the deadliest mass shootings of the past decade. That includes last year's school shooting in Uvalde, Texas, that killed 21 people.
An AR-15 was also used in a 2016 shooting in Mukilteo, Wash., that killed three people.
Details: Washington's ban won't make it illegal for people to keep weapons they already possess. But it will stop them from buying new guns that fall under the definition of assault weapons.
The law provides exceptions for branches of the military and police agencies to buy the restricted firearms.
What they're saying: "Inaction against gun violence is unacceptable in the state of Washington," Inslee said shortly before signing the bill.
Of note: Shortly after Inslee signed the ban into law, the Firearms Policy Coalition and the Second Amendment Foundation filed a lawsuit challenging it as unconstitutional.
The NRA announced Wednesday it had also filed a lawsuit, as it called the new law "blatantly unconstitutional."
Background: Critics of the measure said it would punish law-abiding gun owners while failing to address underlying causes of gun violence, including people experiencing mental health crises.
Republicans, who broadly opposed the bill, had previously warned that the Washington measure will face legal challenges. "It will be overturned," state Rep. Bryan Sandlin (R-Zillah) predicted during a debate on final passage of the bill.
For the record: Inslee also signed a measure into law Tuesday to require people to go through safety training and complete a 10-day waiting period before purchasing a firearm.
A third bill he signed will make it easier to sue gun manufacturers if they don't enact "reasonable controls" to keep their products out of the hands of minors, gun traffickers and others who aren't supposed to have firearms.
What we're watching: Whether more lawsuits materialize against the measures, and how the courts respond.
Editor's note: This article has been updated with details of the new lawsuits challenging the assault weapons ban and with further context.
Go deeper