Updated Apr 17, 2023 -

World
UN and other aid groups suspend operations in Sudan as fighting rages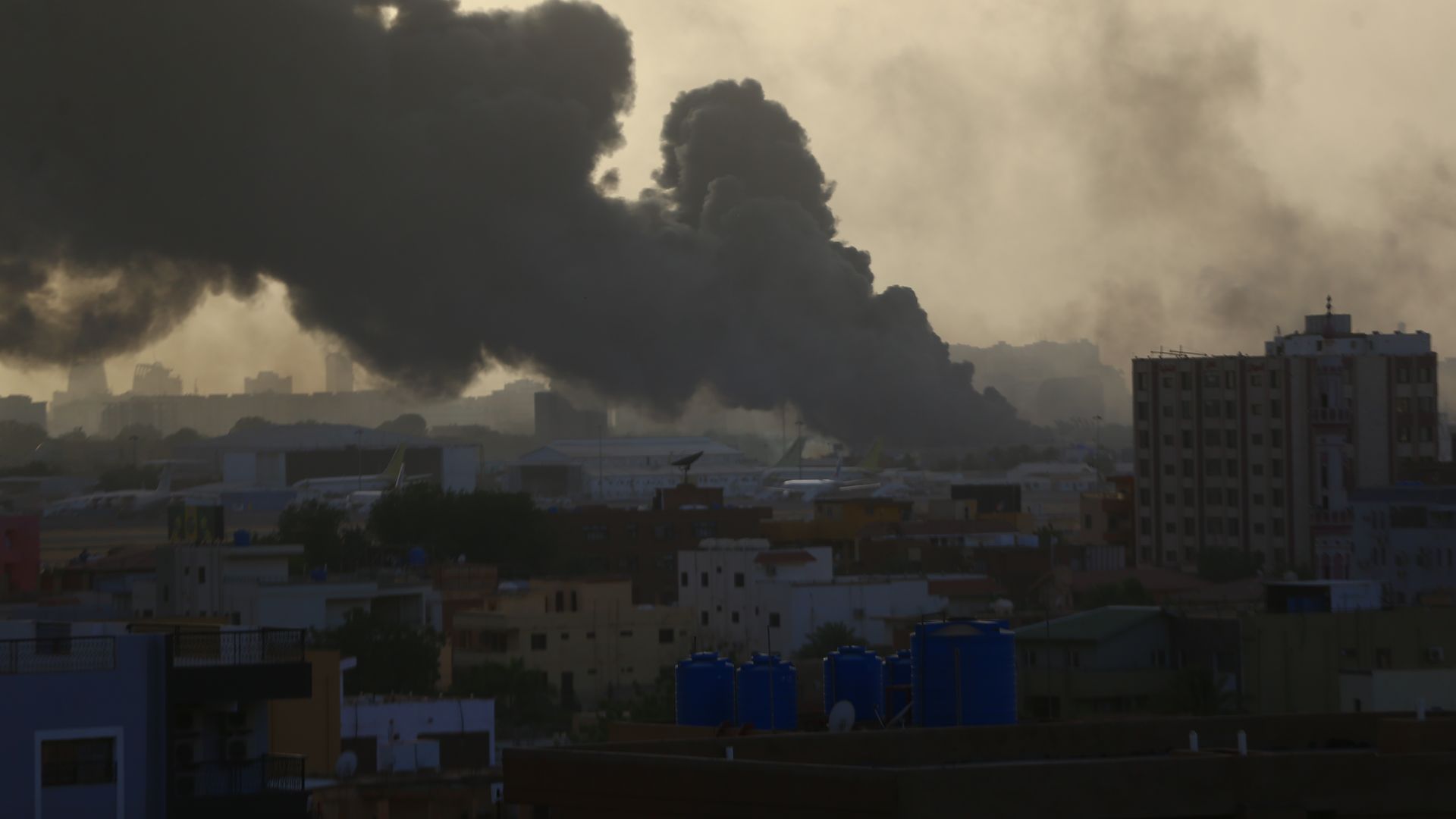 The UN, the International Rescue Committee and other aid organizations temporarily suspended many of their humanitarian operations in Sudan as fighting between the military and a powerful rival paramilitary group raged for a third day on Monday.
The big picture: Three World Food Program workers are among the 180 civilians killed in the fighting between the Sudanese Armed Forces and the Rapid Support Forces (RSF), according to the United Nations.
The WFP workers were killed in North Darfur, but fighting is also raging in the capital Khartoum and other cities and towns across the country. Hundreds have been injured.
What's happening: The WFP announced on Sunday it was suspending its operations in the country. "Aid workers are neutral and should never be a target.  Threats to our teams make it impossible to operate safely and effectively in the country and carry out WFP's critical work," WFP executive director Cindy McCain said in a statement.
McCain added that at least two WFP workers were injured in the fighting in North Darfur and a WFP aircraft was "significantly damaged" at Khartoum International Airport.
"WFP is committed to assisting the Sudanese people facing dire food insecurity, but we cannot do our lifesaving work if the safety and security of our teams and partners is not guaranteed."
The UN has also halted many of its more than 250 humanitarian and development programs across Sudan, UN aid chief Martin Griffiths said in a statement Monday.
"The impacts of this suspension will be felt immediately, especially in the areas of food security and nutritional support, in a country where some 4 million children and pregnant and lactating women are severely malnourished," Griffiths added.
Several UN offices have been caught in the crossfire or looted since the fighting began, UN special envoy for Sudan Volker Perthes told reporters.
"We cannot deliver when our staff is attacked, is thrown out of their offices, when their offices are destroyed, their vehicles looted and in sometimes even their residencies being under fire or destroyed," he added.
The World Health Organization warned that hospitals in Khartoum are reporting shortages of medical supplies.
"Movement in the city is restricted due to the insecurity, creating challenges for doctors, nurses, patients and ambulances to reach health facilities, and putting at risk the lives of those who need urgent medical care," the WHO said in a statement on Sunday.
The Central Committee for Sudanese Doctors said in a Facebook post on Monday that several "hospitals are under bombardment." Some have been forced to close, the group added.
The International Rescue Committee said on Monday that it halted all operations across the country except in Tunaydbah where its team will continue to provide aid to refugees.
"The killing of humanitarian workers and scores of Sudanese is unacceptable," Kurt Tjossem, IRC's East Africa regional vice president, said in a statement. "Humanitarian actors have limited ability to enter and operate in areas with ongoing war."
World Vision Sudan also said it was temporarily suspending its work in Sudan.
"We are deeply concerned by the escalating security situation in #Sudan. As a result, we have made the difficult decision to temporarily suspend field operations. We urge all parties to prioritise the protection of civilians, particularly #children," the group tweeted on Monday.
State of play: Even before the recent fighting, humanitarian needs across Sudan were at all-time highs due to conflict, climate change, disease outbreaks, and a worsening economic crisis, according to the UN Office for the Coordination of Humanitarian Affairs.
OCHA estimated that 15.8 million people — a third of the country's population — would need humanitarian assistance this year.
The country has about 3.7 million internally displaced people and hosts at least 926,000 refugees, mainly from South Sudan.
Catch up quick: The recent fighting began on Saturday as tensions between the military headed by Gen. Abdel Fattah al-Burhan and the RSF, led by Gen. Mohamed Hamdan Dagalo — known as Hemedti — boiled over.
The pair led a military coup in October 2021, derailing the transition to democracy that began after the ouster of long-time ruler Omar al-Bashir in a popular uprising four years ago.
But tensions between al-Burhan and Hemedti began to rapidly escalate and spill into public view, particularly after the military, RSF and a coalition of civilian parties last December signed a preliminary political deal in which the military agreed to hand over power.
The recent fighting threatens to plunge Sudan into a wider conflict and make the country's shift to civilian rule even more difficult.
Editor's note: This story has been updated with additional details throughout.
Go deeper