Fox News to face jury over election lies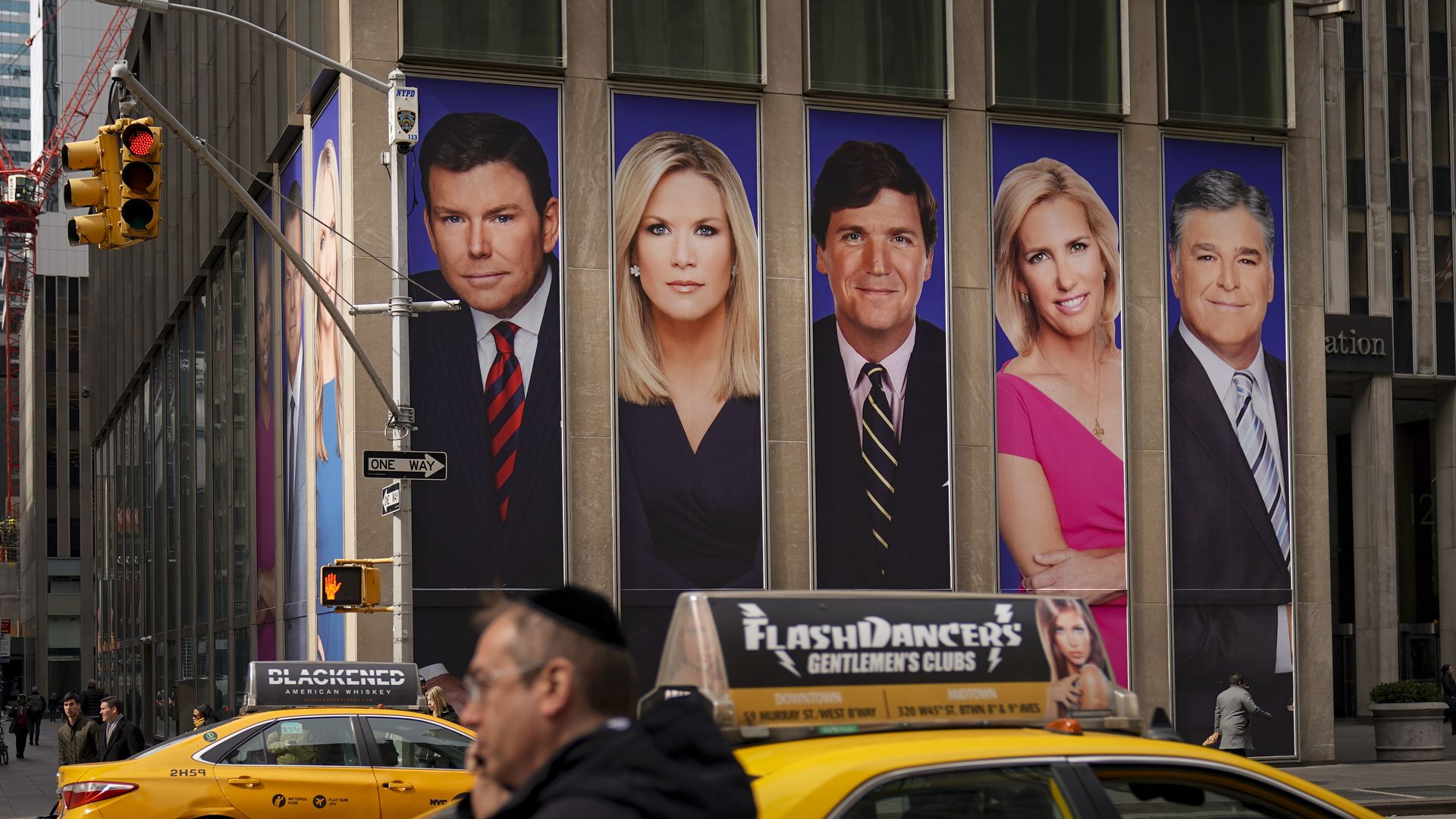 WILMINGTON, Del. — Fox News' highly anticipated defamation trial will kick off in a Delaware court Tuesday, more than two years after Dominion Voting Systems filed a massive $1.6 billion lawsuit against Fox over its 2020 election coverage.
Why it matters: Barring a last-minute settlement, the trial is expected to last five to six weeks and will not be televised, limiting the public's visibility into the proceedings.
Instead, the courtroom drama will mostly be documented by the few reporters who are able to get inside on a first-come, first-served basis. While a live audio feed will be available to the public, news companies can't rebroadcast it.
In-court cameras have helped some recent trials go viral, including Gwyneth Paltrow's ski collision court case last month and the defamation trial between Amber Heard and Johnny Depp last summer.
State of play: The judge in the trial announced a last-minute trial delay Sunday, pushing the trial start date from Monday to Tuesday. A new court filing out Sunday suggests Dominion may be softening its settlement damages claim.
Catch up quick: Dominion is suing Fox for damages related to Fox's coverage of the 2020 election. It argues Fox knowingly aired false claims that its voting systems were rigged.
Fox argues Dominion's lawsuit "is a political crusade in search of a financial windfall," per a network statement. Its main defense is that its broadcast rights are protected by the First Amendment.
Delaware Superior Court Judge Eric Davis has already narrowed the proceedings via a slew of pre-trial hearing decisions leading up to Tuesday's start date.
Last month, Davis ruled that Dominion could take Fox to court, after Fox lobbied for a summary judgment that would avoid a trial. He also ruled that Fox News' statements about Dominion are false — meaning that question of fact can't be disputed at trial.
Last week, Davis ruled that Dominion is not allowed to bring up the Jan. 6 insurrection at the trial, arguing that doing so could unfairly influence the jury's thinking about the issue at hand, which is Fox's coverage of Dominion's voting machines.
He also said that Fox's defense can't reference broadcasts where some of its journalists fact-checked Trump's election lies.
Earlier this month, Davis said that Dominion can force Fox Corp. chair Rupert Murdoch and his son Lachlan to take the witness stand. The ruling dealt a major blow to Fox, which had been trying to persuade the judge not to compel Rupert Murdoch to testify.
Between the lines: Ample evidence brought to light during months of pre-trial discovery hearings has legal experts in agreement that Fox faces an uphill battle.
"It looks like Dominion has a strong case, and I think that myself," said Carl Tobias, a professor at the University of Richmond School of Law. "I think the judge thinks that but he hasn't said that."
Last week, Davis assigned a "special master," or an outside attorney, to determine whether Fox lied to the court and withheld key evidence in the way it presented Rupert Murdoch's role at Fox News.
Fox apologized to the judge over the weekend and took responsibility for the situation, CNN reported.
The big picture: The trial could set an important First Amendment precedent and shape political coverage by one of America's most powerful media outlets, as Axios has noted.
Successfully suing for defamation in the U.S. is intentionally difficult. But if Dominion wins, Fox News may be forced to be more cautious ahead of the 2024 elections, particularly when it comes to ballot fraud allegations.
What to watch: Tuesday morning's proceedings will kick off with the finalization of the jury selection, before the trial officially begins.
There's still technically time for Fox News to try to settle the case out of court, but there's less incentive for Dominion to settle at this point.
If Fox were to lose, it's likely to appeal the ruling, and an appellate process would "probably take quite a while," said University of Tennessee journalism professor Stuart Brotman.
Go deeper: America braces for historic trial between Dominion and Fox News
Go deeper