Focus groups: Pennsylvania swing voters detest MAGA and abortion overreach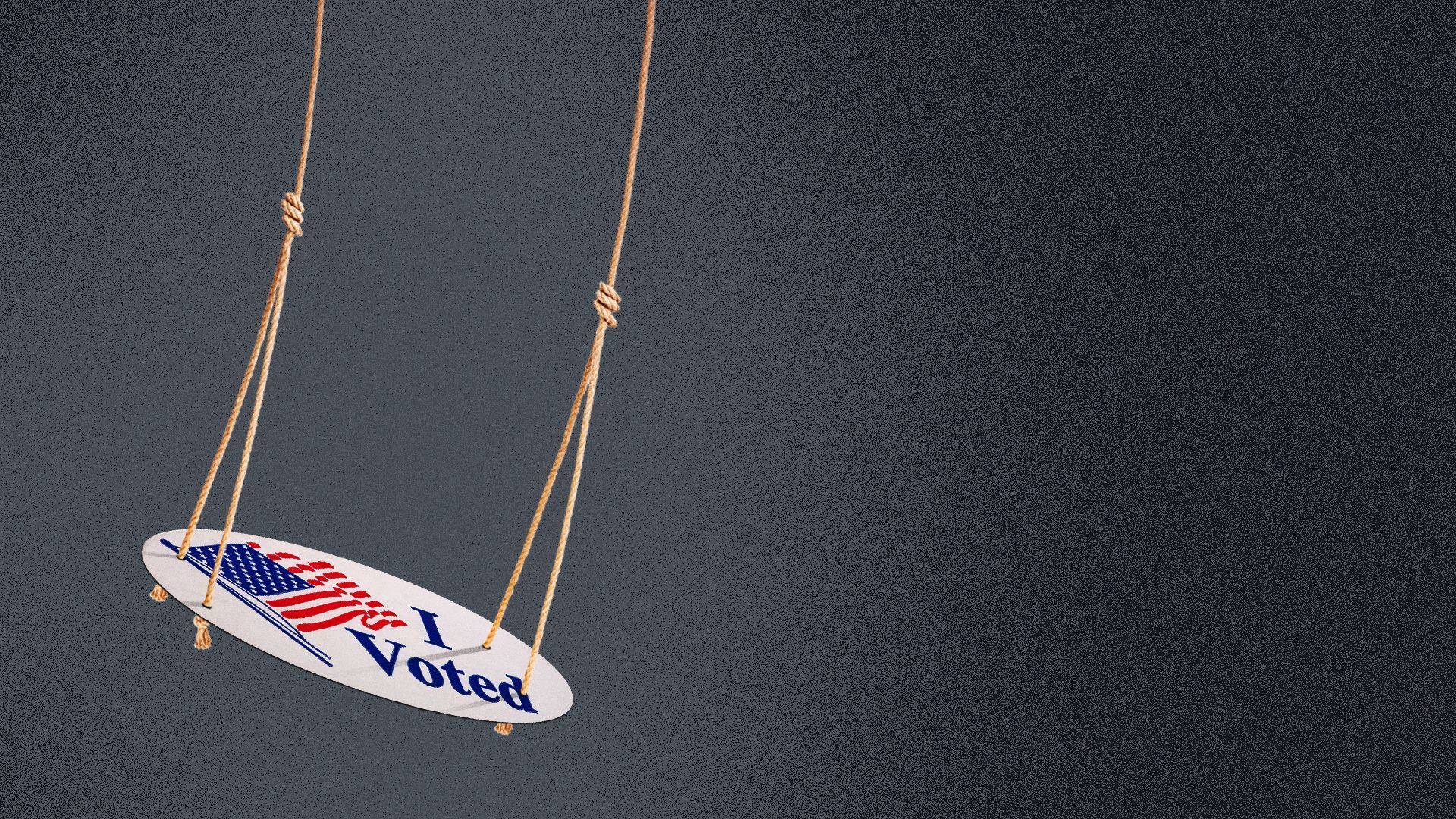 Some Pennsylvania swing voters who identify as "pro-life" are still firmly against banning the common abortion drug mifepristone — and view it as the latest example of GOP extremism and overreach, according to our latest Engagious/Sago focus groups.
Driving the news: The findings suggest Republicans across the country could be punished for how conservative judges and legislatures are restricting and removing reproductive rights nearly a year after the Supreme Court overturned Roe v. Wade.
Axios observed two online focus groups on April 11 with 14 Pennsylvanians who voted for Donald Trump in 2016 and Joe Biden in 2020. They were a mix of seven registered Republicans, four Democrats and three independents.
Although a focus group is not a statistically significant sample like a poll, the responses show how some voters are thinking and talking about current events.
Why it matters: Republicans are caught in an abortion problem of their own making. They've so far failed to unite the party around a single proposal, and aggressive steps by conservative courts and states are further turning former GOP voters away from the right.
Zoom in: Half of the voters were "pro-life" — but they did not support the decision by a federal judge in Texas that the FDA's approval of mifepristone is invalid and therefore should no longer be available.
"It's between them and their God," said Donna B., a Republican "pro-life" voter. "I don't get gleeful about somebody who can't kill a baby."
All but two of the 14 participants thought the judge's decision on mifepristone was an egregious display of partisan overreach.
"I just think that they've been using it safely for 20 years, and I don't think that that changes my stance — I'm still still pro-life — but I still think that if they have to take that for their abortion, they should have the option," said Scott H., a registered Republican.
The big picture: It's not just abortion hurting the Republican Party with these battleground state voters who once supported Donald Trump at the start of his MAGA movement in 2016.
They're rejecting policies and ideas that Republicans are relying on for 2024: attacks on the justice system, classroom curricula and "woke" ideology.
Between the lines: None of these swing voters think the entire criminal justice system has been weaponized against Republicans, as Trump and others have alleged after his indictment.
None think Trump is being victimized by prosecutors, though two believe he's the subject of a "witch hunt." Ten of the 14 think Trump is being prosecuted for legitimate reasons.
None think that Congress should defund the FBI and DOJ, as Trump, DeSantis and other Republicans have proposed.
Zoom out: Some said campaigning on far-right proposals makes it seem as if Republicans are simply "pandering" to a slice of their base to win votes.
"Swing voters' message was unambiguous: If the GOP wants to win back Pennsylvania, it had better moderate on abortion, avoid strident anti-wokeism, and distance itself from former President Trump's outlandish claims about his prosecution," said Rich Thau, president of Engagious, who moderated the focus groups.
The other side: Nearly all of the participants agreed that trans women shouldn't be allowed to compete on women's sports teams, and opposed teaching young students about sexual identity and orientation.
The bottom line: Some said they feel their representatives don't "focus on things that actually matter" when they're wading into the culture wars.
"Maybe they should really take a civics class and understand politics a little better," said Joey S., a registered Democrat.
Go deeper