Scoop: Schumer lays groundwork for Congress to regulate AI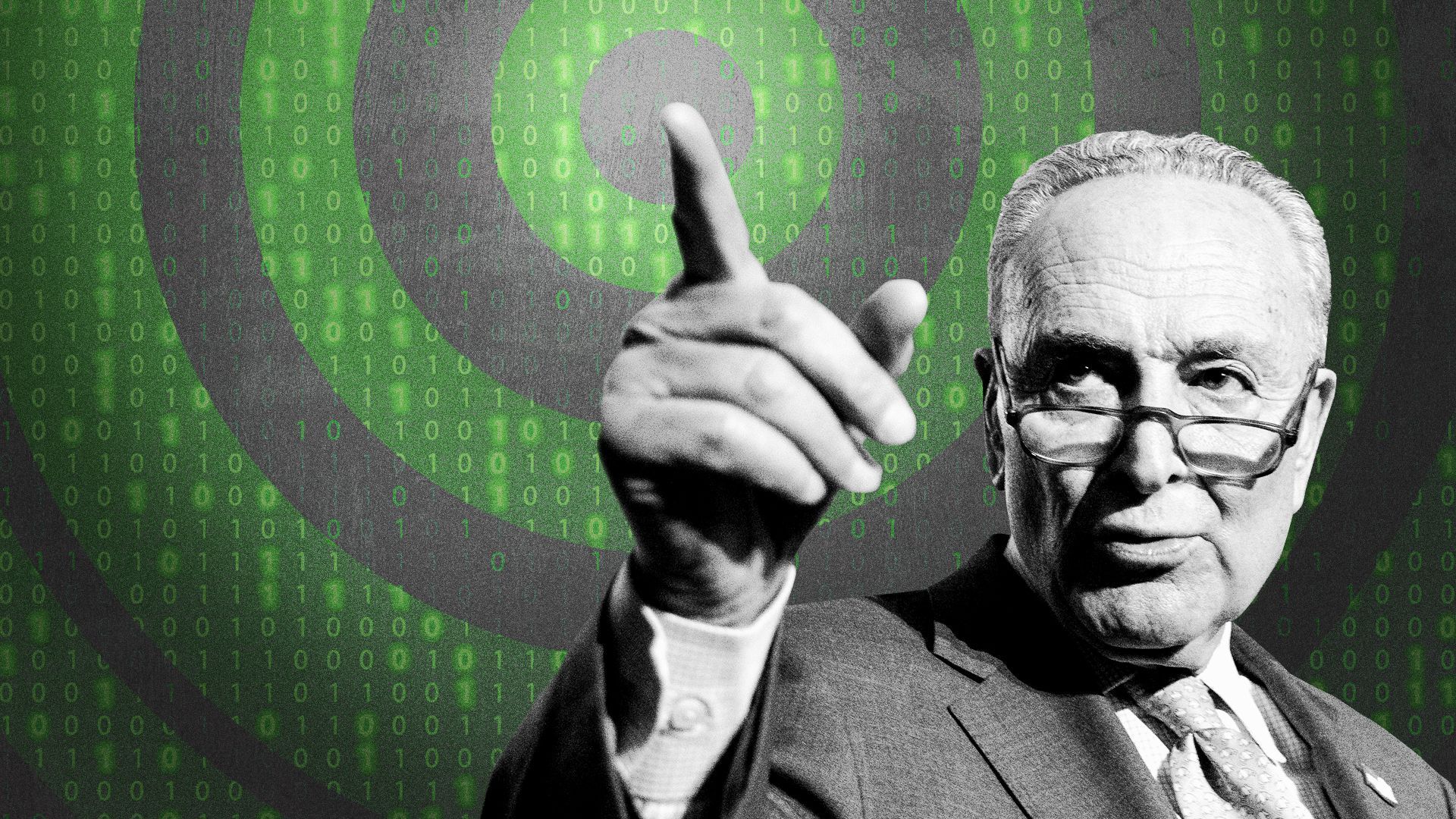 Senate Majority Leader Chuck Schumer (D-N.Y.) is taking early steps toward legislation to regulate artificial intelligence technology, Axios has learned.
Why it matters: A recent explosion in the development of generative AI systems has spurred alarm among lawmakers and the broader public about AI's potential social, economic and security ramifications.
"Something is coming," Sen. Chris Murphy (D-Conn.) said of the AI boom last month. "We aren't ready."
While the federal government has made early moves, including the Commerce Department beginning to take steps to create AI safety rules, critics say more comprehensive legislation is needed, Axios' Ina Fried reported.
Driving the news: Schumer is spearheading the congressional effort to craft legislation regulating AI, circulating a broad framework among experts in recent weeks, a source briefed on the proposal told Axios.
The push is being treated as urgent and time sensitive — with the U.S. not wanting to be left behind as other countries, particularly China, race ahead with developing the technology and shaping its rules.
The goal would be to develop resilient regulations that can adapt to the advancement of AI technology and balance the need for security, accountability and transparency with facilitating innovation, the source said.
The details: Potential regulations from Congress would be focused on four guardrails geared towards ensuring responsible AI, requiring:
The identification of who trained the algorithm and who its intended audience is.
The disclosure of its data source.
An explanation for how it arrives at its responses.
Transparent and strong ethical boundaries.
Be smart: Schumer's guidelines are focused on transparency and making sure people understand what's behind the AI that's spitting out a paragraph of text, helping sort their social algorithms or scanning their face at the airport.
That aligns with what many AI experts have called for, though many have advocated regulation to go much further.
The big picture: Industry experts and government officials have long known the U.S. needs to hurry up with AI standards to keep up with the rest of the world, but Americans are averse to regulating new technology too quickly, and progress has been slow.
What's next: Schumer plans to spend the next several weeks refining his proposal with input from academic, industry and government experts.
As majority leader, Schumer exercises control over the Senate's schedule and thus could shepherd the legislation to the floor.
Still, the proposal would require bipartisan backing in order to overcome the Senate filibuster's 60-vote threshold.
Go deeper