Why the U.S. can't build EVs without China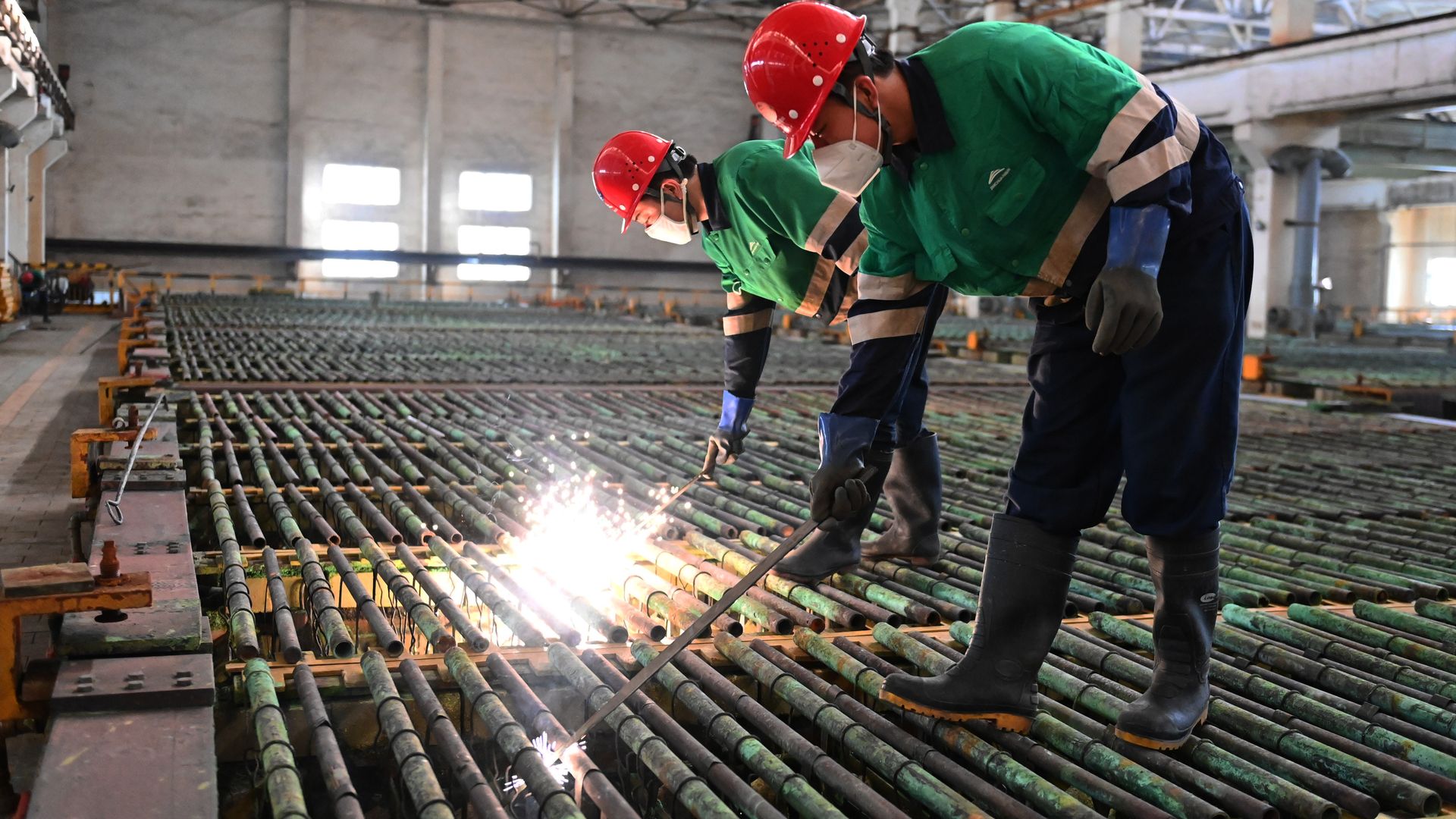 The Biden administration's effort to spur domestic battery manufacturing is running into a problem: Some critical raw materials are only found abroad, and China controls much of the supply.
Why it matters: The provenance of raw materials used in electric vehicle (EV) production — including lithium, nickel, cobalt and graphite — is about to have a huge impact on tax credits designed to put such cars within reach of average Americans.
Details: Consumers can earn up to $7,500 in federal tax credits on EV purchases — but only when buying cars that meet certain sourcing requirements.
New rules issued under last year's Inflation Reduction Act exclude EVs with components from "foreign entities of concern" — a category that remains hazy but will likely include China, given that federal officials recently tagged it as such in the semiconductor world.
The idea is to reduce U.S. reliance on China, a lofty goal given that country's control of vital battery resources and technology.
Reality check: Many of the minerals essential to EV battery chemistries are primarily mined and processed in China, or by companies within China's sphere of influence.
China is poised to control a third of the world's lithium supply by 2025, for example.
It's also home to one of the world's largest natural battery graphite resources, and is the only country currently mining such material in large quantities.
While lithium and some other battery minerals exist in the U.S., developing mines is an expensive, time-consuming process.
The intrigue: Navigating such geopolitics while trying to master rapidly evolving technology can be dicey for automakers, who are lining up for lucrative tax credits of their own to produce batteries in the U.S.
Zoom in: Ford Motor, for example, expects more than $7 billion in battery manufacturing tax credits between now and 2026, and says the annual credits will leap much higher starting in 2027.
Yet the carmaker has been criticized for collaborating with a Chinese supplier on a new $3.5 billion battery plant in Michigan, and for investing alongside a Chinese mining company in an Indonesian nickel plant.
Sen. Marco Rubio (R-Fla.) is sponsoring a bill aimed at Ford that would outlaw tax credits for joint ventures with Chinese companies, or for EVs built using battery technology licensed from China.
What they're saying: "Hardworking Americans should not be forced to subsidize Chinese companies that make batteries for electric vehicles that cost more than most people make in a year," Rubio said in a statement.
The other side: Ford says it's complying with both the letter and the spirit of U.S. law while creating thousands of jobs.
"Like every other major global automaker, our supply chain draws from the best technologies, processes and minerals from around the world, including from Chinese companies," a company spokesperson told Axios.
The Michigan factory will be a wholly owned subsidiary of Ford, not a joint venture, the spokesperson added.
Ford will pay a licensing fee to China's CATL, the world's largest battery company, and hire the Chinese company to help get the Michigan plant up and running — but CATL won't receive taxpayer money.
Amid the backlash, Ford issued a press release this week proclaiming itself "the most American of all car companies" because it produces the most vehicles and employs the most hourly workers in the U.S.
The Biden Administration says it is working to strengthen U.S. supply chains, with more than $100 billion invested so far in EV-related manufacturing.
"President Biden has put us on the bold path we need to be on to out-compete competitors like China for jobs and investments building the future of transportation," a White House spokesperson said.
The big picture: Auto industry executives say there's danger in trying to unwind global supply chains to protect regional economies.
"There are a lot of traps," says Carlos Tavares, CEO of Stellantis, the parent of Jeep, Chrysler and Peugeot. "The world is fragmenting, and global trade is going backwards," he says, creating regional economic bubbles.
"You might not always have the resources inside the bubble to support the activities inside the bubble," he adds — which could mean higher prices for energy, raw materials and labor.
Plus, battery technology is still evolving — sodium-based designs are one intriguing development — meaning the U.S. may be at risk of building mines and factories to produce batteries that wind up being obsolete in a decade. (Cobalt and nickel, for instance, are prevalent in today's batteries but could soon be outmoded.)
The bottom line: The White House has notched several big battery wins, but it'll take more than a few tax breaks to reverse decades of globalization.
This story has been updated to include a statement from The White House.
For more in-depth coverage of energy and climate policy, subscribe to the Pro Energy newsletter.
Go deeper