GOP's stormy 2024 outlook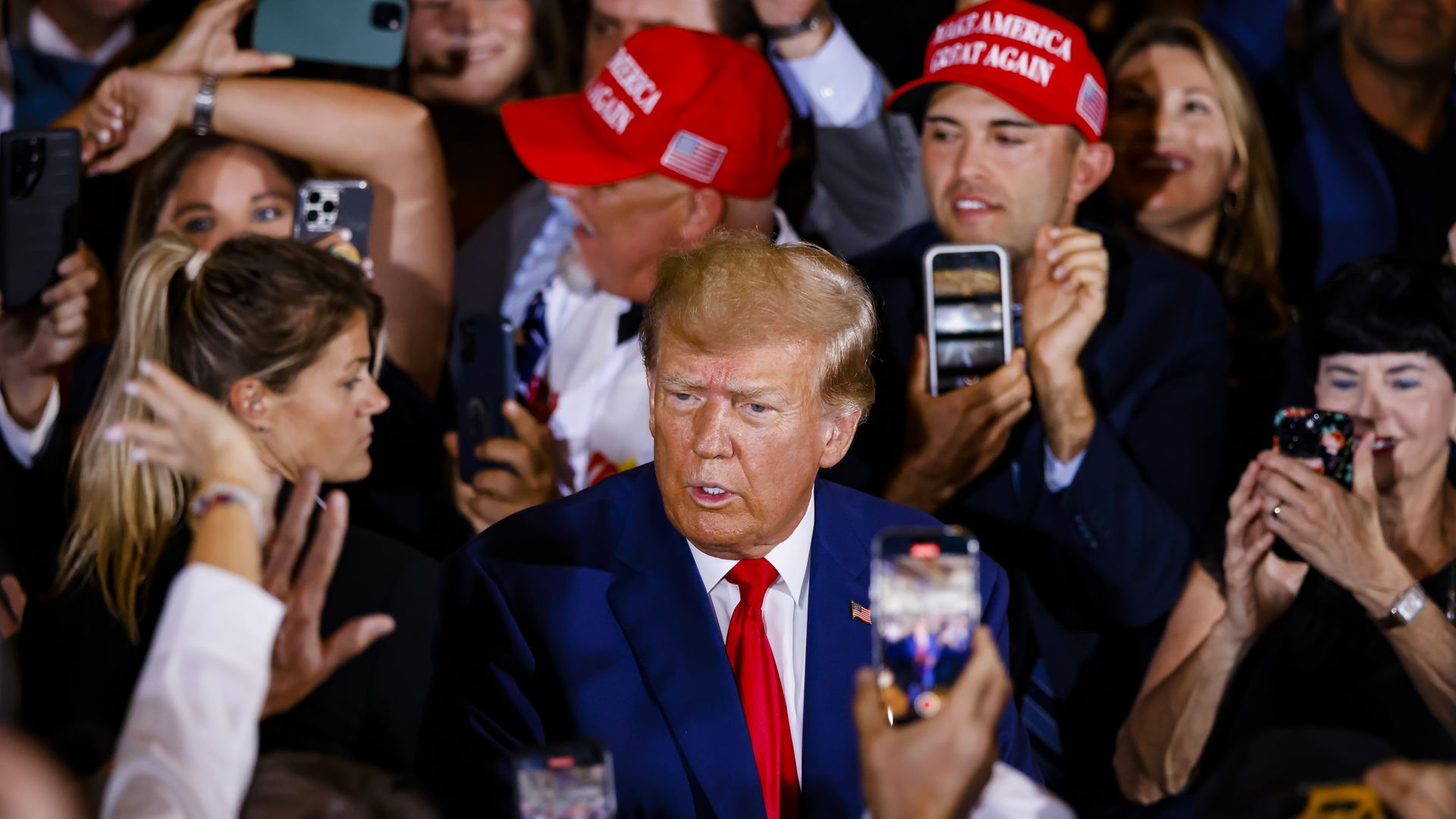 This week marked a low point for Republicans as they prepare for the 2024 elections: Former President Trump is once again the dominant force in the party, which is showing little indication of trying to appeal to swing voters.
Why it matters: By aligning with Trump's grievances and promoting tougher abortion restrictions, it's increasingly difficult for the GOP to win outside of deep-red strongholds.
Driving the news: Every potential Republican challenger to Trump (with the exception of former Govs. Asa Hutchinson and Chris Christie) has adopted the MAGA narrative that Trump is being treated unfairly by a politicized justice system — even when it's in their interest to criticize the GOP frontrunner.
Trump won three new congressional endorsements after he was indicted — from Sen. Cindy Hyde-Smith (R-Miss.), Rep. Byron Donalds (R-Fla.) and Rep. Jim Banks (R-Ind.), who's running for a U.S. Senate seat.
Rep. Marjorie Taylor Greene (R-Ga.), one of the leaders of the MAGA movement in Congress, was featured on "60 Minutes" as one of her party's leading power players.
Zoom in: On the same day as Trump's arraignment, voters in swing-state Wisconsin decisively rejected a right-wing judicial candidate in favor of a progressive one.
The election was fought predominantly over abortion rights, as Republicans continue to push for restrictions beyond what the public supports.
In the run-up to his likely presidential campaign, Florida Gov. Ron DeSantis — the leading Trump alternative in the GOP — is expected to sign a six-week abortion ban that just passed Florida's Senate.
The Cook Political Report's David Wasserman noted that Democratic gains in pivotal swing states — namely Michigan, Wisconsin and Pennsylvania — have been driven by an uptick in support from white working-class voters over abortion rights.
Between the lines: To hold Republicans' narrow House majority, Speaker Kevin McCarthy will need to hang on to suburban districts where voters are open to backing Republicans but have grown tired of extreme politics.
Of the 33 GOP-held seats that the Democratic Congressional Campaign Committee announced as top targets, two-thirds are in urban and suburban areas. President Biden carried 18 of those 33 House districts in 2020.
The GOP's path to a Senate majority runs through redder turf, but some Republicans already are concerned that far-right candidates (such as Rep. Matt Rosendale in Montana or Rep. Alex Mooney in West Virginia) could hurt the GOP's prospects against vulnerable Democratic incumbents.
What we're watching: Other top swing-state Republican Senate contenders have avoided weighing in on Trump, knowing it's a lose-lose situation. If they distance themselves from Trump, it hurts them in a Republican primary. But tie themselves too closely to the former president, and they'll shed independents.
In Ohio, two potential Republican Senate candidates are clashing over Trump. After Trump's indictment, businessman Bernie Moreno tweeted: "It's time [for] all Republicans to coalesce around President Trump, especially those that just got elected to serve four years in office for a different and important position."
That was seen as a shot at Ohio Secretary of State Frank LaRose, who said in February: "When it comes to who's going to be my party's standard-bearer in 2024 ... it's not something I'm going to weigh in on anytime soon."
Asked last month whether he'd support Trump in the primary, potential Pennsylvania Senate candidate Dave McCormick said: "I'm excited about the primary. There appears to be a number of great people that are going to jump into the arena, and I have not made a decision to support anybody."
He faces a possible primary challenge by Doug Mastriano, who badly lost last year's governor's race with a right-wing message and Trump's backing.
"These moderate types, they can't win either the primary or general election without the grassroots of Pennsylvania. And right now, they don't have them," Mastriano said this week. (Mastriano's extreme message led to a landslide 15-point defeat in swing-state Pennsylvania.)
The bottom line: We're a deeply divided and polarized country, split closely between left and right.
But Trump's legal predicament combined with the GOP's exposure on abortion is giving the Democrats a small but important advantage heading into a pivotal election year.
Biden holds historically low approval ratings himself. Democrats are vulnerable on the economy, crime and immigration. But they have shown an ability to moderate when necessary.
Until Republican voters show they're capable of doing the same, Democrats will hold the edge in 2024.
Go deeper