Biden's digital strategy: an army of influencers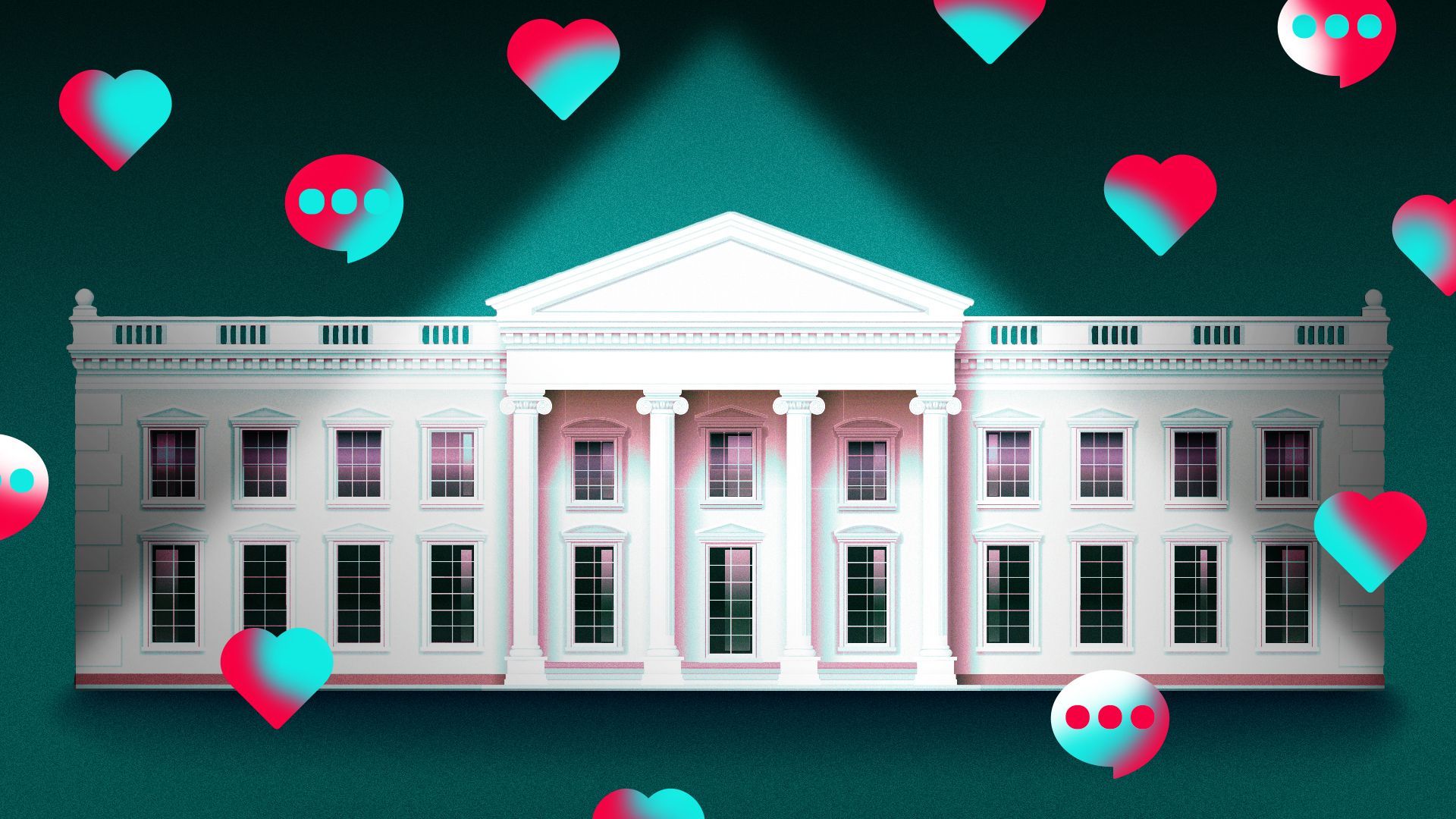 President Biden's not-yet-official bid for re-election will lean on hundreds of social media "influencers" who will tout Biden's record — and soon may have their own briefing room at the White House, Axios has learned.
Why it matters: The move aims to boost Biden's standing among young voters who are crucial to Democrats' success in elections — and to potentially counter former President Trump's massive social media following, if he's the GOP nominee in 2024.
Biden's digital strategy team will connect with influencers across the nation to target those who may not follow the White House or Democratic Party on social media — or who have tuned out mainstream media altogether.
Four Biden digital staffers are focused on influencers and independent content creators. The staffers officially work for the White House, not Biden's campaign — but reaching young and suburban voters is clearly a priority.
Young voters (ages 18-29) preferred Biden over Trump by a 26-point margin in 2020, and Democrats over Republicans by 28 points in the 2022 midterms.
A measure of the importance Team Biden is placing on its digital strategy: Rob Flaherty, who leads the effort, has been named assistant to the president — the same rank as the White House communications director and press secretary.
What they're saying: "We're trying to reach young people, but also moms who use different platforms to get information and climate activists and people whose main way of getting information is digital," said Jen O'Malley Dillon, White House deputy chief of staff.
The details: Hundreds of unpaid, independent content creators have been given access to Biden's White House. They include:
Zoom in: A dedicated White House briefing space for influencers to meet in person or by remote would be unprecedented — and a sign that the traditional Press Briefing Room no longer would be the administration's only messaging center.
It also would give some influencers more consistent access to the president.
"We actually asked the White House, 'When are we going to get press briefing passes?' " said Sisson, who has 660,000 followers on TikTok.
"They were actually were very responsive to it," he said of administration officials' reaction to the suggestion by some of the two dozen influencers who attended a State of Union watch party the White House.
The result: The administration is moving toward giving influencers their own briefing room in the White House.
Zoom out: Besides White House invitations, the administration has given influencers opportunities for access to Biden when he goes on the road.
What's next: The White House wants to work with influencers who have local audiences when Biden travels to their state — just as its regional team has built relationships with local media outlets.
Reality check: Biden's followings on social media don't compare with Trump's, especially on especially on Youtube and Facebook.
Biden's strategy is aimed more at platforms favored by younger voters, such as Instagram and TikTok.
The intrigue: The administration is courting support on TikTok even as it has called for the platform to be sold or else risk being banned in the U.S. because of its owner's ties to China's government.
Editor's note: This article has been corrected to clarify content creators' relationship to the White House, and to remove Heather Cox Richardson as one of those creators.
Go deeper