Biden's immigration policies to be tested when Title 42 ends next month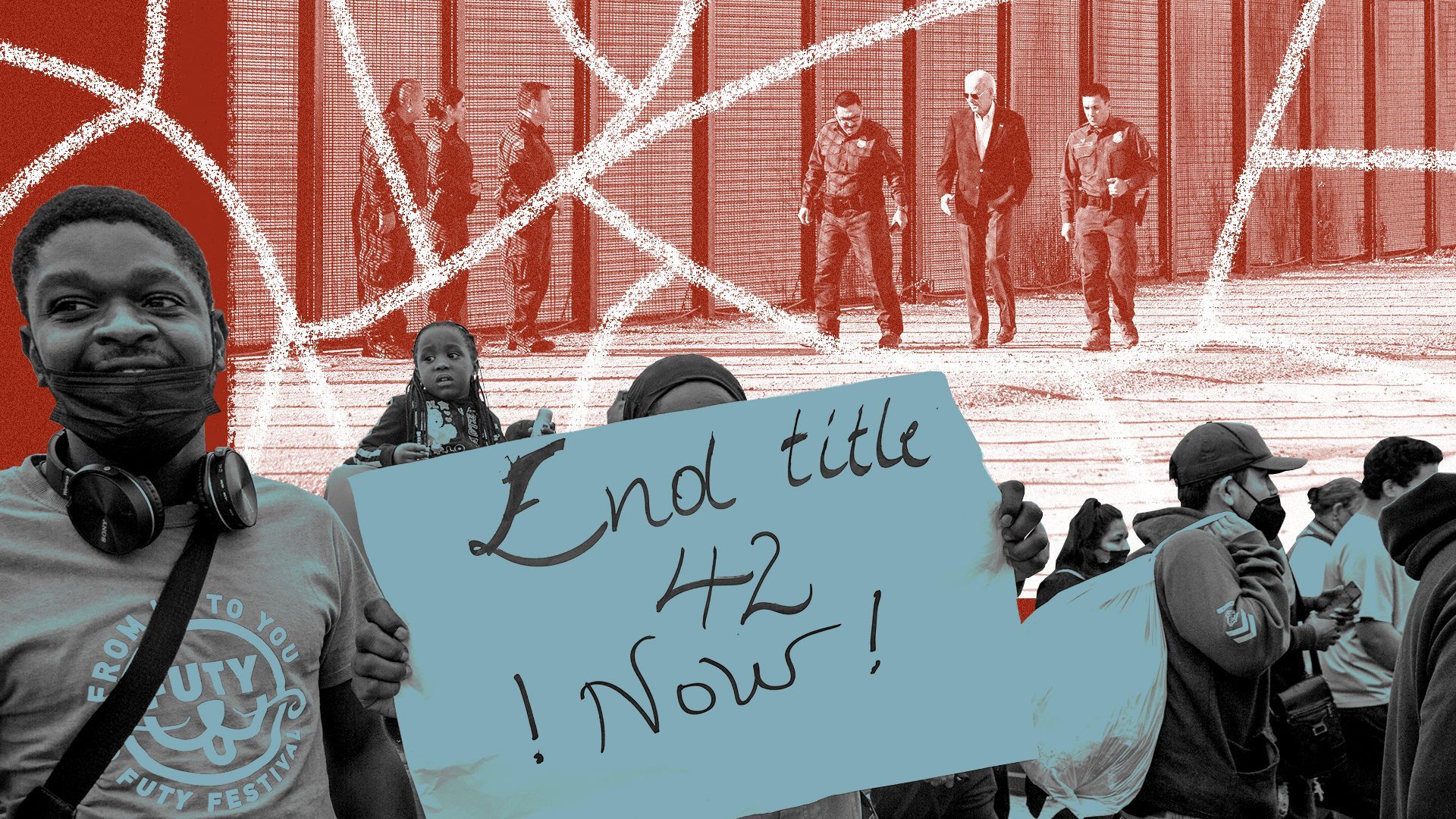 Migration through the Americas has radically changed over the past decade, yet U.S. immigration laws remain stuck in the last century, with a patchwork of policies to address a growing humanitarian crisis at the southern border.
Driving the news: On May 11, the Biden administration is expected to end the Title 42 pandemic policy, which has allowed immigration authorities to rapidly turn back hundreds of thousands of people without giving them a chance for asylum.
A different policy meant to alleviate pressure at the southern border, which allowed authorities to more quickly release and track migrants who enter the U.S. using ankle monitors or a phone app, was halted by a Florida court in March.
Without either option, Border Patrol could again face overcrowded facilities or be forced to quickly release migrants into the country without a court date and with no guarantee they'll report to ICE offices as instructed.
The big picture: Immigration advocates and many Democrats are eager to see the end of Title 42, which they say infringed on the right to seek asylum.
They tend to emphasize the need for comprehensive immigration reform and opening up different legal pathways for migrants, rather than restricting asylum access at the border.
What to watch: Still, a scenario in which tens of thousands more people come to the U.S. border in a short time frame — which experts say is likely to happen with the end of Title 42 — poses dangers to immigrants and could overwhelm the resources of border authorities and local communities.
Dozens of people died in a recent fire at a migrant facility in Ciudad Juárez, Mexico, at a time when the city is struggling with a massive influx of migrants seeking to enter the U.S., and as migrants' desperation grows.
Last year was the most deadly on record for migrants at the Southwest border, data shows.
"I am very concerned for border communities and our ability to be able to manage through this alongside the federal government," said Rep. Veronica Escobar (D-Texas), who represents the border district including El Paso and has long called for the end of Title 42.
City leaders struggled this winter with a huge number of migrants who crossed into El Paso, straining city and NGO resources.
Faced with this reality, the Biden administration is considering stringent new immigration proposals.
One policy would block migrants from asylum if they do not use new parole programs, schedule an appointment at the border through an app or first seek protections in a country they traveled through. Another would resume the detention of migrant families.
The Department of Homeland Security has also increased resources on the border and cracked down on smuggling networks.
Yes, but: These are short-term fixes, and they are politically risky and can have unintended consequences.
Jason Houser, former ICE chief of staff, told Axios in a recent interview that considering current migration levels, he expects, "we are going to see an increase in [unaccompanied migrant children] over the next year."
Children who cross the border without their parents will be exempt from the proposed rule requiring people to seek asylum somewhere else first. That could lead to families choosing to separate at the border and send kids across alone, Houser says.
Still, some of Biden's short-term efforts to slow illegal border crossings have worked.
Border Patrol arrests fell drastically in the first two months of the year after new policies were rolled out providing temporary, legal pathways into the U.S. coupled with rapid expulsion for Venezuelans, Nicaraguans, Cubans and Haitians who illegally cross the border.
It's a trend that officials and proponents have pointed to as proof that offering more legal pathways works — that people only cross the border illegally when they feel it is their only option.
Between the lines: Addressing root causes of migration from Central and South America through diplomacy and private investment is a long term endeavor.
"I think the effort is there, but I think the strategies are not going to lead to effects in the short term," Migration Policy Institute analyst Ariel G. Ruiz Soto told Axios.
Ruiz Soto said it can be problematic to overemphasize addressing root causes as a means of slowing migration because migration has greatly contributed to the development of the countries that people leave.
For example, "Mexican remittances have been invaluable to invest in infrastructure," Ruiz Soto said.
The bottom line: Biden is not the first president to face overwhelming humanitarian and logistical crises at the border or to have his efforts hampered by federal courts.
He won't be the last as long as more permanent changes to immigration laws are held hostage by politicians.
This story is part of a series in Axios Latino focused on immigration to the United States.
Go deeper