Trump pleads not guilty to 34 counts in hush-money case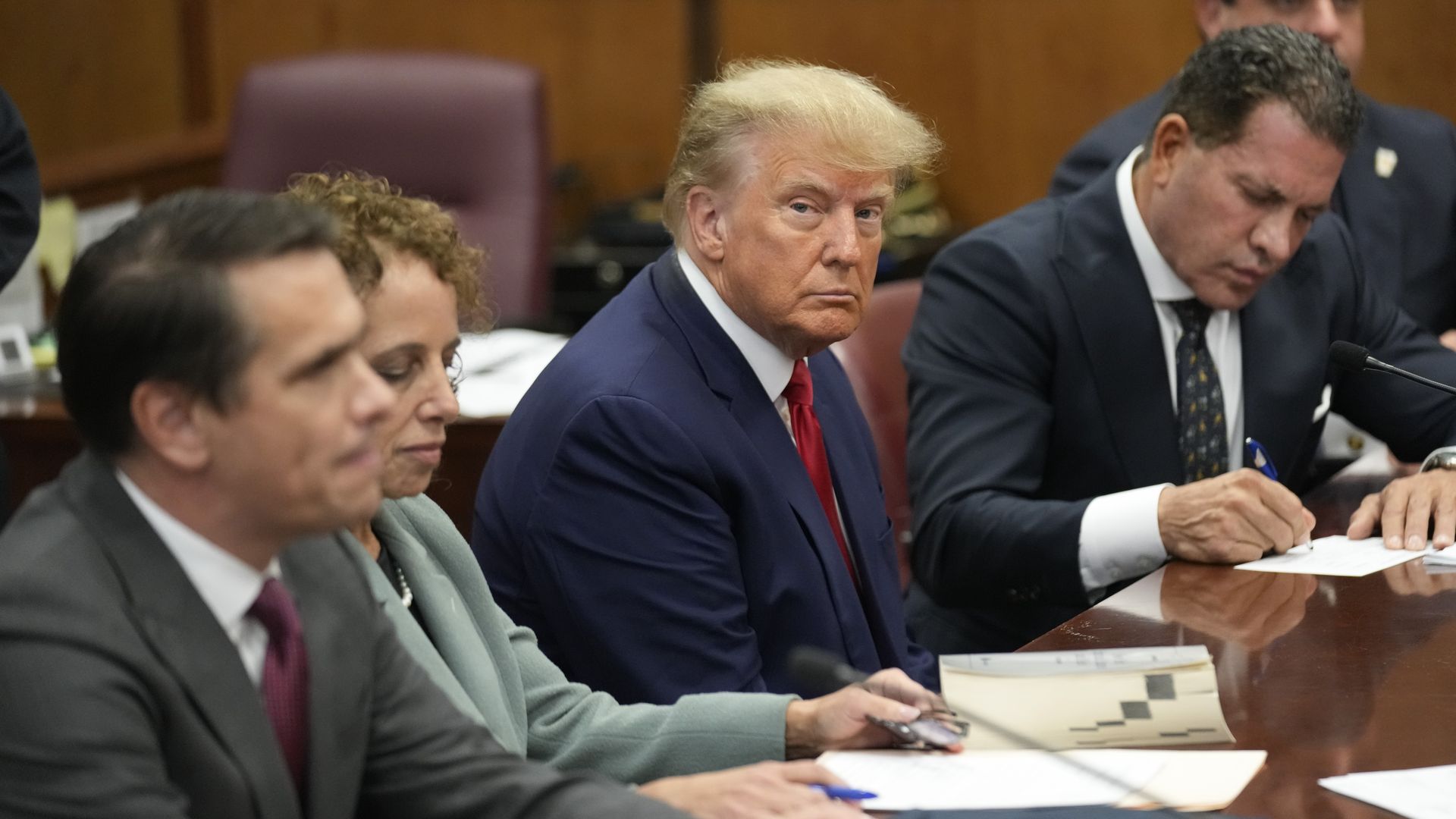 Former President Trump pleaded not guilty Tuesday to 34 counts of falsifying business records in the first degree in a Manhattan criminal court related to 2016 hush money payments.
Why it matters: Trump, who is campaigning for the 2024 election, is the first U.S. president (current or former) to have ever faced criminal charges.
Driving the news: Prosecutors allege that Trump conducted a "catch and kill" scheme including the $130,000 payment to adult film actress Stormy Daniels.
Prosecutors say the National Enquirer paid $30,000 to a former Trump Tower doorman who was said to have a story about a child Trump had out of wedlock, per the indictment's statement of facts.
The tabloid also paid $150,000 to another woman, believed to be former Playboy model Karen McDougal, who alleged that she had a sexual relationship with Trump, per the court document.
Trump "explicitly directed a lawyer who then worked for the Trump Organization," Michael Cohen, to reimburse the Enquirer. The Enquirer refused payment but admitted to making false business entries.
Trump used Cohen to reimburse Daniels, through checks from the "Donald J. Trump Revocable Trust" and his own bank account — each "illegally disguised as a payment for legal services rendered pursuant to a non-existent retainer agreement," the charges say.
What he's saying: Trump aired grievances in a Tuesday evening speech about several criminal inquiries he's facing, including the Manhattan D.A. investigation and his handling of classified documents.
Echoing a sentiment from one of his attorneys earlier in the day, Trump, who was indicted Thursday by a New York grand jury, said he "never thought anything like this could happen in America."
A Truth Social post on his account after the hearing called it "shocking to many in that they had no 'surprises,' and therefore, no case."
A post before the hearing stated: "Seems so SURREAL — WOW, they are going to ARREST ME. Can't believe this is happening in America. MAGA!"
State of play: The former president left the courthouse just before 3:30pm ET following his untelevised arraignment.
He turned himself in hours earlier, marking his official arrest.
What they're saying: Manhattan D.A. Alvin Bragg, at a news conference after the arraignment, said: "Everyone stands equal before the law. No amount of money and no amount of power changes that enduring American principle."
Todd Blanche, one of Trump's attorneys, said after the arraignment that the former president is "frustrated" and "he's upset," but added that "he's motivated."
"The district attorney has turned what is a political issue into a political prosecution ... you don't expect this to happen in this country," Blanche told reporters.
House Speaker Kevin McCarthy (R-Ca.) accused Bragg of trying to interfere "in our democratic process by invoking federal law to bring politicized charges" against Trump and said Congress will hold him accountable.
President Biden does not plan to comment specifically on the case, White House press secretary Karine Jean-Pierre told reporters Tuesday.
Zoom out: Ahead of the expected arraignment, throngs of pro- and anti-Trump protesters flocked to a park near the Manhattan courthouse.
Reps. Marjorie Taylor Greene (R-Ga.) and George Santos (R-N.Y.) appeared in lower Manhattan in support of Trump.
New York City police had stepped up security measures, though city officials repeatedly said there were "no credible threats."
Steel barricades went up near both Trump Tower and the courthouse as security officials prepared for protests.
Meanwhile, Trump is not expected to take a plea deal if the case goes to trial, his attorney has said.
Background: The case comes more than four years after former Trump lawyer Cohen was convicted and sentenced to three years in prison on federal charges in part related to a $130,000 hush money payment to Daniels. He has been a witness against the former president.
After his conviction, Cohen alleged Trump ordered him to make the payment to Daniels just before the 2016 election and later reimbursed him for it through the Trump Organization as legal expenses.
The big picture: The historic indictment of the only president to be impeached twice has unified the Republican Party around him. Nearly every Republican in elected office has defended Trump and decried the indictment as politically motivated — with only a few prominent GOP defectors.
What to watch: Trump's next in-person hearing was set for Dec. 4.
More from Axios:
Editor's note: This story was updated with additional developments and information. Axios' Sophia Cai contributed to this report.
Go deeper