What's going on with DeSantis' takeover of Disney special district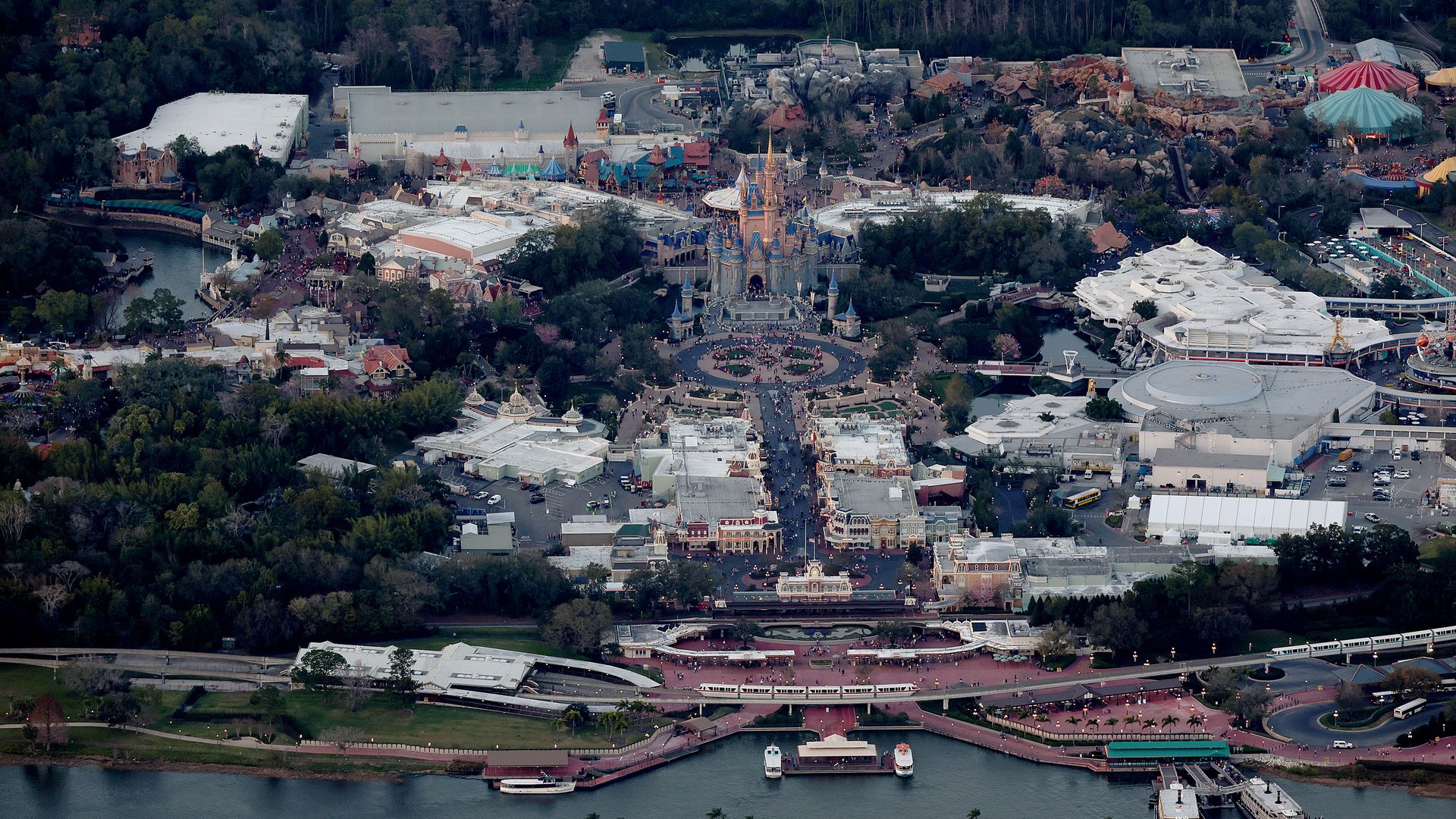 The feud between Florida Gov. Ron DeSantis (R) and the Walt Disney Company has been going on for years, with at least two dueling lawsuits playing out in state court.
Driving the news: DeSantis and Disney are at odds over several issues, including a law dubbed "Dont Say Gay" by its critics and the control over the Reedy Creek District near the Disney World resort in Orlando.
Below is a timeline of the conflict between Disney and DeSantis.
January-February 2022
The Parental Rights in Education Bill — dubbed by critics as the "Don't Say Gay" bill — was introduced in the Florida legislature in January 2022 to ban classroom instruction on sexual orientation and gender identity from kindergarten through 3rd grade.
For higher grade levels, the bill held that instruction should be "age-appropriate and developmentally appropriate" by state academic standards.
It also allowed parents to sue schools or teachers that engage in these topics.
The bill led to backlash across the country, including protests among students and educators, as well as public opposition from corporate leaders — including Disney.
"We will make sure parents can send their kids to school to get an education, not an indoctrination," DeSantis said in support of the bill.
March-April 2022
In March 2022, facing pressure from employees and fans, then-Disney CEO Bob Chapek came out against the bill saying the company was "opposed to the bill from the outset."
Chapek said he called DeSantis to express "disappointment and concern that if the legislation becomes law, it could be used to unfairly target gay, lesbian, non-binary and transgender kids and families."
Later that month, DeSantis signed the bill into law.
Disney released a statement moments after DeSantis signed the bill, lambasting it by saying it "should never have passed and should never have been signed into law."
Then in April 2022, DeSantis signed into law a bill revoking the special status of Reedy Creek, a municipal district operated by Walt Disney Co.
May 2022
February 2023
The Florida legislature passed a bill allowing DeSantis to rename Reedy Creek and to choose a new governing board. They did not approve a tax status change.
DeSantis signed a bill that established a state-controlled tax district overseeing 25,000 acres surrounding Walt Disney World.
The new board for Disney's special district have all been associated with conservative politics in Florida, and many have vocally supported DeSantis' policies or have financially contributed to his campaigns.
March 2023
The DeSantis-appointed board discovered Disney has used a legal clause that invokes England's King Charles III to retain its self-governing power.
The agreement prevents the board from using Disney's name, symbols associated with it and the theme park, and the likeness of Disney characters without the company's permission. It also gives the company the ability to sue for damages for violations.
The agreement is in effect until perpetuity — or until 21 years after the death of the last survivor of the descendants of King Charles III.
Brian Aungst, a member of the DeSantis board, says Disney's efforts were "a subversion of the will of the voters and the Legislature and the governor," and that the board would have "to deal with it and correct it."
The move from Disney came weeks after the company said it wouldn't fight the state's takeover of Reedy Creek.
April 2023
DeSantis introduces a bill aimed at nullifying the agreement the company had struck with the previous board overseeing the governance of Disney World in Orlando.
He also encouraged lawmakers to revoke other privileges Disney holds in Florida, including its monorail system's exemption from state inspections.
Disney CEO Bob Iger says during a shareholder meeting in early April that DeSantis' actions are retaliatory, adding that he believes the governor is seeking "to punish a company for its exercise of a constitutional right. And that just seems really wrong to me," CNBC reported.
Disney files a lawsuit after the governor-appointed board voted to nullify earlier agreements that had given the company authority over most construction near its Orlando resort.
May 2023
A board appointed by DeSantis unanimously votes on May 1 to countersue the Walt Disney Company in state court.
Martin Garcia, chairman of the Central Florida Tourism Oversight District, suggested in a board meeting they had to countersue the entertainment giant.
"We have no choice now but to respond," Garcia said. "This is why we called today's meeting, to authorize legal action in response to Disney's federal lawsuit."
Noting the suit will be filed in state court, Garcia said, "We'll seek justice in our own backyard."
On May 18, Disney cancels the construction of a new, nearly $1 billion employee campus in Orlando on May 18, citing "changing business conditions" within the state.
The campus could have brought more than 2,000 jobs with average salaries of $120,000 to Orlando's Lake Nona region, according to state estimates.
What's next
Clay Calvert, a law professor at the University of Florida specializing in the First Amendment, told Axios, "DeSantis might have been his own worst enemy by speaking out" and providing Disney fodder to prove its claim.
"Disney has to show that the actions taken by the state of Florida were motivated by a desire to punish Disney for speaking out," and the lawsuit laid out "all the statements, not just by DeSantis, but by others."
Meanwhile, Florida's chief inspector general Melinda Miguel is doing "a thorough review and investigation" into the agreements made by the Reedy Creek Improvement District and the board members and employees who were behind the agreements, per DeSantis' April 2023 request.
If Disney and DeSantis go to court over the agreements, it could take years to settle and would cost the company and the statement government thousands, if not millions, of dollars, according to the Orlando Sentinel.
Editor's note: This story has been updated with additional details and developments throughout.
Go deeper