Potatoes sprout as cheaper Easter egg substitute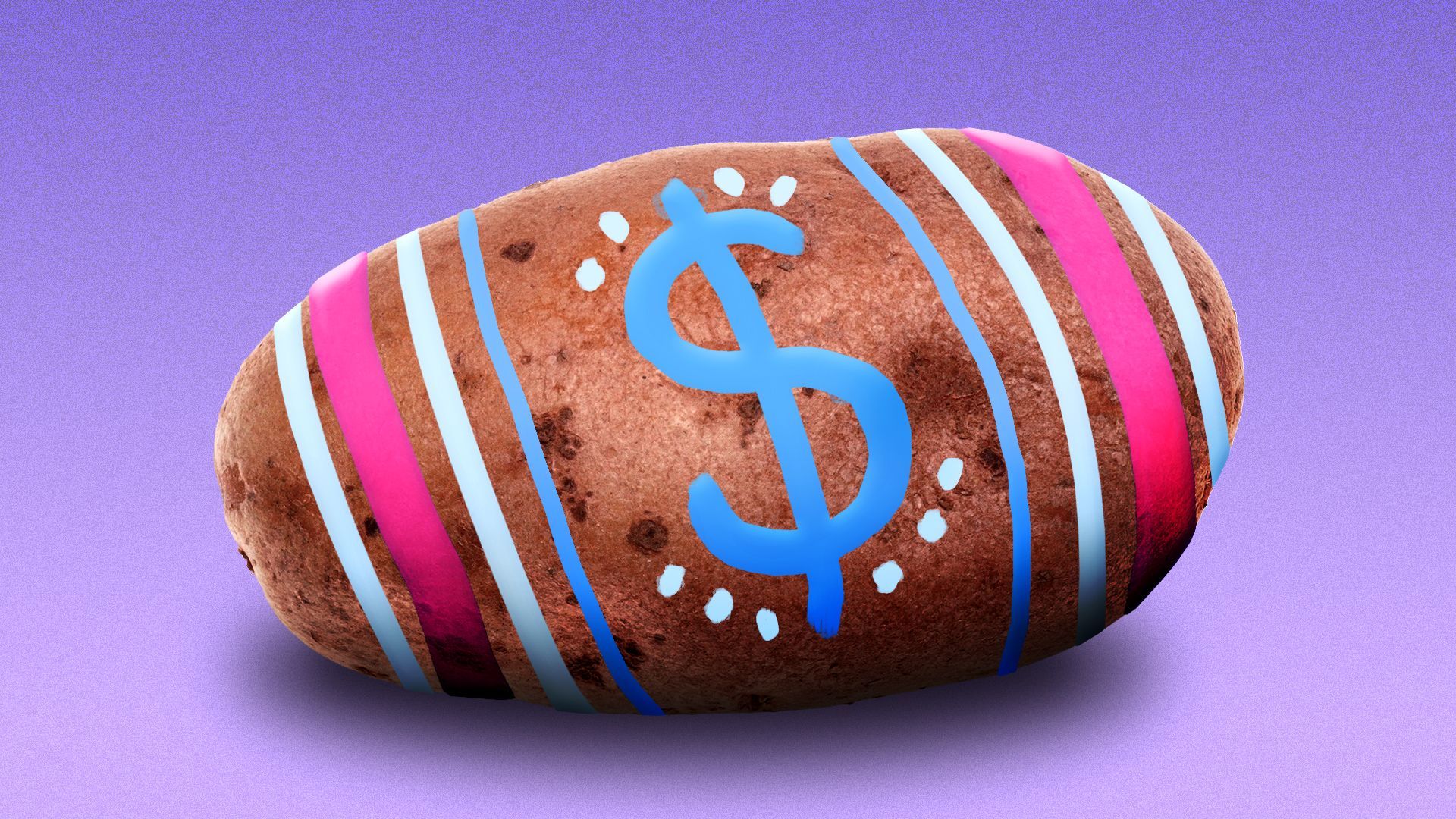 With egg prices still high, the potato industry is looking to scramble up Easter traditions with a budget-friendly alternative: Easter potatoes.
Why it matters: Potato producers are taking advantage of the fact that the price of eggs was up 55.4% in February compared to a year earlier while potato prices only increased 13.5% year over year, according to the latest Consumer Price Index.
The big picture: The idea of painting or dyeing spuds this Easter started circulating in January as memes about high egg prices took over the internet, including:
"Due to egg prices on the rise … Children will have to hunt potatoes this Easter!"
"Dyeing Easter eggs is so 2022. In 2023, we paint Easter potatoes!"
"Yeah, I think it's safe to just go ahead and cancel this year's Easter egg hunt," one meme said with photos of high egg prices.
The memes are what sparked Potatoes USA, the national marketing and promotion board representing U.S. growers and importers, to join the trend, said Bonnie Johnson, director of nutrition and industry relations.
The group provided tips on painting and is asking people who try Easter potatoes to use hashtag #easterpotatoes on social media and tag @PotatoGoodness on Facebook or Instagram.
Erin Bracken, a mom of three who works with Potatoes USA, said she's heard from a lot of people who are planning to paint potatoes this year, which are easier for kids to hold and not as fragile.
"I think they're looking to save money and I think they're just excited about a new thing to try," Bracken said.
What they're saying: Bloggers Stacey Garska Rodriguez of The Soccer Mom Blog and Brittanie Pyper from Simplistically Living also were inspired by the memes to write posts with directions on how to best dye and paint potatoes.
"For people who are still being very concise of their food budget due to inflated costs on nearly everything, I think potatoes will be a really viable option for the Easter holiday," Pyper said.
Yes, but: Because egg prices have fallen from their January record high, Garska Rodriguez, of Houston, doesn't expect potatoes will be filling many baskets.
"Since the price of eggs has stabilized a bit, I think that most people will probably stick with tradition and decorate eggs," she told Axios. "If the prices had stayed high, then all bets would be off."
There's also the issue of food waste, said Joanie Demer, co-founder of popular money-saving blog the Krazy Coupon Lady.
"Eggs and potatoes both probably represent a food waste risk," she said in an interview with Axios. "I don't know how different it is from painting a rock, which I think is also a decent alternative and even more cost effective."
Tips for saving money on eggs and potatoes
Whether you're sticking with eggs or painting the vegetable, buying in bulk at a wholesale club like Costco or Sam's Club can come with savings.
Looking for holiday sales and promotions is another strategy, Demer said.
If the potatoes are dyed or painted with food-safe products, they can also be served at your Easter meal after being washed and cooked, Johnson from Potatoes USA said.
"What's fun as we tried this, the food-safe food dye only breaks through a little bit of a layer of the skin of a potato," Johnson said. "So when you do slice them up, they're just spectacularly beautiful."
Go deeper: Listen to the Axios Today podcast, where host Niala Boodhoo and Kelly Tyko explain how the potato industry is giving people a budget-friendly alternative to Easter eggs.
Go deeper