Scoop: White House won't pay for Twitter verification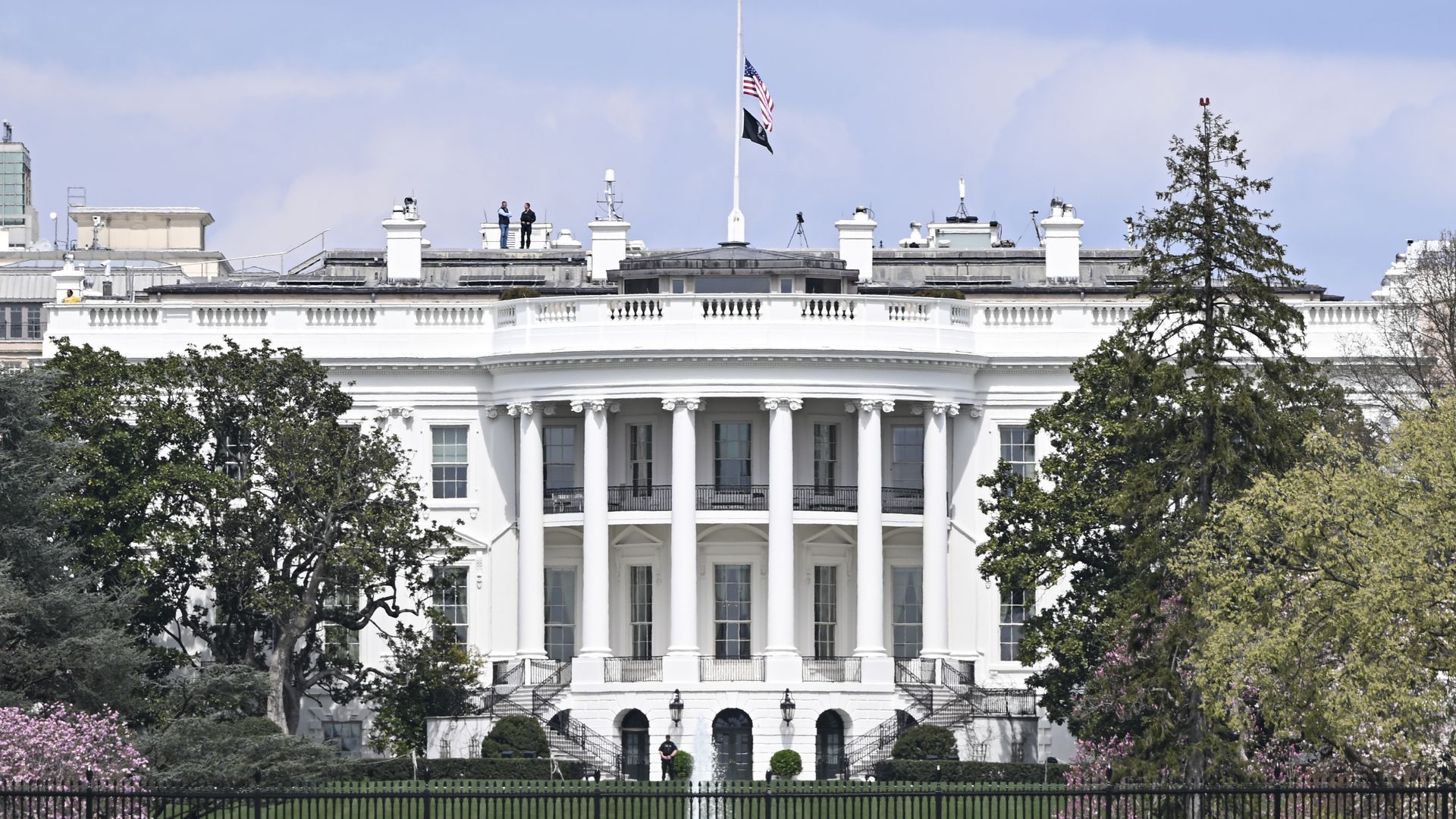 The White House will not pay to have its staff's official Twitter profiles continue to be verified, according to guidance issued to staffers via an email obtained by Axios.
Why it matters: Official White House staffers rely on their verified accounts to inform the public on behalf of the administration. Verification, combined with the designated Twitter profiles, helped to ensure the public could trust those messages.
Details: "It is our understanding that Twitter Blue does not provide person-level verification as a service. Thus, a blue check mark will now simply serve as a verification that the account is a paid user," White House director of digital strategy Rob Flaherty told staffers in an email sent Friday afternoon.
The guidance, which was sent internally to White House staffers, doesn't necessarily apply to government agencies, but a source familiar with White House plans said it may send guidance to some agencies and departments in the future.
Catch up quick: Elon Musk announced earlier this month that Twitter will begin removing legacy verified check marks on April 1.
The company has been warning users with legacy verified accounts that in order to retain their blue check marks, they would need to pay for them via Twitter Blue, Twitter's new $8 monthly subscription service that allows anyone who pays to be verified with a blue check mark.
Official organizations, such as the White House and some government officials, will continue to be verified with a grey check mark, Twitter said. Some White House officials, like the President and Vice President, will likely continue to be verified with a grey checkmark, but an administration source said it's unclear at this time exactly which officials will retain grey checks.
In his email, Flaherty noted that per Twitter's updated policies, Twitter will no longer be able to guarantee verification for federal agency accounts that do not meet its new eligibility requirements.
Companies and businesses that wish to pay for verification on the enterprise level can do so on behalf of their official accounts and some employees. Those companies will be charged $1000 monthly and will be designated with a gold check mark.
Be smart: The White House says it will not pay to be verified as an organization, and it won't reimburse staff who purchase Twitter Blue on their personal social media accounts.
"Twitter's enterprise service, Verification for Organization, does appear to provide organization-association verification. There are ongoing trials for the program that we are monitoring, but we will not enroll in it," Flaherty wrote.
"Staff may purchase Twitter Blue on their personal social media accounts using personal funds," he added.
How it works: Each administration creates White House-specific accounts for its staffers that include their names followed by a number designating the administration they work for.
In this case, Biden administration officials have a "46" listed at the end on their Twitter handles.
Flaherty's note was sent to administration staff, including those who tweet from official White House "46" accounts.
Flaherty also acknowledged the potential fallout from the changes, providing guidance to staffers in his email about where they should report any potential account impersonations.
The big picture: Government officials, celebrities and notable figures have for years relied on Twitter's verification system to ensure that their accounts weren't spoofed.
Many, including most newsrooms, vowed not to pay for accreditation, arguing that it no longer signals authority if any user can purchase a check mark.
Citing an internal document, The New York Times reported Thursday that Twitter will make an exception for its top 500 advertisers and its 10,000 most-followed organizations that have been previously verified.
Go deeper