Updated Mar 27, 2023 -

World
Bibi suspends judicial overhaul after mass protests across Israel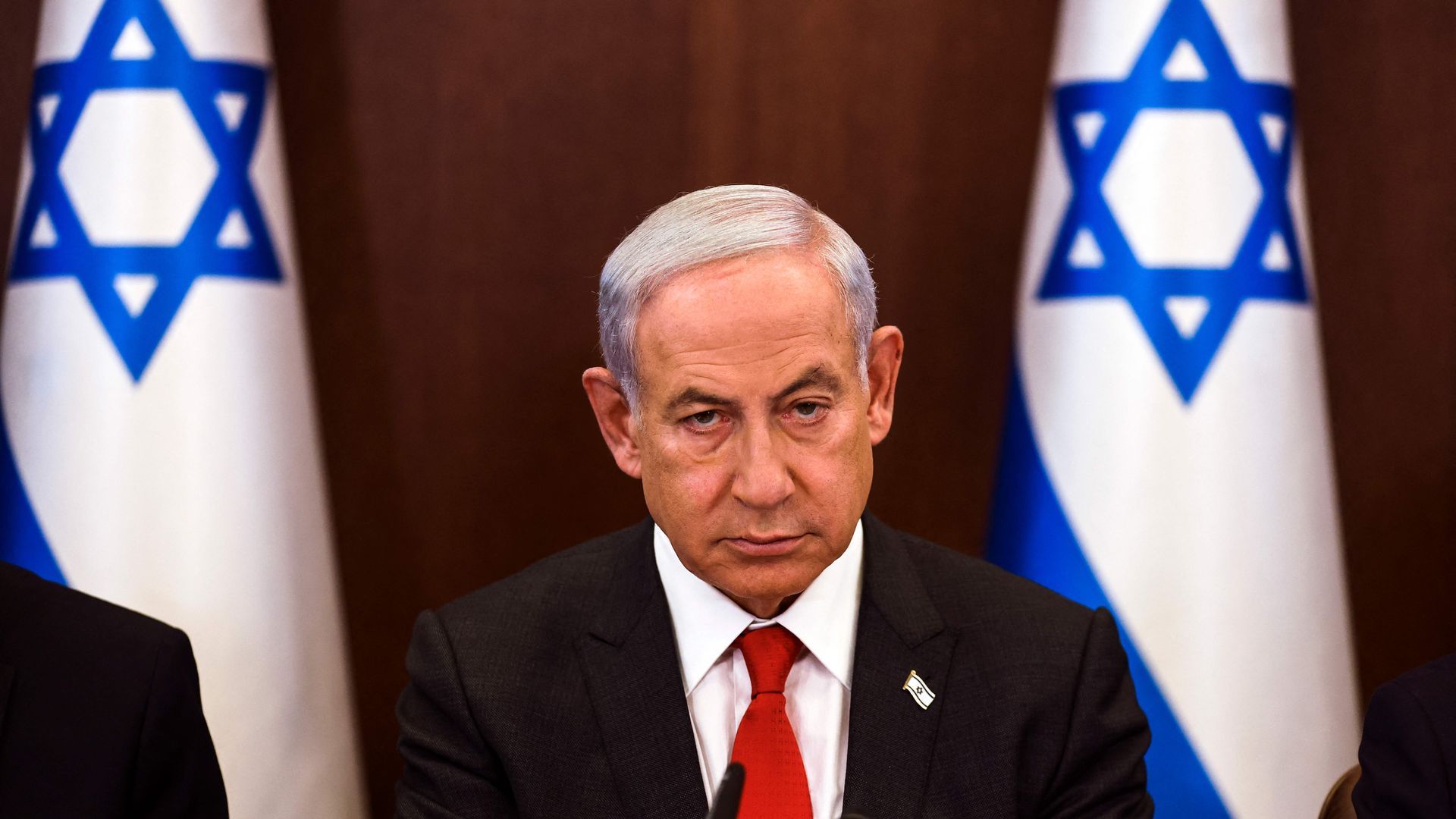 Israeli Prime Minister Benjamin Netanyahu on Monday said he was delaying his coalition's judicial overhaul legislation after mass protests and a general strike that affected much of the country.
Why it matters: Israel, including its economy, has faced instability and unprecedented political and social unrest since the plan to weaken the country's Supreme Court was announced in January.
What they're saying: "I am taking a timeout in the legislation of the judicial reform," Netanyahu said late Monday local time.
"In order to prevent a rift in our people, I have decided to suspend the vote on the second and third reading of the legislation in the current Knesset session, in order to try and reach an understanding on the legislation during the next Knesset session," he added.
Netanyahu said he wants to avoid a civil war and warned that Israeli society is on a dangerous collision course.
He also said he is ready to start an immediate dialogue with the opposition in order to reach a broad consensus around the judicial overhaul plan. "We will bring a reform that will restore the balance between the different branches of government while strengthening civil liberties," Netanyahu said.
The other side: Opposition leader Yair Lapid said he is ready to start a dialogue under the auspices of President Isaac Herzog. Lapid said his goal is to reach an agreement for a constitution for Israel.
Lapid said that if Netanyahu tries any "tricks," he will find the people who protested in recent weeks standing against him again. But if Netanyahu is genuine, Lapid said, there will be a serious dialogue.
Benny Gantz, former Defense Minister and the leader of the opposition Blue and White party, welcomed Netanyahu's announcement. "Better late than never," Gantz said.
"Dialogue is the right path. I am ready to arrive at the negotiation at the president's residence with an open heart in order to reach an understanding and I call on Netanyahu to do the same," Gantz said.
Meanwhile, Herzog said in a statement that suspending the legislation was the right thing to do.
"It is time to start a candid and serious dialogue that will calm down tensions We need to start talking now at the president's residence in order to reach a broad consensus," he said.
Catch up quick: Netanyahu shocked Israel on Sunday when he fired Defense Minister Yoav Gallant, who a day earlier called for the legislation's suspension, saying the plan "created an internal rift that poses a clear and immediate threat for Israel's national security."
After Gallant was fired, spontaneous demonstrations erupted across the country.
More than 100,000 Israeli protesters blocked Tel Aviv's main highway for hours Sunday night and thousands more demonstrated in front of Netanyahu's residence in Jerusalem and in other cities across the country.
Protests continued into Monday, with about 100,000 people rallying against the government outside the Knesset.
State of play: In a rare move, the head of Israel's workers' union announced on Monday morning a general strike across the country until the legislation was suspended. Such a strike hadn't taken place in decades.
As a result of the strike, Israel's international airport and kindergartens were shut down and hospitals started dealing only with emergency cases.
After Netanyahu's address later Monday, the unions called off the strike.
Behind the scenes: Netanyahu held intense discussions with members of his coalition government, aides and family members on Sunday night, Likud officials said. Those meetings continued into Monday.
In a dramatic turn Monday afternoon, Justice Minister Yariv Levin, who had threatened to resign, issued a statement stressing that he would respect any decision Netanyahu makes regarding the judicial overhaul. He also said he would work to stabilize the coalition in order to prevent the government from collapsing. Levin's announcement gave Netanyahu important backing for suspending the legislation.
Netanyahu also made a deal with far-right Minister Itamar Ben-Gvir, who also had threatened to resign if the plan was suspended. As part of the deal, Ben-Gvir agreed to give the government until the end of the next Knesset session at the end of July to pass judicial reform based on a broad consensus, the Jewish Power party said in a statement.
Yes, but: Ben-Gvir said in a separate statement that he and Netanyahu agreed that if no agreement is reached with the opposition during the Knesset recess, the coalition will pass the legislation unilaterally.
Senior members inside the Likud are pressing Netanyahu to cancel his decision to fire Gallant. Netanyahu hasn't sent Gallant a formal letter firing him, which means the 48-hour process of the decision coming into effect hasn't started yet.
Between the lines: Netanyahu and his Likud party took a massive hit in the most recent polling by Israel's Channel 12.
It showed that if an election was held today, Likud would only get 25 seats in the Knesset, down from its current 32 seats, and the governing coalition would get only 54 seats — 10 less than it has today.
The opposition, meanwhile, would win 66 seats, according to the poll.
The big picture: The leaders of some of Israel's closest allies, including President Biden and German Chancellor Olaf Scholz, have in recent weeks expressed concerns about what the plan to weaken Israel's Supreme Court would mean for the country's democracy.
On Monday, the White House's press secretary said the Biden administration welcomed "Netanyahu's announcement as an opportunity to create additional time and space for compromise."
"Compromise is precisely what we have been calling for, and we continue to strongly urge Israeli leaders to find a compromise as soon as possible," Karine Jean-Pierre said.
"We believe that is the best path forward for Israel and all of its citizens. Democratic societies are strengthened by checks and balances, and fundamental changes to a democratic system should be pursued with the broadest possible base of popular support," she added.
This is a developing story. Please check back for updates.
Go deeper