Deutsche Bank stock falls amid "dragnet on global banks"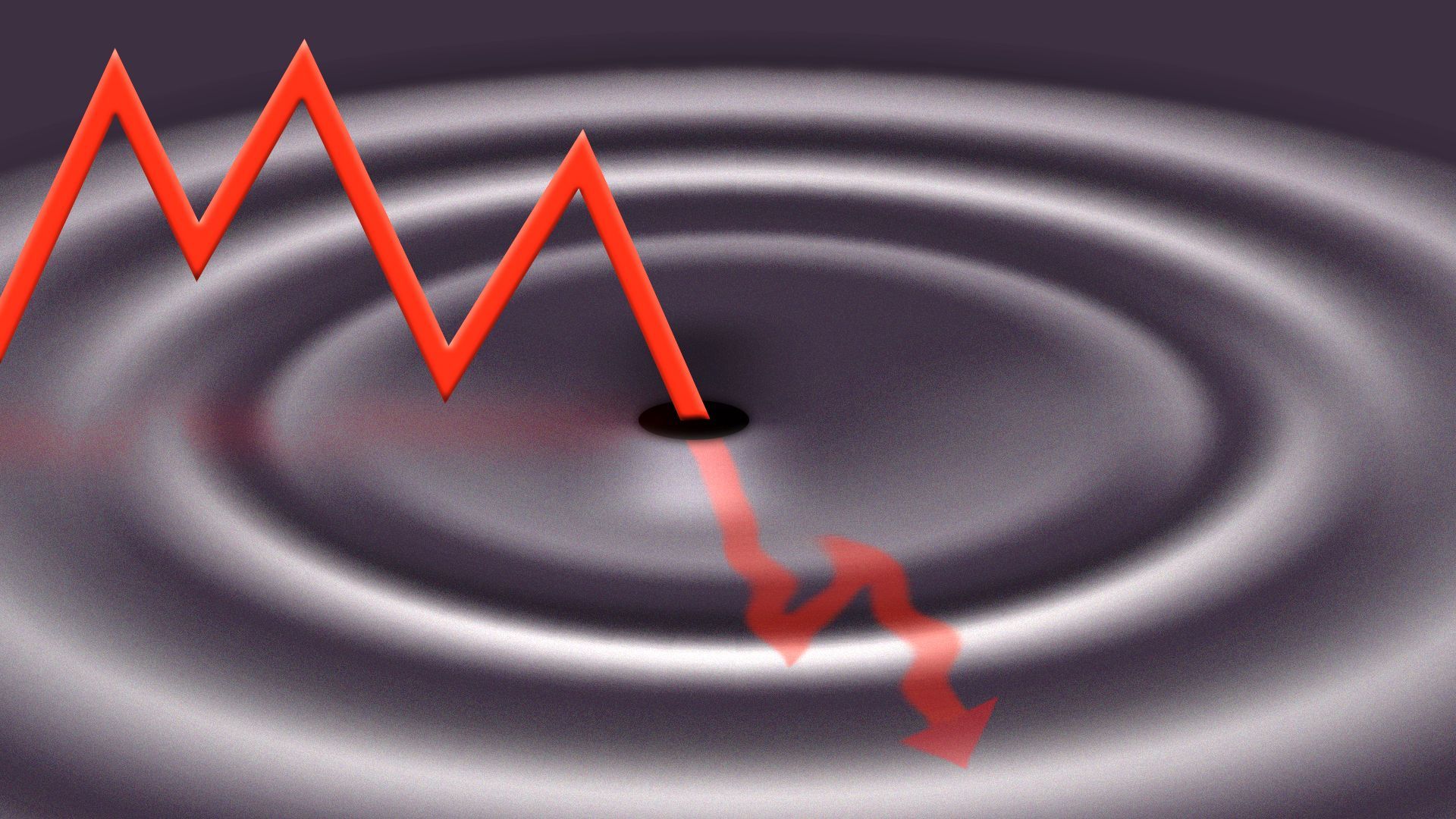 Deutsche Bank — ever the source of global financial drama — took center stage once again as soaring default insurance costs and a slumping stock converged with bank sector fears.
Why it matters: Nothing suggests Deutsche's solvency is in question, but jittery investors are training a microscope on anything that resembles banking stress. Weeks of ugly headlines include the Credit Suisse fire sale to UBS, the collapse of Silicon Valley Bank and the demise of New York's Signature Bank.
Bespoke Investment Group analysts said Friday the current turmoil represents nothing less than a "dragnet on global banks."
Driving the news: Deutsche shares were down more than 8% at one point Friday on the New York Stock Exchange, after the price of the bank's credit-default swaps (a derivative that lets investors offset bond risk) hit a four-year high, Bespoke data showed.
The big picture: Deutsche Bank has been accused of a litany of misdeeds over the years, including money laundering accusations on behalf of Russian oligarchs.
"Given the tendency of the bank to always find itself right in the middle of any issue related to banking troubles, it's almost surprising that it didn't happen sooner," Bespoke writes.
Zoom in: Investors may be especially worried about the language in contingent convertible (CoCo) bond documents, giving "regulators discretion to write down the value of those bonds," Bespoke wrote.
Axios' Felix Salmon noted earlier this week that CoCo bonds are supposed to convert into equity when a bank gets into trouble.
The big question: Whether investors are overreacting to Deutsche's issues, which some analysts believe is the case.
"We view this as an irrational market," Citi analysts including Andrew Coombs said in a note cited by Bloomberg. But the risk remains of "a knock-on impact from various media headlines."
German Chancellor Olaf Scholz weighed in Friday, calling it "fundamentally modernized," "very profitable" and nothing "to be concerned about," according to the Financial Times.
The company's shares pared back their losses and closed down 3.1%.
Deutsche Bank declined to comment.
The bottom line: Deutsche is accustomed to scrutiny, but this time it might not have done anything wrong.
Go deeper