U.S. tells TikTok owners to sell app or face a ban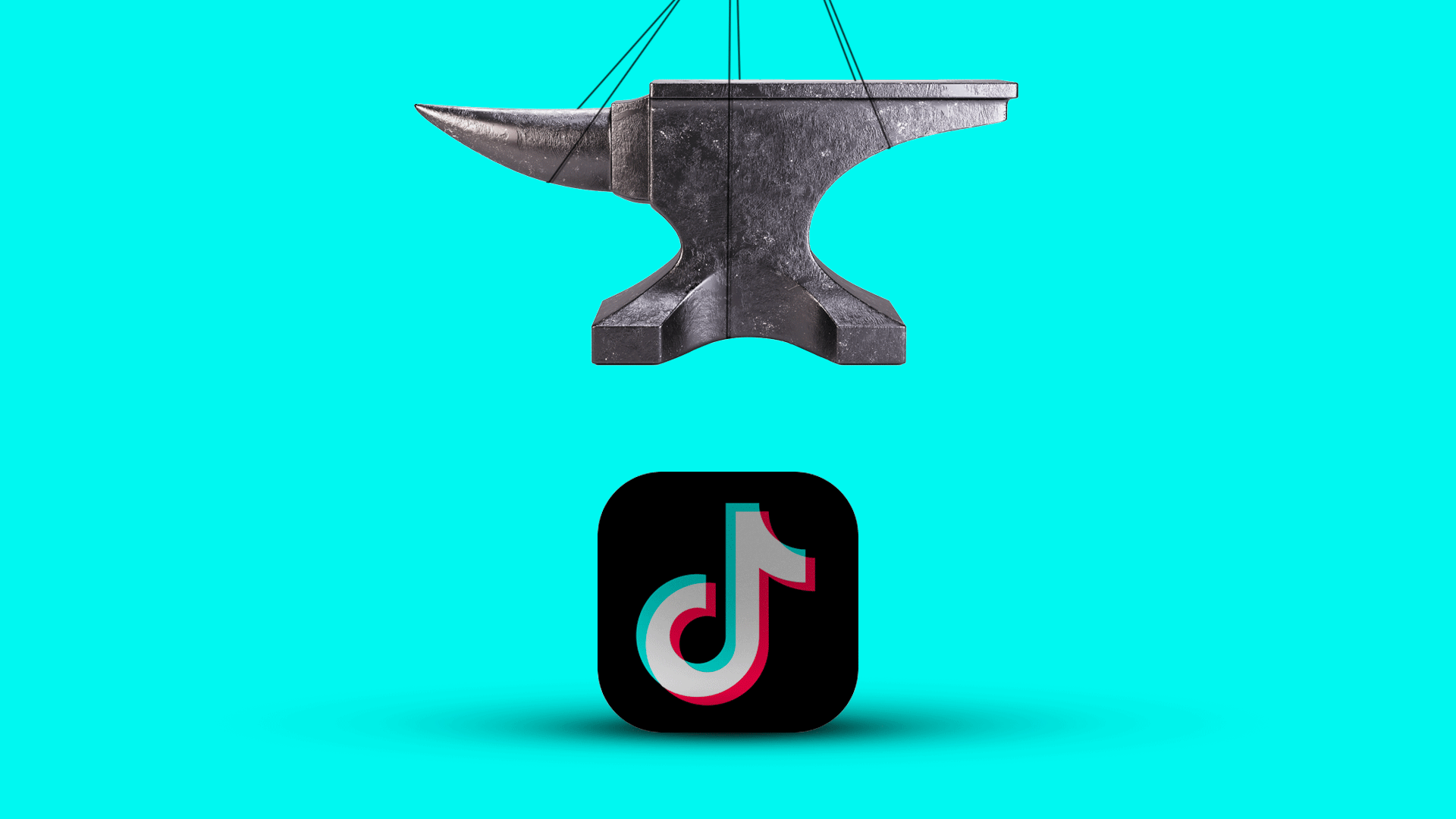 The Biden Administration has warned TikTok that it faces a ban in the U.S. if its Chinese parent company, ByteDance, does not sell its stake in the U.S. version of the app, a source confirmed to Axios.
Why it matters: TikTok has become one of the most popular mobile apps in the country, amassing over 100 million U.S. users. Banning it would have an immediate impact on millions of everyday Americans, and would mark a significant escalation of tensions between China and the U.S.
Details: The Committee on Foreign Investment in the United States (CFIUS), a regulatory arm that reviews foreign investments in the U.S., told TikTok that the government planned to ban the app in the U.S. if its owners didn't sell it, according to a TikTok source familiar with the situation.
Their outreach included a broad outline of what a proposal for TikTok to remain in the U.S. would look like to satisfy the government's national security concerns.
Yes, but: It isn't clear to TikTok what CFIUS means by having its owners divest their stake, given that a large percentage of ByteDance's shares are owned by global investment firms, the TikTok source noted, adding that CFIUS did not provide details or a written order.
The source said the company wants to resolve these questions and will continue to invest in data security efforts, like Project Texas, a series of steps TikTok is taking alongside U.S. software giant Oracle to separate its U.S. operations' backend functions and code from its Chinese arm.
What they're saying: TikTok argues divestiture wouldn't address the government's national security concerns.
"If protecting national security is the objective, divestment doesn't solve the problem: a change in ownership would not impose any new restrictions on data flows or access," it said in a statement.
"The best way to address concerns about national security is with the transparent, U.S.-based protection of U.S. user data and systems, with robust third-party monitoring, vetting, and verification, which we are already implementing."
The other side: TikTok's critics say that Chinese laws require Chinese-owned companies to share data with the Chinese government and argue that as long as the company is controlled by Chinese owners, the U.S. can't be certain American users' data is safe.
How we got here: The Trump Administration threatened to ban TikTok in 2020 if it didn't sell to a U.S. company, citing national security concerns.
At the time, TikTok was the fastest-growing app in the U.S., thanks to the pandemic-driven lockdowns coupled with billions of dollars in paid marketing.
The Biden Administration has been privately working to negotiate a deal with TikTok that would address its national security concerns ever since.
TikTok's Project Texas proposal involves working with U.S. software giant Oracle to store all U.S. user data in the U.S., and giving Oracle access to audit its algorithms and content moderation policies.
The big picture: The Biden administration and members of Congress have ramped up criticism of TikTok and Chinese technology firms broadly in recent weeks.
Last week, a bipartisan group of 12 senators introduced legislation that would empower the Commerce Department to ban any Chinese technology that was deemed an immediate national security concern.
Last December, the Senate passed a bill to ban TikTok on government devices.
The Wall Street Journal first reported the news that CFIUS contacted TikTok about the possible ban.
Be smart: Those efforts have made it appear less likely that TikTok's desired data security deal, which has been under review for more than two years, will be considered sufficient to satisfy the government's concerns.
TikTok, meanwhile, has been making the rounds from Washington to the South by Southwest Festival to tout the Project Texas initiative.
What to watch: Shou Zi Chew, TikTok's chief executive, is set to testify in Congress next week.
Go deeper