Federal program seeks to standardize criminal justice data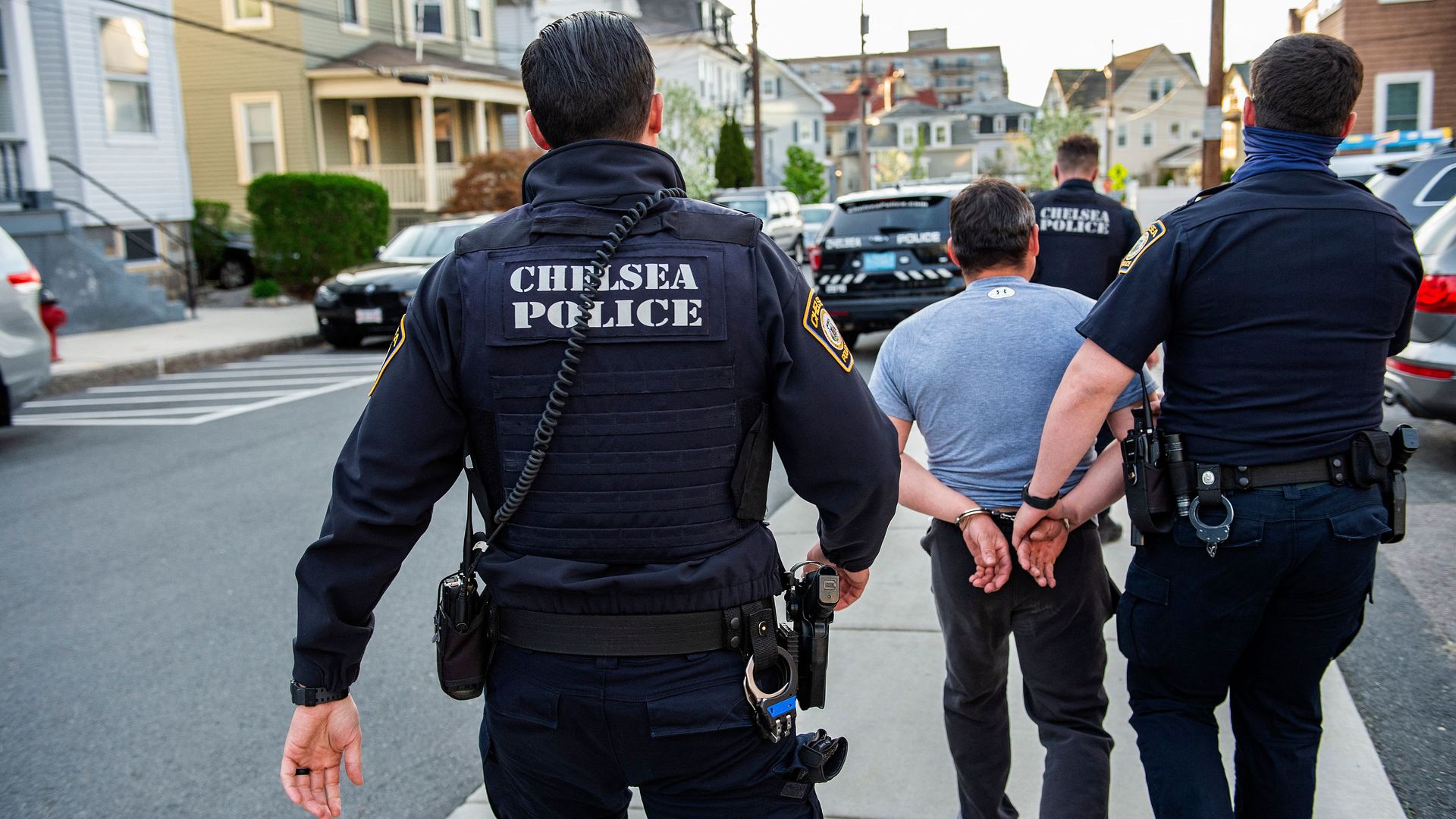 A federal initiative seeks to standardize metrics in the country's criminal justice system as states and police struggle to keep data on Latinos, Indigenous people, and Asian Americans.
Why it matters: States and police have varying data collection systems identifying people of color during arrests or incarceration, causing incomplete or incorrect statistics. Experts say that incomplete data make developing policies to address inequalities hard.
Details: The Bureau of Justice Assistance, which is part of the U.S. Justice Department's Office of Justice Programs, along with the Council of State Governments Justice Center launched "Justice Counts" last year to address the data problem.
With the help of 21 other groups, the initiative aims to help criminal justice policymakers make better decisions with data that are "more timely, less disjointed, and as useful as possible."
Justice Counts proposes law enforcement use similar standardized methods to identify people based on race, ethnicity, and gender. For example, the proposals asked police to ID Latinos on race and ethnicity.
State of play: An estimated 1.2 million people are incarcerated in the nation's state and federal prisons today, and close to 550,000 are in jail. Still, there's little research into how certain groups like Latinos fit into this picture.
A report released earlier this month found police and jails rarely track Latinos' racial and ethnic data, complicating how researchers track potential disparities.
A 2022 National Registry of Exonerations study found that Black Americans are seven times more likely than white people to be falsely convicted of serious crimes and spend longer in prison before exoneration.
But the report did not examine wrongful convictions and exonerations of Latino defendants because the data required for that analysis is often unreliable, the study's authors told Axios.
What they're saying: Justice Counts wants to ensure consistent data is collected for every single point in the criminal justice system, from arrest to supervision, from prison to release, says Clementine Jacoby, CEO of Recidiviz, a nonprofit group that urges better data to reduce incarceration and is a partner in the federal initiative.
"The goal here is that if we can collect that data and do it in a way that standardized and comprehensive...agencies can actually learn from each other," Jacoby tells Axios
What to watch: Groups affiliated with Justice Counts will soon launch an educational campaign to get states and local agencies to adopt a set of standardized methods.
The campaign also will target colleges to educate criminal justice majors on the need for standardized data, Jacoby said.
Subscribe to Axios Latino to get vital news about Latinos and Latin America, delivered to your inbox on Tuesdays and Thursdays.
Go deeper