Silicon Valley Bank's political blame game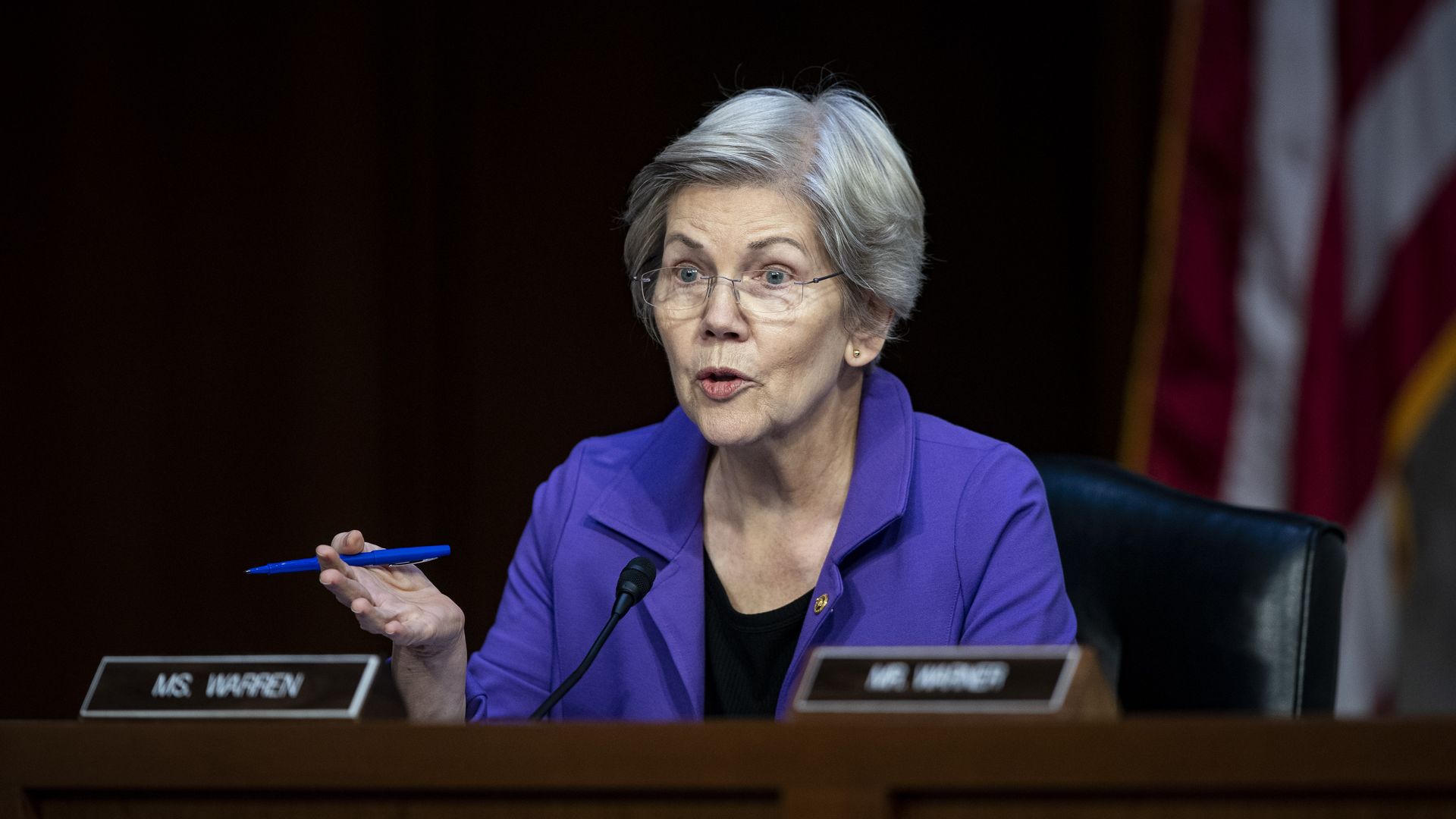 Republicans and Democrats alike have wasted no time turning the collapse of Silicon Valley Bank into a political football, seizing on the themes already animating each party's economic message heading into 2024.
Why it matters: The 2008 financial crisis — and the bailouts for big banks that followed — spawned significant populist movements on both the right and left, with legacies still felt in today's politics.
The fallout from SVB's failure appears to be limited, but neither party can risk underestimating the scale of a potential "bailout" backlash.
"This is not 2008," White House press secretary Karine Jean-Pierre stressed at a briefing. "This is not a bailout."
Driving the news: President Biden and many congressional Democrats have their eyes fixed on one juicy culprit — former President Trump and his 2018 rollback of parts of the Dodd-Frank Act, which provided regulatory relief for midsized banks such as SVB.
In an address Monday morning in which he told Americans that their deposits are safe, Biden called on Congress to strengthen bank rules and blamed Trump's deregulation — much as he did after last month's train derailment in East Palestine, Ohio.
"Let's be clear. The failure of Silicon Valley Bank is a direct result of an absurd 2018 bank deregulation bill signed by Donald Trump that I strongly opposed," Sen. Bernie Sanders (I-Vt.) said in a statement.
Sen. Elizabeth Warren (D-Mass.), one of the key architects of post-2008 reforms, called specifically for the 2018 law to be repealed in an interview with Politico.
Reality check: While progressives like Warren and Sanders may feel vindicated, 17 of their Senate Democratic colleagues voted with Republicans to pass Trump's deregulation in 2018.
The other side: Republicans have been less unified in their messaging, waiting to see how the Biden administration would handle the SVB collapse this weekend before executing an attack plan.
House Oversight Chair James Comer (R-Ky.) and Florida Gov. Ron DeSantis called SVB a "woke" bank, suggesting it was distracted by diversity, equity and inclusion initiatives.
GOP presidential candidate Nikki Haley accused Biden of "pretending this isn't a bailout," claiming that taxpayers would foot the bill when the FDIC's backstop fund runs out.
Trump said Biden would go down as "the Herbert Hoover of the [modern] age" and predicted a bigger economic collapse than the Great Depression.
Reality check: There is no evidence that DEI policies played any role in SVB's failure, or that a second Depression is on the horizon. And the Deposit Insurance Fund relies on fees that banks pay — not taxpayer money — to establish exactly this type of fail-safe.
What's next: House Republicans will hold a private conference call Monday night to discuss how the GOP should respond to the collapse of SVB, a senior GOP aide told Axios.
Go deeper