First look: Ted Cruz investigating FTC investigation of Twitter, Musk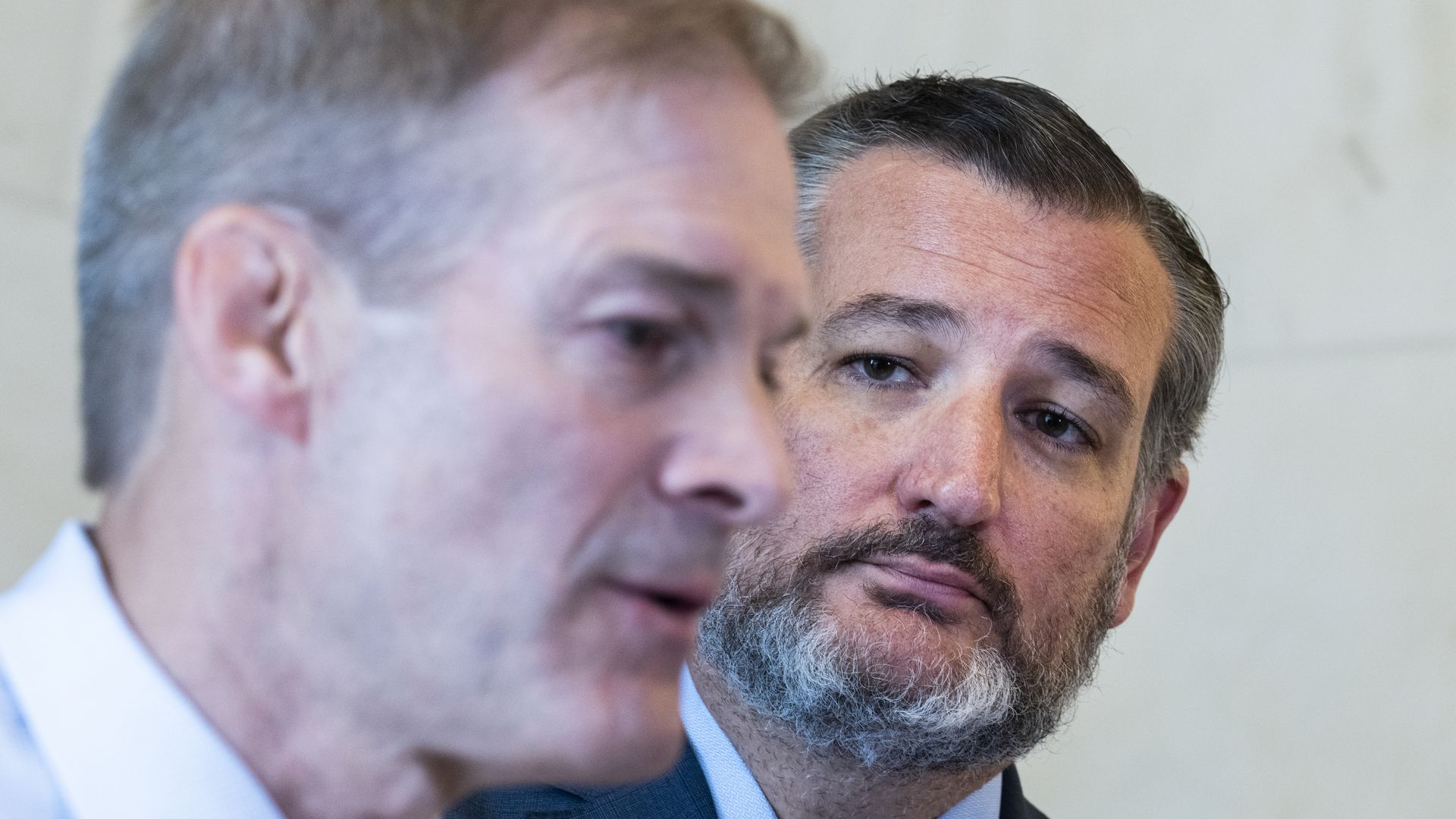 Sen. Ted Cruz (R-Texas) is teaming up with House Judiciary Chair Jim Jordan (R-Ohio) to investigate the Federal Trade Commission's investigation of Elon Musk's Twitter takeover, Axios has learned.
Why it matters: Republicans in both congressional chambers now will throw their muscle into investigating FTC actions and defending Musk.
Cruz is the top Republican on the Senate Commerce Committee.
The "FTC's legal authority does not include dictating entire swaths of corporate behavior under the guise of consent decree enforcement," Jordan and Cruz wrote in a Friday letter to FTC Chair Lina Khan that was obtained by Axios.
"Nor could it justify infringing on the First Amendment... Congress will not tolerate any retaliation against whistleblowers."
Zoom in: The letter asks for documents and communications with FTC officials, employees or consultants relating to the Twitter investigation or Musk's purchase of Twitter.
It also asks the FTC to "explain, in writing, your justification" for asking Twitter to provide the names of members of the media who have been granted access to Twitter's internal communications and documents.
The other side: It's not unusual for the FTC to investigate the behavior of big tech companies like Twitter, or for it to use so-called demand letters to ensure companies comply with consent orders.
"FTC investigations are straightforward and nonpolitical," an FTC spokesperson said in a Twitter thread.
"They are to ensure that companies are following the law, including protecting people's privacy."
The big picture: The Judiciary Committee has been digging into how the FTC has gone about investigating Elon Musk's acquisition of Twitter and the following layoffs.
The FTC has sent more than a dozen letters to Twitter since Elon Musk took over, requesting information about recent layoffs as well as details on the firm's sharing of internal documents with journalists.
The commission has cited concerns about whether the recent layoffs could imperil the company's ability to adhere to the terms of a consent decree — which started in 2010, long before Musk's involvement, and was intended to improve the company's protection of user data.
FTC has asked Twitter to provide internal communications about Elon Musk and information about the early, large-scale layoffs, according to a recent staff report by the House Judiciary committee.
The FTC also asked Twitter to "identify all journalists" who were provided access to the company's records, which Judiciary staff said "represents a government inquiry into First Amendment-protected activity."
Go deeper