Senate GOP close to landing top recruit in Montana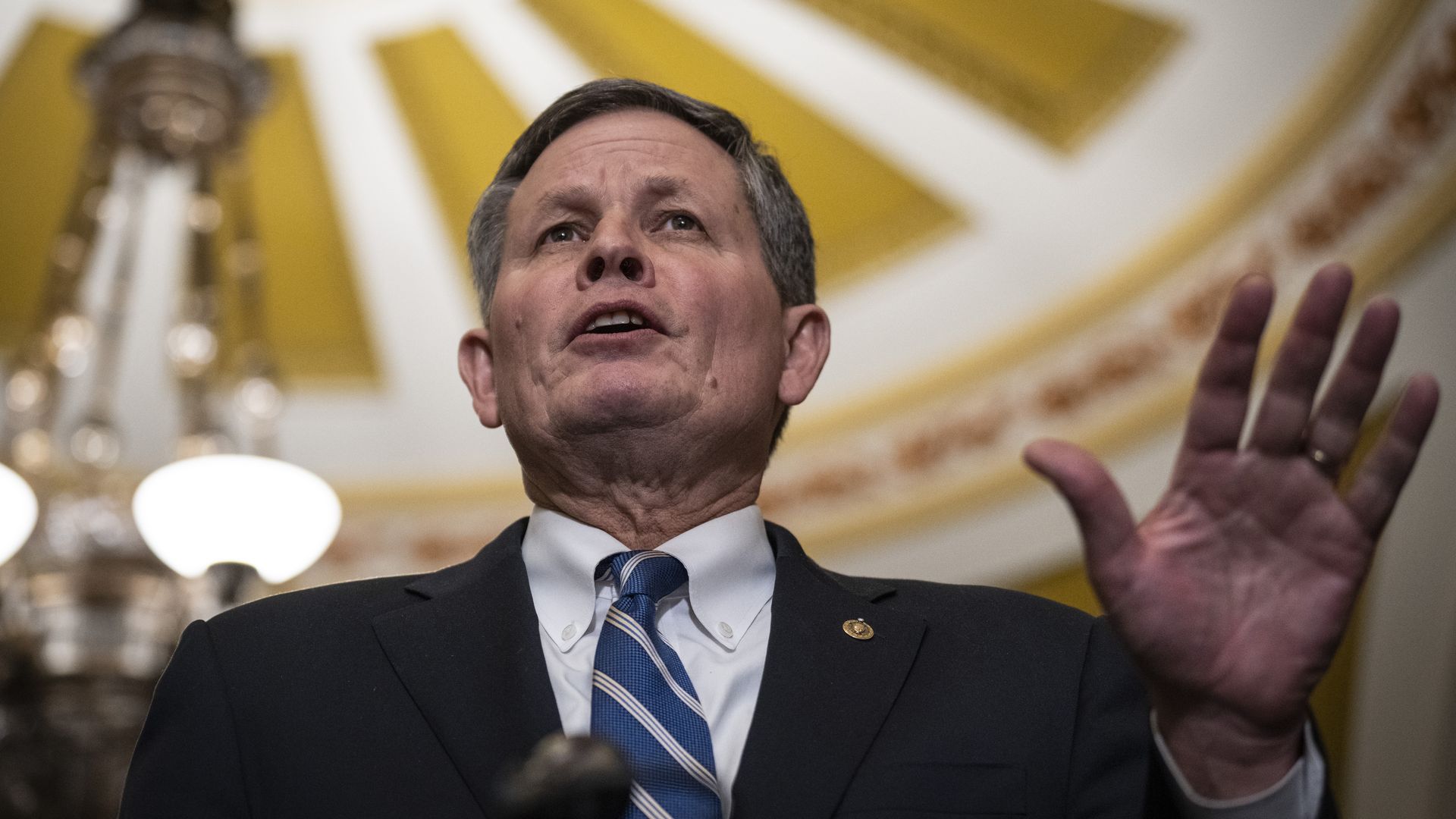 Senate Republicans are close to recruiting Tim Sheehy, a decorated military veteran and successful businessman with the resources to self-finance a campaign, to run against Sen. Jon Tester (D-Mont.) in 2024.
Why it matters: Sheehy, whom Republicans view as straight out of central casting, is being encouraged to run by National Republican Senatorial Committee Chair Steve Daines (R-Mont.), according to sources familiar with his efforts. The highly competitive race will help decide control of the Senate.
Daines is taking a far different approach than his predecessor, Sen Rick Scott (R-Fla.) — actively recruiting and supporting accomplished candidates at the earliest stage of the election cycle.
If Sheehy gets in, it would indicate Daines' aggressive recruitment of strong candidates — including in his home state — is paying dividends.
The big picture: Republicans, who need to net two seats to win back the majority, have their eye on three red-state races that Democrats are defending: Montana, West Virginia and Ohio.
Democrats received a huge boost last month when Tester, one of the most popular politicians in Montana, announced he will run for re-election.
Daines is also close to landing popular West Virginia Gov. Jim Justice to challenge Sen. Joe Manchin (D-W.Va.).
In Ohio, Republican officials are satisfied with the current field but are concerned about the potential candidacy of Rep. Warren Davidson, a Freedom Caucus member.
Background: Sheehy is a former Navy SEAL and Purple Heart recipient who completed over 200 missions in Iraq, Afghanistan, South America and the United States Pacific Command. He is currently the CEO of Bridger Aerospace, a Montana-based provider of aerial firefighting and wildfire surveillance services.
"Tim is a good friend and a great American," Daines told Axios.
Sheehy is also close with Rep. Ryan Zinke (R-Mont.), according to an ally of the congressman. In 2015, Zinke pinned Sheehy's Purple Heart medal in a Montana ceremony. "If Tim were to get in the race, he would be formidable. He'd be a terrific opponent against Tester," the Zinke ally said.
Sheehy is personally wealthy and would be able to self-finance a campaign. He's also a political outsider who doesn't have a history of controversial statements or unpopular votes.
What they're saying: Montana Gov. Greg Gianforte also vouched for Sheehy as a strong Senate candidate.
"Tim Sheehy is a good friend, a successful businessman and a decorated veteran who served his country with honor and valor. Montana and our nation would be better for his continued public service, and I'm confident without a doubt he would serve Montana well as a senator," Gianforte said in a statement to Axios.
Zoom in: Sheehy isn't expected to make an announcement soon, and any formal kickoff — if he decided to run — would be in the coming months, according to Republican strategists familiar with his thinking.
Reality check: If Sheehy runs, he would face the likelihood of a competitive primary against Rep. Matt Rosendale (R-Mont.), a hard-right lawmaker allied with the anti-tax Club for Growth.
Republicans face a similar dynamic in West Virginia, where Justice would face a primary challenge on his right from Rep. Alex Mooney (R-W.Va.), who has already announced his candidacy.
Between the lines: Former President Trump may end up playing a pivotal role in this contest. He's been publicly feuding with the Club for Growth, which has long championed Rosendale.
Trump is particularly peeved that Rosendale refused to take his phone call during the contentious vote for House speaker — a viral moment that was captured for posterity.
Trump is also not inclined to back candidates allied with the Club for Growth (even though he endorsed Indiana Senate candidate Rep. Jim Banks (R-Ind.), who faces minimal primary opposition).
Sheehy has been in touch with Trump about his interest in the race, and the former president came away impressed, according to a source familiar with their interaction.
The bottom line: Beyond recruitment, Daines' biggest challenge is ensuring strong candidates can make it through contested primaries, at a time when GOP voters have preferred nominees at odds with their own leaders.
Go deeper