Thousands without power as strong atmospheric river floods California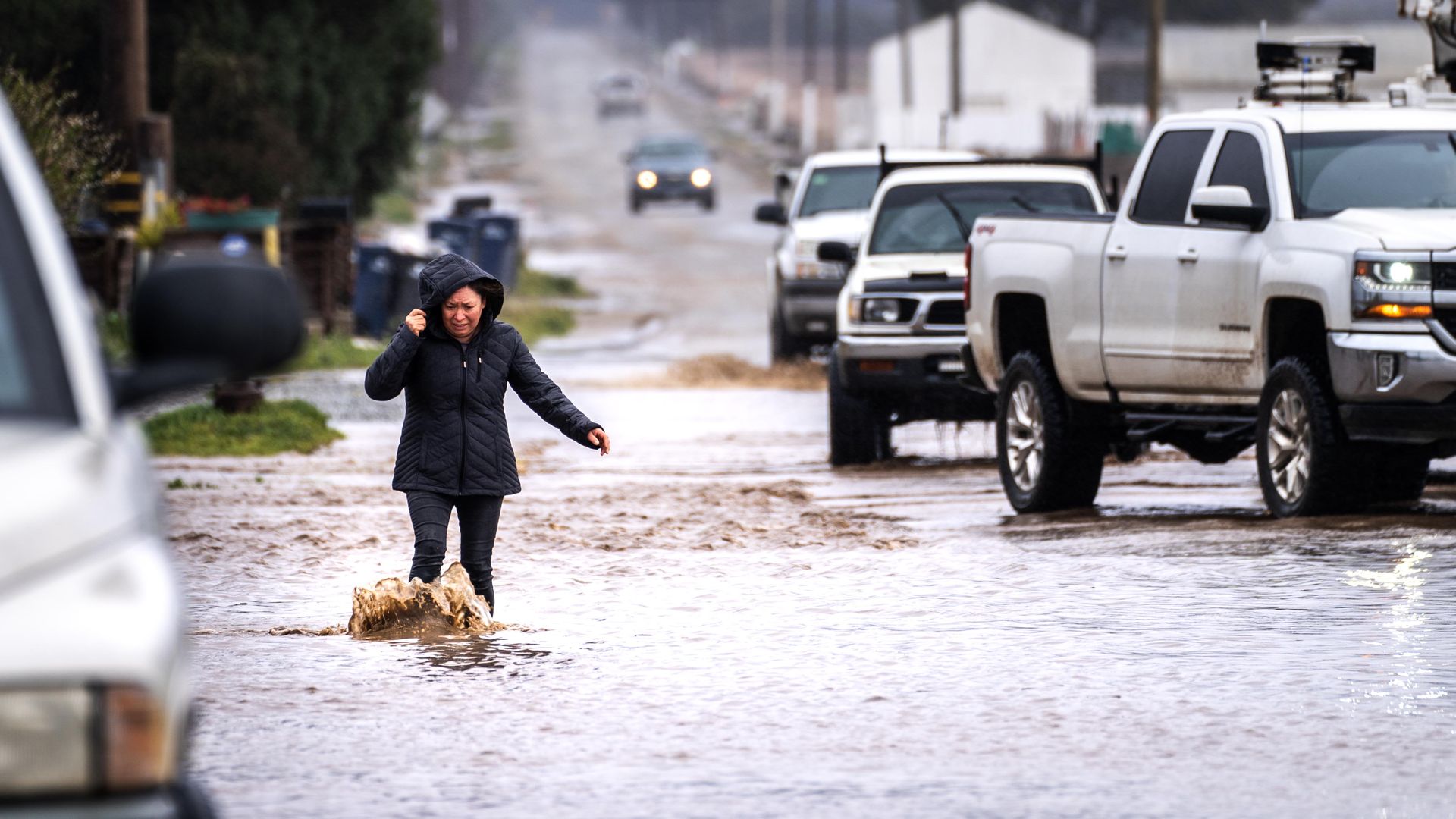 At least two storm-related deaths were confirmed by state officials Friday as a powerful atmospheric river storm brought heavy rain and thunderstorms, and left thousands across Northern and Central California without power.
The big picture: The National Weather Service has warned of "copious amounts of heavy snow" in the mountains and potential flooding from a "high risk" of excessive rainfall. It's also increasingly likely that another significant atmospheric river event hitting central and northern California beginning on Monday.
The latest: More than 22,800 people remain without power in California at 9 a.m. ET on Sunday, according to PowerOutage.us.
A flood warning remains in place through Sunday night for the Salinas river, affecting Monterey county, NWS said Saturday night. Evacuation orders were issued to some areas around the river.
In Monterey County, a breach in a river embankment led to massive flooding overnight, officials said Saturday.
First responders conducted at least 56 rescues in the area overnight, the California National Guard reported Saturday afternoon. The entire town of Pajaro is now under some level of water, the Los Angeles Times notes.
Monterey County also advised Pajaro residents not to drink their tap water after potentially contaminated flood water may have gotten into the water district's wells.
Rainfall totals showed the damage from Friday. Rocky Butte in San Luis Obispo County saw 11.58 inches, per the National Weather Service. Light rain was expected to continue overnight.
The storms flooded rural communities, small highways, creeks and rivers, AP reports.
Much of California is still under some type of flood warning, watch or advisory, per the NWS.
Flood advisories in Santa Barbara, Ventura, and Los Angeles counties expired overnight, according to the NWS. The flash flood warnings for San Luis Obispo County were also canceled, but the county still has some evacuation orders and warnings listed for the area.
Kings Canyon and Sequoia National Parks remained closed Saturday.
President Biden on Friday also approved an emergency declaration for California, authorizing FEMA to "identify, mobilize, and provide at its discretion, equipment and resources necessary to alleviate the impacts of the emergency."
Later Friday, California Gov. Gavin Newsom (D) signed an executive order to suspend regulations on permitting so that water from the storm can be captured and used to recharge state groundwater supplies.
Details: The latest barrage hit the Sierra Nevadas' Kern River Valley especially hard on Friday, with officials ordering evacuations for multiple areas in the county. The water flow was "a threat to life and/or property," the Kern County Sheriff's office tweeted.
Footage shared online showed a robust rise in a river in Kernville amid the NWS' predictions of "extreme" flash flooding — the highest threat level NWS officials can issue.
Soldiers with the state's National Guard were deployed to the region Friday afternoon to support state and local first responders.
Context: Atmospheric rivers are potent because narrow currents in the air can carry vast amounts of water vapor thousands of miles — and they have hammered California so far this year.
Threat level: "A dangerous excessive rainfall event is underway across much of Central California," the NWS said early Friday, adding that up to nine inches of rain could fall on snowpack and already saturated soil, causing "widespread and severe flooding impacts."
The latest storm arrived as communities in the San Bernardino Mountains were still reeling from earlier snowstorms that have killed at least 12 people since Feb. 23, per the Los Angeles Times.
Between the lines: High-risk outlooks are rare — once a decade or more for some locations — and show that the NWS is worried about dangerous weather.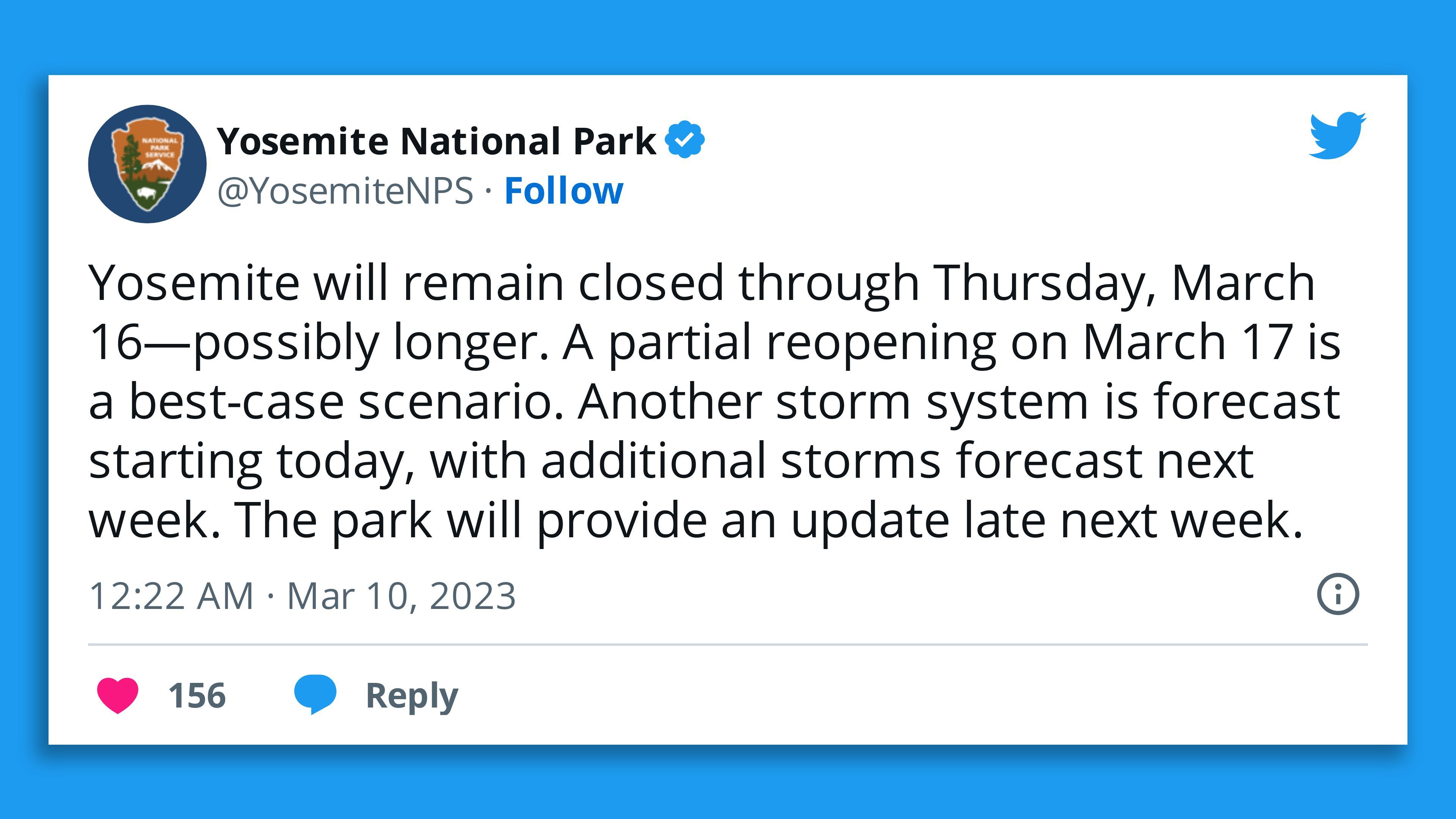 What to watch: A new major storm system arrives early next week, "delivering another round of excessive rainfall & heavy mountain snow to the West Coast," the NWS said.
Then, come midweek, more heavy rain and snowmelt could lead to fresh flooding, "particularly in low elevations and areas with shallow snowpack," per NWS.
Editor's note: This article has been updated with new details throughout.
Go deeper