Investors get caught in political crossfire in ESG fight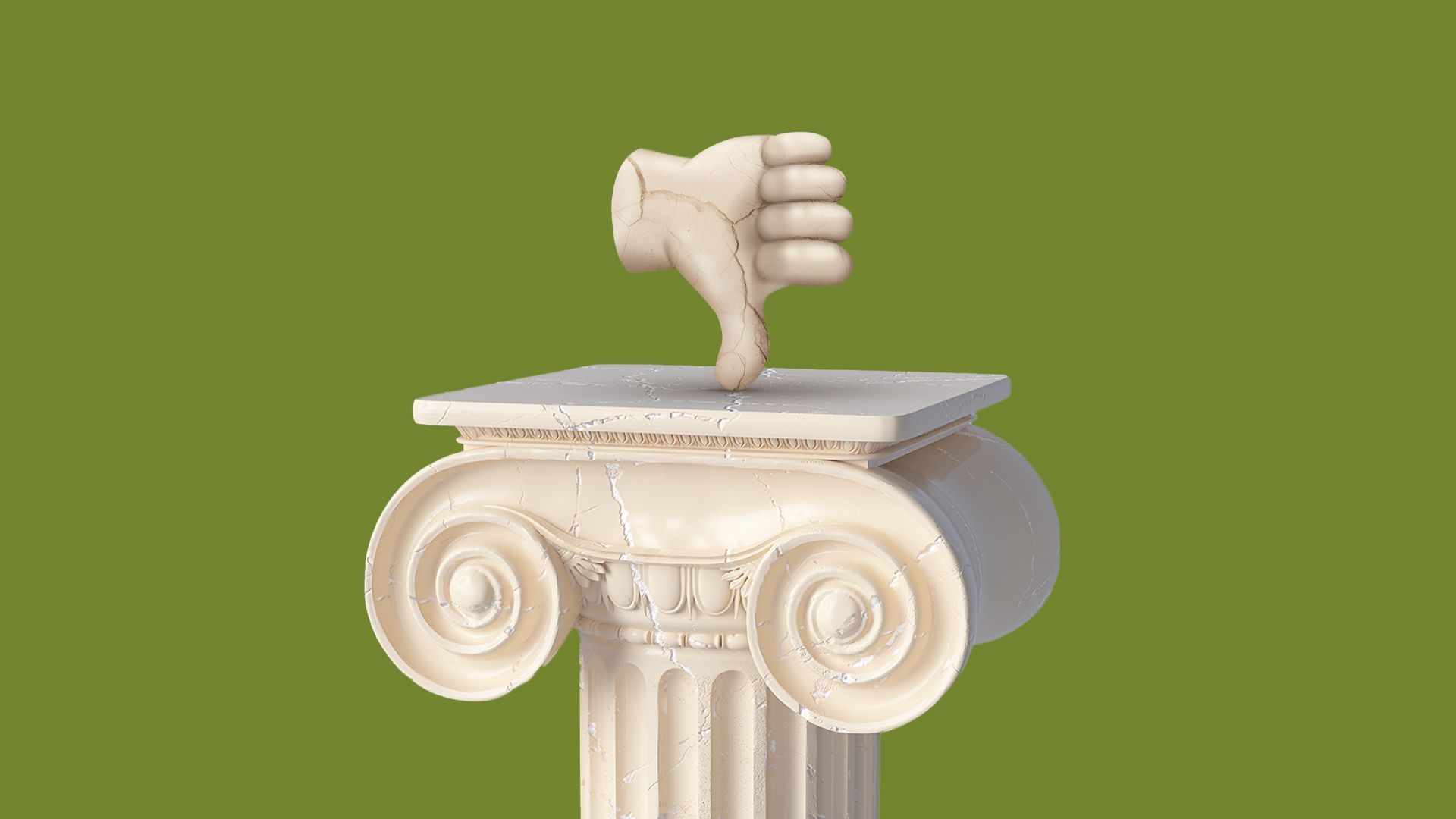 Republicans in Congress have teed up the first veto of the Biden presidency. Curiously, the vetoed bill has nothing to do with children's books, unisex bathrooms, or even fiscal policy. Instead, it focuses on stock-market asset allocation.
Why it matters: The environmentally conscious global consensus of institutional investors is highly unlikely to be derailed by U.S. political point-scoring. But no good can come from the way in which investment officers increasingly need to navigate a political gantlet.
Driving the news: Both the House and the Senate this week passed legislation overturning a Labor Department rule designed to ensure that fund managers remain capable of considering environmental, social, and governance (ESG) factors when making investments.
The aim of the bill was not to change the law — a veto was always certain — but rather to create a 2024 campaign issue.
Politicians like Sen. John Barrasso, a Republican from Wyoming, characterize the Department of Labor rule as creating "regulations to invest retirement money in far-left liberal causes." That's false — the rule mandates nothing at all — but Republicans are hoping it might prove an effective attack vector all the same.
What they're saying: The bill "has to be the ne plus ultra of hysterical overreaction to any policy with the word climate in it," writes NYU law professor Jack Lienke, an expert on environmental law.
"The actual regulatory text here is a nothingburger. We're fighting about a subtle vibe shift in preamble text."
In other words: A decidedly anodyne Department of Labor rule has become politicized — characterized as being "far-left" — when in fact it's really more of a laissez-faire attempt to reiterate that investors are free to follow any investment thesis they like.
How it works: Climate change is probably the biggest risk facing global markets over the long term. Investors therefore have a clear financial incentive to invest in the companies that are best placed to mitigate or adapt to climate risk, as a way of maximizing their own long-term returns.
There is always a fiduciary reason for ESG investments, but a Trump-era rule tried to discourage such strategies anyway. Even the U.S. Chamber of Commerce and the American Petroleum Institute were unenthusiastic about the Trump administration's stance.
The Department of Labor rule the current bill tries to overturn was written to make it clear that investors don't need to fear the potential ire of regulatory agencies when they adopt ESG investment frameworks.
Between the lines: Insofar as there's a substantive issue here it's that ESG investors tend to underweight carbon-intensive industries, including oil companies. Those companies' executives then worry that the ESG consensus is weighing on their share price, and hope that discouraging ESG investments could give those shares an upward boost.
Joe Manchin, one of the two Democratic senators to vote with the Republicans, has extensive shareholdings in the coal industry.
The bottom line: As 2024 approaches, Republicans are trying to reach swing voters by presenting anything climate-conscious as being part of a far-left agenda.
Americans really don't care about the exact wording of Title I of the Employee Retirement Income Security Act of 1974, as amended — the narrow concern of this bill. Nevertheless, Republicans have found a way to weaponize it. That means the issue isn't going away any time soon.
Go deeper