America's agroforestry renaissance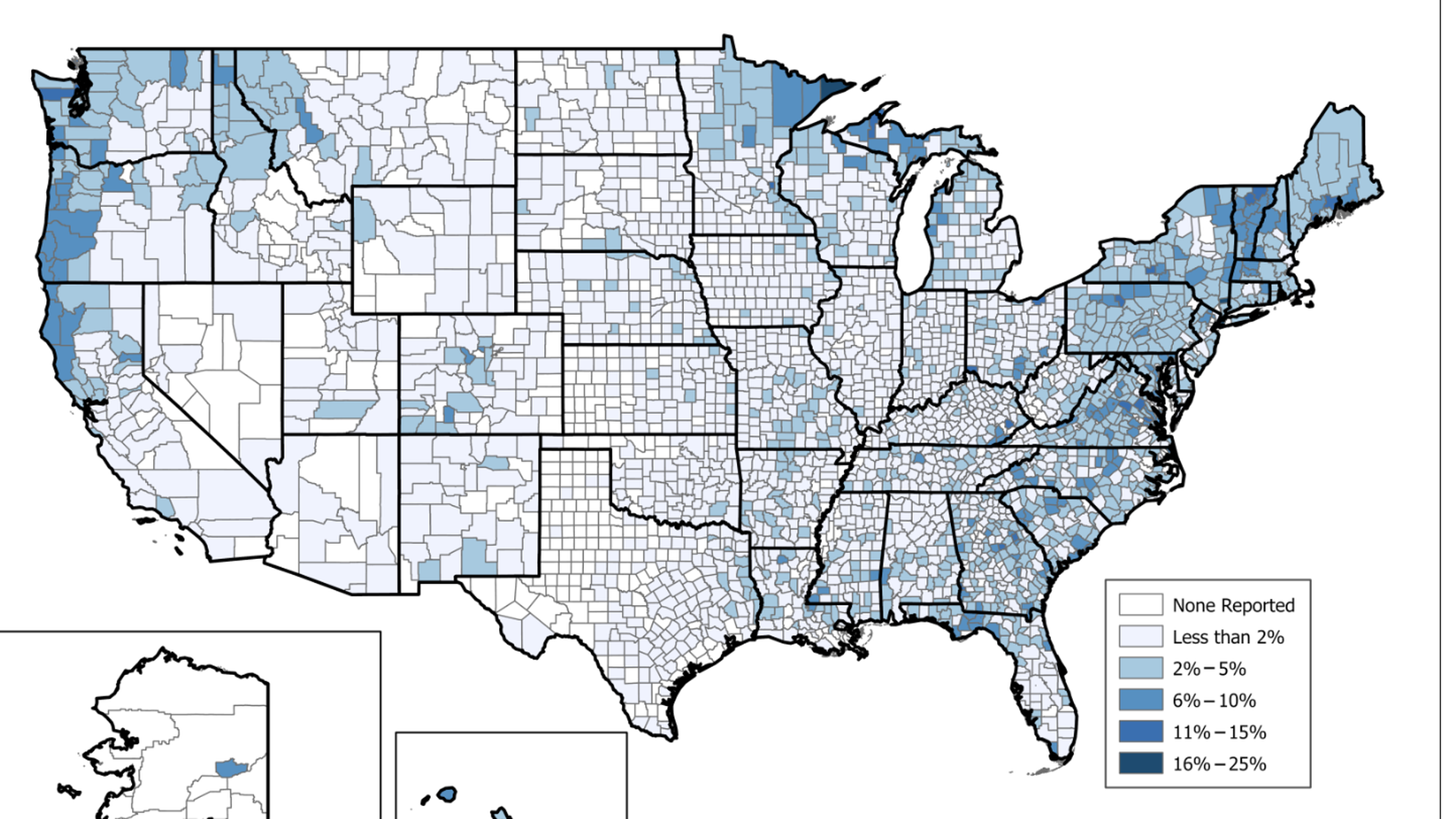 Investment in agroforestry — an ancient land management method that integrates the growth of trees with crops or livestock — is emerging with renewed fervor across the U.S.
Why it matters: A new funding influx signals increasing widespread expansion of the climate-friendly agricultural practice, experts tell Axios.
As climate change drives risk of declines in U.S. food production, in the form of intensifying droughts, shifting rain patterns, more frequent wildfires and spreading pests and diseases, policymakers and private investors alike are turning to natural climate solutions.
What they're saying: Rep. Chellie Pingree (D-Maine) tells Axios that her colleagues in Congress are showing a "growing interest" in funding agroforestry.
In November, the House Sustainable Energy and Environment Coalition's Climate and Agriculture Task Force, which Pingree co-chairs, released farm bill recommendations that identified agroforestry as a way to support soil health and carbon sequestration.
What we're watching: Expanding adoption of agroforestry is a climate point of interest among lawmakers ahead of the coming farm bill, according to Cristel Zoebisch Bernaldo de Quiroz, deputy director of agriculture and climate at the NGO Carbon180.
A smattering of conservation programs under the 2018 farm bill laid the groundwork for congressional support of widespread agroforestry practices, says Zoebisch.
"In the 2018 farm bill, there was more of a broader emphasis on soil health ... in the lead up to this 2023 farm bill, we're seeing a lot more interest in agroforestry specifically," says Zoebisch.
Of note: In a statement to Axios, Pingree says the Agriculture Resilience Act, first introduced by the congresswoman in 2020, advocates for new regional centers and expanded funding for agroforestry practices.
"This is something I'll be advocating for in the upcoming Farm Bill," says Pingree.
State of play: Venture investment in the space has recently increased, with multiple dedicated new funds launched since 2020, according to Sophie Bakalar, a partner at Collaborative Fund.
"But it's still a relatively small, burgeoning sector," Bakalar tells Axios in an email.
How it works: There are five "widely recognized" types of agroforestry, per the USDA.
Agroforestry can buffer extreme weather impacts on livestock and crops, boost soil health, increase crop yields and reduce air and water pollution, as well as assist in growing diverse crops to reduce economic risk, according to Anne Marsh, the director of the USDA's National Agroforestry Center.
Although support for the practice, in the form of funding and attention, has been building for a while, "there's just an enormous increase" in the past few years, Marsh tells Axios.
She notes the climate provisions in the IRA that could provide additional funding as another example of a "growing number of partners really stepping up to support agroforestry."
The intrigue: At least one form of the practice is being used in only 1.5% of U.S. farmland operations, according to the 2017 U.S. Census of Agriculture — the most recent federal dataset.
The USDA announced a $60 million investment in the fall for a project advancing agroforestry in 37 states through the Partnerships for Climate-Smart Commodities program (PCSC).
Yes, but: Despite organic farmers receiving significantly more funds than what's been earmarked for agroforestry initiatives, Carbon180's Zoebisch deems the PCSC a "windfall of new funding."
"We do see quite a bit of support for organic agriculture. And given that there's many more producers that have agroforestry in place, we should be providing the same kind of support for these types of producers," says Zoebisch.
Threat level: Karam Sheban, director of sustainable forestry at Rural Action, warns that the "sudden influx of funding" into agroforestry could translate into less money going to farmers and forest landowners, while companies "greenwash" it as a pathway to land consolidation.
"You're factoring in the individual landowner or farmers' goals ... it's not a one-size-fits-all situation," Sheban tells Axios.
Meanwhile: "[Agroforestry] is just a new way to describe something that Indigenous people have been doing for thousands of years," says Stephanie Gutierrez, forests and community program director of Ecotrust.
An enrolled member of the San Carlos Apache Tribe, Gutierrez is leading an upcoming project assessing the needs of tribal agroforestry producers across the country — including whether the uptick in funding is reaching them.
The bottom line: "A lot of people are still under the impression that Indigenous practices or Indigenous communities have vanished from this land, and we're very much still here," says Gutierrez.
Go deeper