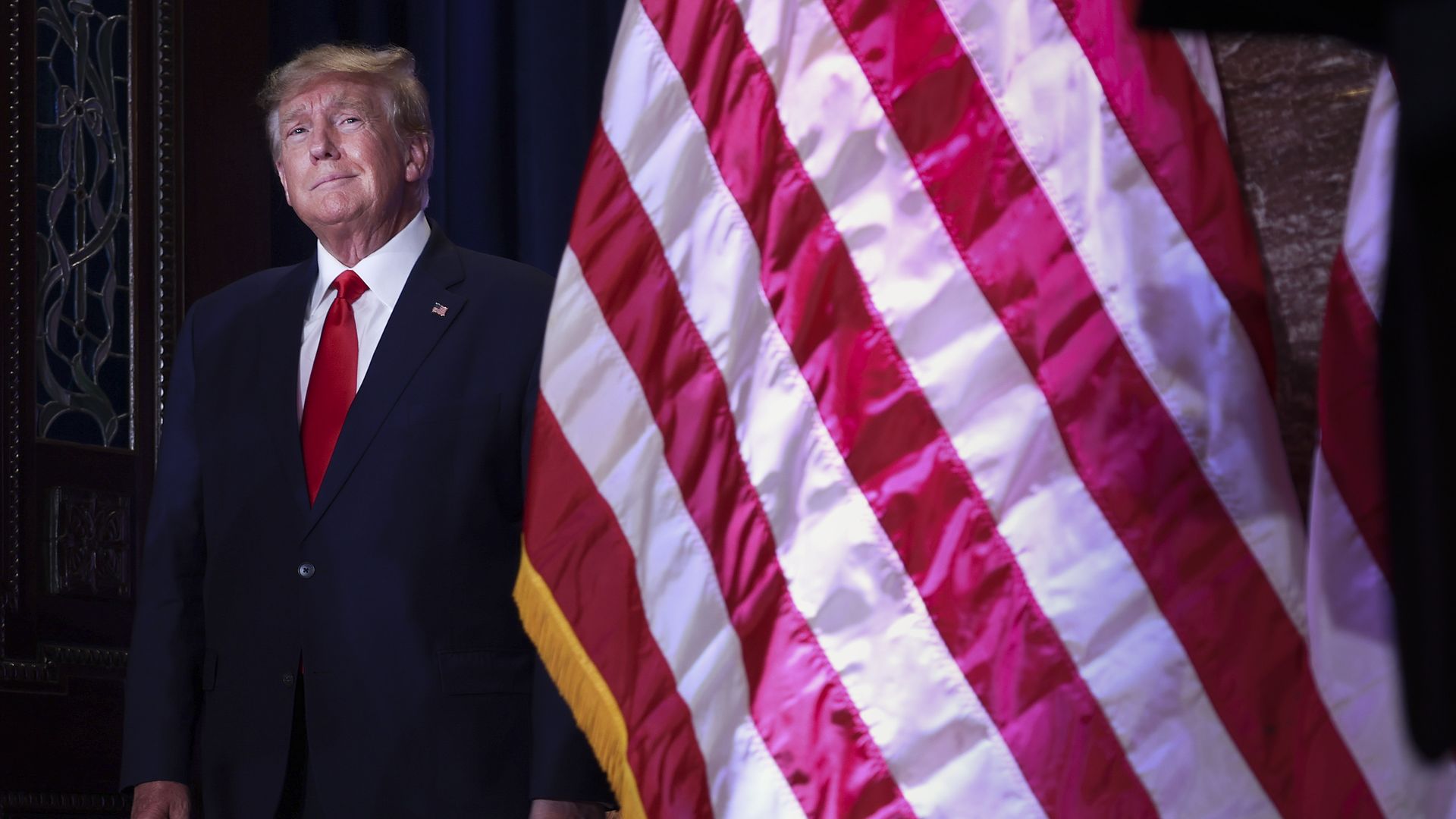 Four new polls show former President Trump has received a boost in Republican support — with one survey showing him hitting 50% support in a crowded GOP field.
Why it matters: After a shaky start to his presidential campaign, Trump has quietly found his footing over the last month.
His visit to the derailment site in East Palestine, Ohio — ahead of President Biden and Transportation Secretary Pete Buttigieg — showed off a touch of empathy, at least by Trump standards.
The former president got out of his mega-rally comfort zone in favor of several small campaign stops for ice cream in South Carolina and McDonald's in Ohio, where his impromptu visits were well-received by the restaurant staff.
By the numbers: A new Emerson poll found Trump with a 30-point lead (55%-25%) against Florida Gov. Ron DeSantis — up from a 26-point lead (55%-29%) over DeSantis in Emerson's January survey.
Trump wins a whopping 72% support among Republicans with a high school degree or less.
Emerson's poll also found Trump leading Biden, 46%-42%. DeSantis trailed Biden, 44%-40%.
The big picture: The findings in the Emerson poll, which has lately been favorable to Trump, were matched by three other top pollsters.
A new Yahoo News/YouGov poll has Trump opening up an 8-point lead on DeSantis (47%-39%), after DeSantis led the former president by 4 in the pollster's previous survey at the beginning of February.
The GOP polling firm Echelon Insights found Trump leading DeSantis by 15 points (46%-31%) on a national ballot test. Last month, the pollster found Trump only leading DeSantis by 2 points (36%-34%).
Fox News' first presidential primary poll, testing the GOP presidential ballot, found Trump leading DeSantis by 15 points (43%-28%).
Between the lines: Even as Trump appears to be the clear Republican front-runner, with a committed base of at least one-quarter of the GOP electorate, his rivals are holding their fire against him.
Nikki Haley only mentioned his name once in her kickoff address. DeSantis has studiously avoided responding to his social media attacks.
Trump is also maintaining significant support even as his campaign events aren't drawing remotely the same wall-to-wall coverage as they did during his presidency (or during the 2016 campaign).
The bottom line: The beginning of the 2024 campaign is feeling similar to the 2016 race, when Trump's GOP rivals assumed he would automatically fade without them doing anything to stunt his momentum.
Go deeper