Scoop: New York Republicans join bill targeting George Santos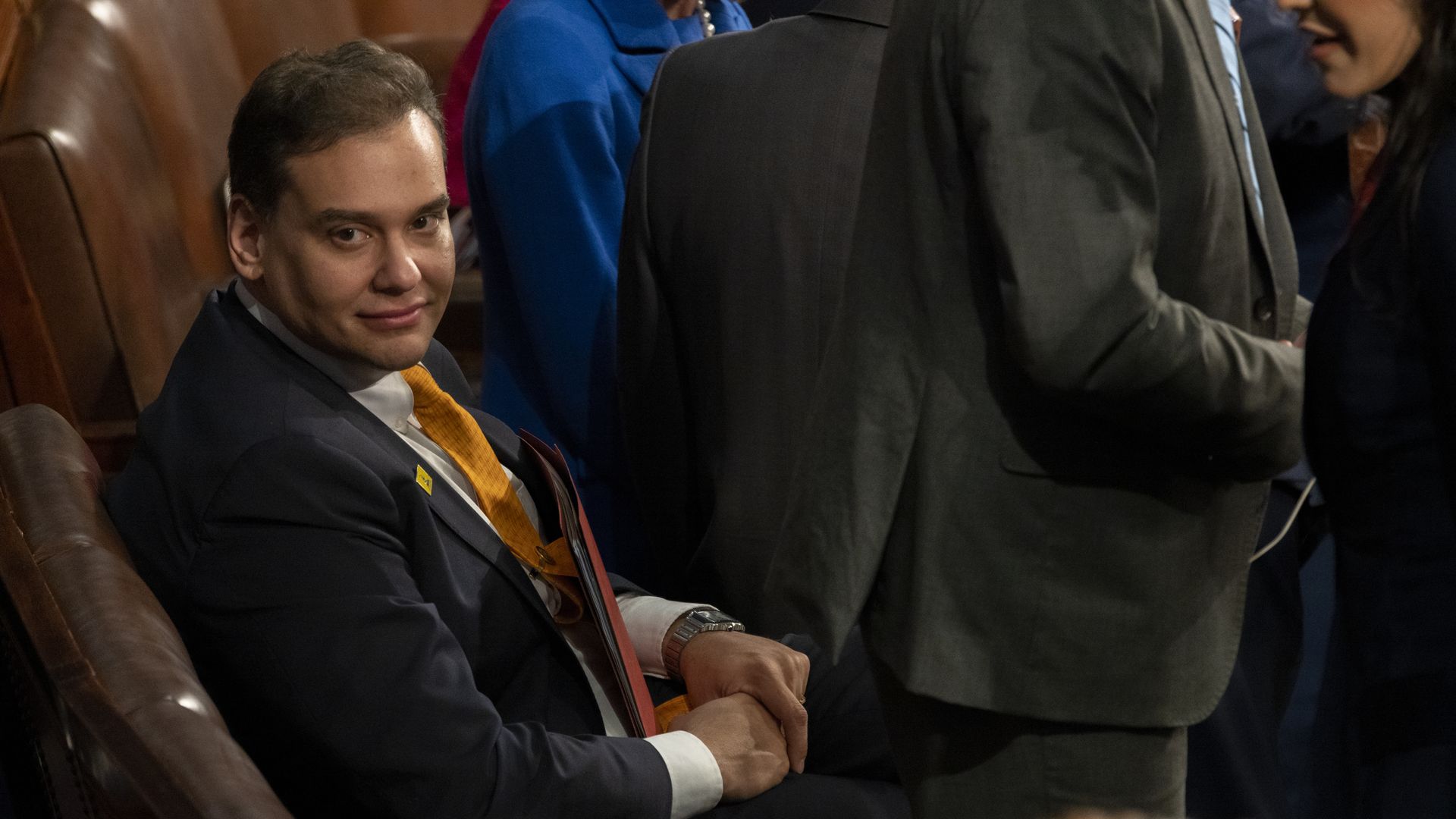 Draft legislation to stop Rep. George Santos (R-N.Y.) from profiting after leaving office has already garnered support from several of his Republican colleagues, Axios has learned.
Why it matters: It highlights a growing chasm between Santos and his fellow New York Republican freshmen – many in swing districts – as they seek distance from the embattled Long Islander ahead of 2024.
The Democratic Congressional Campaign Committee has run billboards tying them to Santos based on donations he made to their campaigns.
Driving the news: The bill, first reported by Politico, would prevent members of Congress convicted of certain crimes from profiting off book deals, speeches and other ways former lawmakers often cash in after leaving Congress.
The bill stops short of the more direct legislative rebukes from Democrats, including an expulsion resolution and a bill requiring congressional candidates to disclose more elements of their background, called the SANTOS Act.
Santos' serial fabrications on the campaign trail have captured the disgust of his colleagues and the fascination of the public. He is under local and federal investigation.
The bill text is being circulated to members by Rep. Anthony D'Esposito (R-N.Y.), whose district borders Santos' in Long Island. D'Esposito was the first Republican to call for Santos' resignation.
What we're hearing: Reps. Marc Molinaro (R-N.Y.), Nick LaLota (R-N.Y.) and Mike Lawler (R-N.Y.), who have called on Santos to resign along with other freshman Republicans from New York delegation, told Axios they are cosponsoring the bill.
All three are from districts won by President Biden in 2020.
Rep. Nick Langworthy (R-N.Y.) told Axios: "I think my staff has gotten something but I haven't reviewed it."
House Majority PAC, House Democrats' primary super PAC, has announced plans to spend at least $45 million in New York, where Republicans did unusually well last November and flipped several seats.
What they're saying: The lawmakers said the legislation is clearly aimed at Santos. "It's squarely placed at part of his scam," said LaLota.
"It's logical to think that part of his motivation of being on TV, tweeting, giving floor speeches, isn't ... rehabilitation, which will never happen," LaLota said, "It's to promote himself, to probably sell ... a movie later on, and we should provide him no incentive to continue this mockery."
Molinaro said the bill is "obviously spurred by George Santos," calling it a "direct response to what we see as an erosion of the public's trust and an unwillingness to acknowledge the level of dishonesty."
The other side: "I haven't been convicted of any crime. Are you aware of me being convicted of any crime?" Santos told Axios, adding that he is also "not aware" of being under investigation and has not heard from investigators.
"I didn't see the bill," he added.
Editor's note: This article has been updated to correct a transcription error in the LaLota quote.
Go deeper