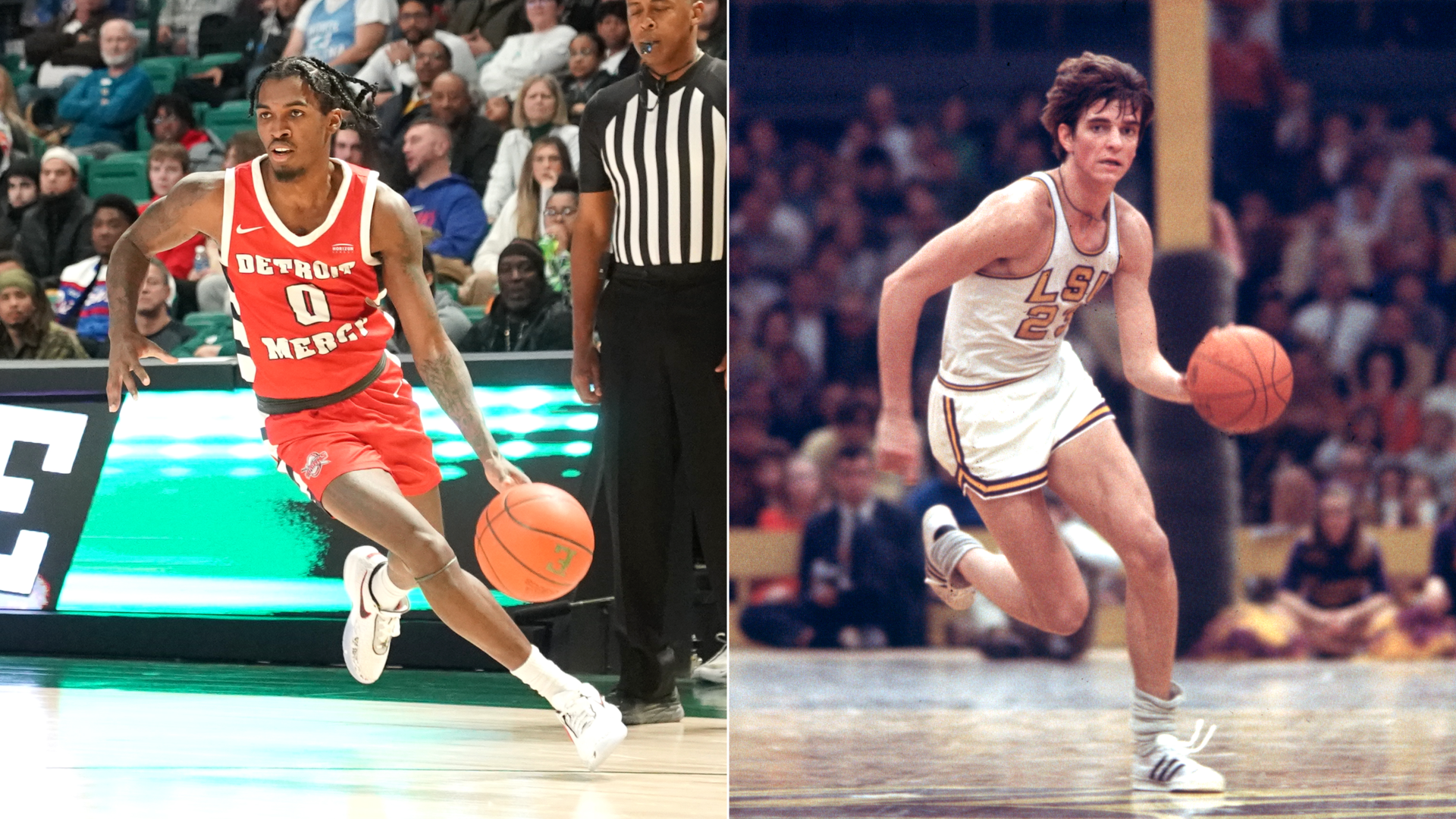 Antoine Davis, a fifth-year college basketball player at Detroit Mercy, has scored 3,604 career points entering tonight's first-round game against Purdue Fort Wayne in the Horizon League tournament.
Why it matters: He's just 64 points away from breaking Pete Maravich's 53-year-old NCAA career scoring record (3,667 points), long thought to be one of college basketball's most unbreakable marks.
The intrigue: Tonight is the final guaranteed game of the Titans' season, as they're 13-18 and nowhere near the NCAA Tournament bubble.
They'll need a win to extend the season and give Davis — averaging an NCAA-best 28.1 points per game — a real shot at history.
The backdrop: Anyone coming this close to such a vaunted record is remarkable, but the wiry Alabama native with unlimited range wasn't even a highly touted recruit — just a skinny kid (6'1, 165 lbs.) who knew he'd have to outwork everyone to get noticed.
That work ethic came from his father, Mike, who happens to be the coach at Detroit Mercy. And who, as fate would have it, began Antoine's training by making him watch Maravich's famous instructional videos.
Antoine's training ratcheted up in 2012 when Mike became head coach at Texas Southern in Houston. There, Antoine completed grueling workouts with former National Basketball Association player and current Houston Rockets assistant John Lucas. He also scrimmaged with — and routinely torched — Mike's college team.
He initially signed with the University of Houston, but ultimately decided to follow his father to Detroit: They both started there the same season (2018-19), and with Mike inheriting a 24-loss team, he gave Antoine free rein of the offense from day one.
Between the lines: The fact that Maravich's record has stood this long is all the more impressive given two huge disadvantages he faced: fewer years and no three-pointers.
Freshman weren't allowed on varsity back then, so Maravich amassed his staggering sum in just three seasons (83 games). Davis has played five seasons (142 games) thanks to the COVID eligibility waiver.
Three-pointers wouldn't come to the NCAA until 1986, meaning Maravich — an all-time great long-range shooter — missed out on countless points. Davis, meanwhile, literally broke the NCAA's all-time three-point record earlier this year.
The bottom line: Kareem Abdul-Jabbar's NBA scoring record fell just three weeks ago. Will the Pistol's record follow?
Go deeper