The deepening GOP divide on Ukraine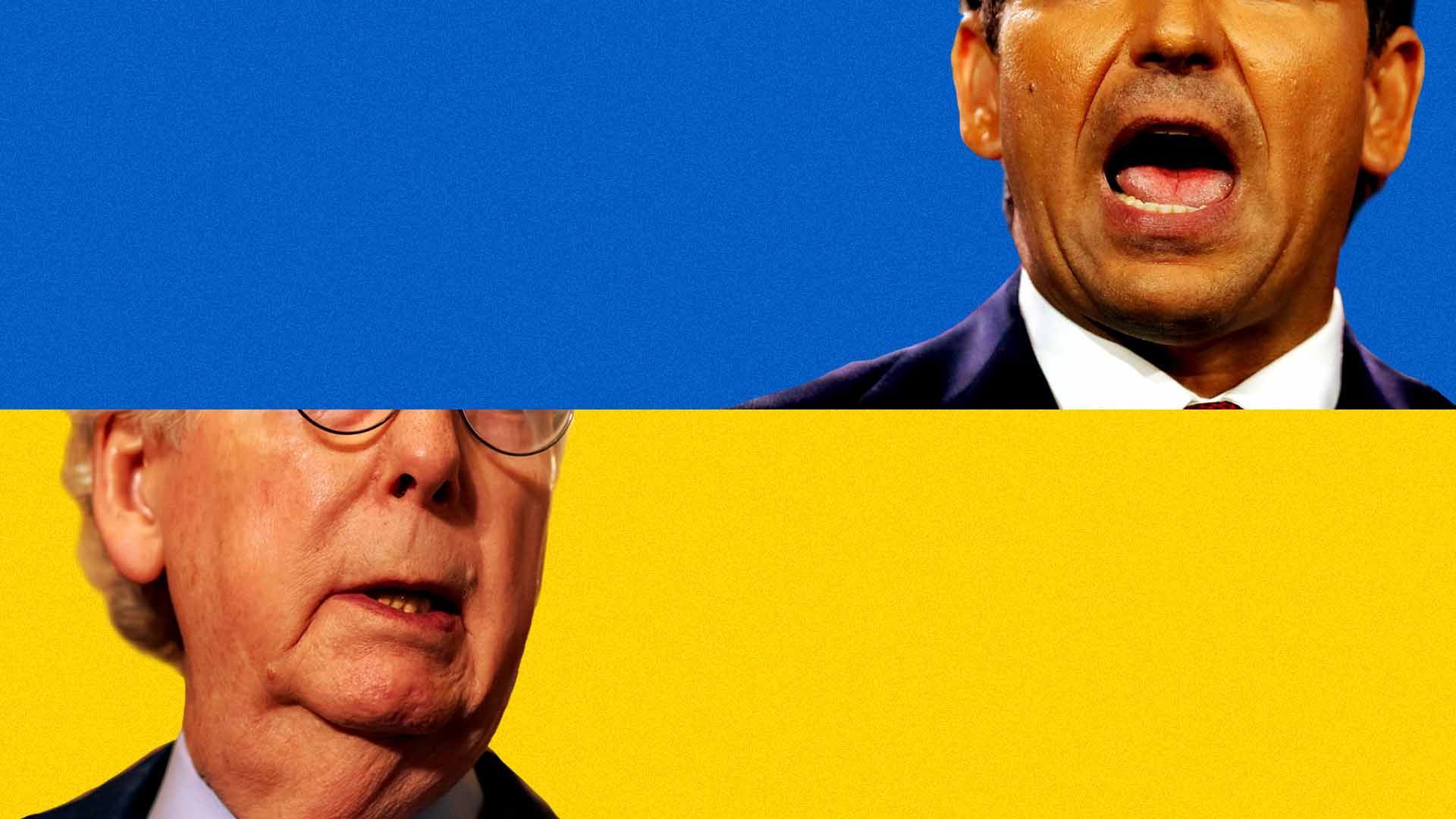 Republicans are increasingly divided over American support for Ukraine: The party's traditional hawkish voices face a loud array of anti-war voices from the MAGA wing of the party led by former President Trump.
Why it matters: The majority of the party's elected officials are still squarely behind helping Ukraine in its war against Russia — and if anything, have accused President Biden of slow-walking military aid to our ally.
But in a sign of the shifting mood within the party, Florida Gov. Ron DeSantis sounded a lot closer to Trump than potential 2024 rivals Nikki Haley or former Vice President Mike Pence in rare comments on foreign policy this week.
Driving the news: In an interview with Fox News, DeSantis echoed isolationist rhetoric and cast Biden as spending more time on foreign affairs than domestic challenges. "He's very concerned about those borders halfway around the world. He's not done anything at home to secure our own border here at home," DeSantis said.
"The fear of Russia going into NATO countries and all that, and steamrolling, that has not even come close to happening," DeSantis added. "I think they've shown themselves to be a third-rate military power."
Trump, who has led the anti-war charge within the GOP, wrote on Truth Social: "If you watch and understand the moves being made by Biden on Ukraine, he is systematically, but perhaps unknowingly, pushing us into what could soon be WORLD WAR III."
Sen. Josh Hawley (R-Mo.), leader of the Senate GOP's isolationist wing, declared last week that "our foreign policy isn't working," calling for "a truly nationalist foreign policy" that would cut off aid to Ukraine in favor of focusing squarely on the threat from China.
The other side: About the same time, Senate Minority Leader Mitch McConnell (R-Ky.) and the Republican chairs of the House Foreign Affairs and Intelligence committees led a bipartisan delegation to the Munich Security Conference, where they pledged support for U.S. aid to Ukraine.
"Reports about the death of Republican support for strong American leadership in the world have been greatly exaggerated," McConnell told Fox News. "My party's leaders overwhelmingly support a strong, involved America and a robust trans-Atlantic alliance. Don't look at Twitter, look at people in power."
Haley offered an unapologetically hawkish message in kicking off her campaign, saying she would "stand by our friends Israel and Ukraine against Iran and Russia."
"It's more than just about Ukraine. This is a war about freedom. And it's a war we have to win," she told Iowa voters in a campaign appearance Monday.
Pence spoke at the University of Texas on Friday, the one-year mark of Russia's invasion of Ukraine. "There can be no room in the leadership of the Republican Party for apologists for Putin," Pence said. "There can only be room for champions of freedom."
By the numbers: Recent polls have shown there's still widespread support among Americans for aiding and arming Ukraine, but there's been a decline in pro-Ukraine sentiment among Republicans in recent months.
In January, Gallup found that nearly two-thirds of Americans (65%) support Ukraine reclaiming territory, even if that results in a prolonged conflict. Only 31% preferred the U.S. work to end the war quickly, even if it allowed Russia to keep its occupied territory — a number unchanged since last summer.
But among Republicans, just 53% supported continued backing for Ukraine, while 41% wanted a quicker resolution to the war.
A separate Pew Research Center survey conducted in January found 51% of Americans believe the U.S. is giving the right amount or "not enough" support to Ukraine, while 26% said we're giving too much aid.
Republicans were divided, with 41% satisfied or wanting to send more aid, and 40% preferring reduced military aid to Ukraine.
What they're saying: "There is an isolationist strain that has always existed in the Republican base," said Republican foreign policy strategist Richard Goldberg, an advocate for American engagement overseas.
"It has waned in influence over recent decades. Pat Buchanan was defeated in the 1990s, and gave rise to a couple decades of strong internationalist, peace-through-strength sentiment in the GOP."
Goldberg said Haley "checks the box on the safest place to be for the largest swath of Republican voters and donors, and DeSantis is trying to play footsie by having a foot in both camps — triangulating to see if he can appease both sides."
The bottom line: If DeSantis continues to break from the party's hawkish line, GOP public opinion could move accordingly in that direction — as the partisan incentives for breaking with Biden intensify.
But DeSantis has barely outlined his foreign policy views, allowing any offhand comments to take on outsized significance.
He has a generally hawkish record from his time in Congress and criticized Biden's decision to withdraw troops from Afghanistan in the Fox interview.
Go deeper