Scoop: House GOP plans Ohio derailment hearings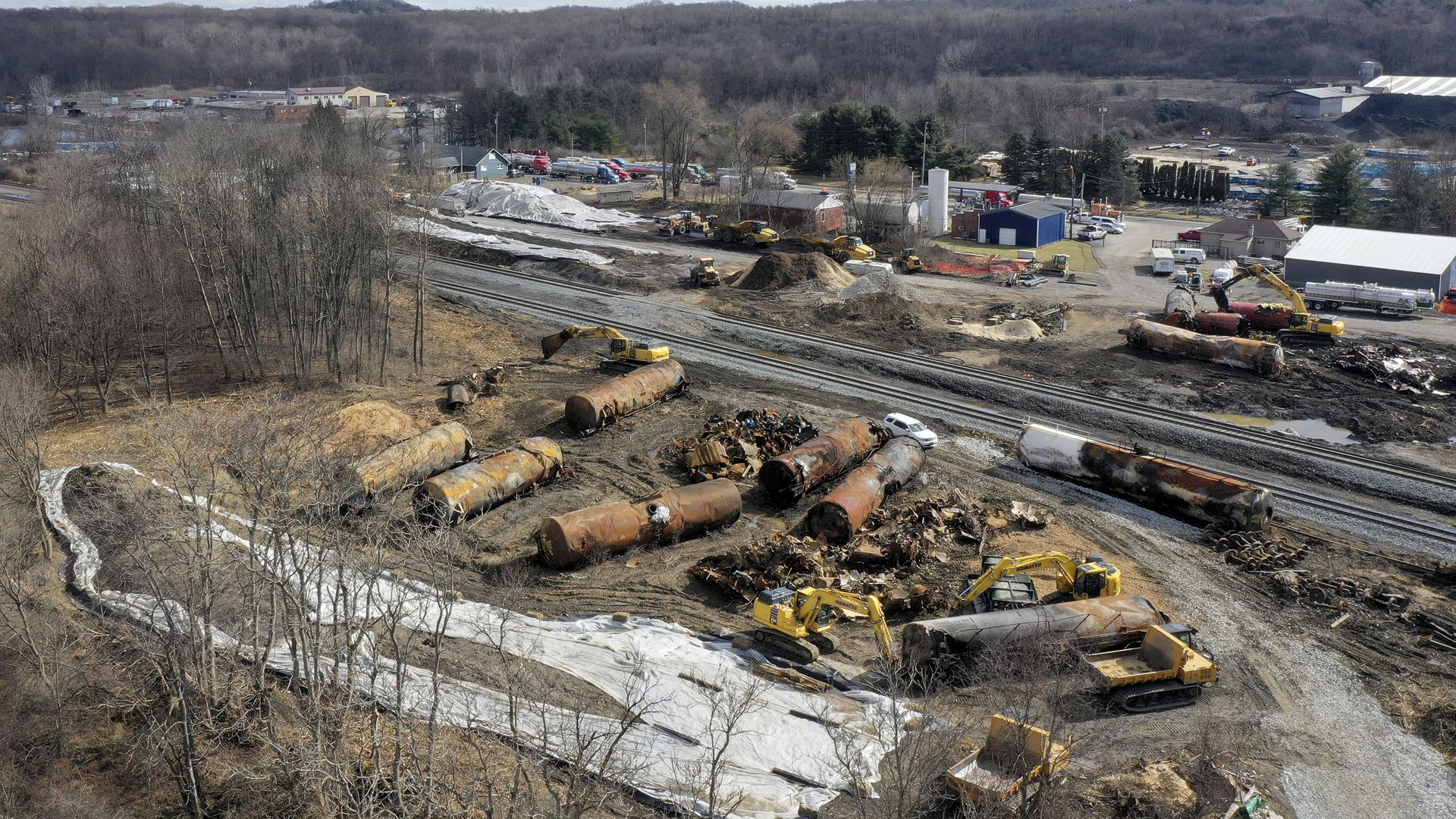 Multiple House committees are gaming out aggressive hearings 0n the Biden administration's response to the toxic train wreck in Ohio — including how the government supervises giant rail companies, Axios has learned.
Why it matters: The Feb. 3 derailment in East Palestine left residents increasingly fearful about the air and water — and ignited a political storm over the treatment of the rural, Republican residents.
House Oversight and Accountability Chair James Comer (R-Ky). sent a letter demanding documents from Transportation Secretary Pete Buttigieg on Friday — the same day Buttigieg was visiting the wreck for the first time, Axios' Andrew Solender writes.
Former President Trump had visited the site the day before.
Buttigieg last week called for a list of reforms by the freight rail industry.
What we're hearing: Probes are being considered by the House Transportation and Infrastructure Committee and House Energy and Commerce Committee — where Rep. Bill Johnson (R-Ohio), who represents East Palestine, is a member.
Look for at least one field hearing in East Palestine, so House members can hear from residents in person.
"The infrastructure failure that caused the derailment has led to an environmental disaster," Comer's letter says. "The Committee is deeply concerned by DOT's slow pace in resolving this matter."
The letter asks for a slew of documents and communications about how the derailment was handled + administration policy trains carrying hazardous materials.
Reality check: The White House tells Axios that at President Biden's direction, federal agencies "are going around door to door in East Palestine this weekend to check in on each family personally."
A White House timeline shows that within two hours of Norfolk Southern reporting the derailment at 11 p.m. on Feb. 3, EPA and Transportation Department officials were on the scene.
Biden, who has claimed Trump deregulatory tactics were partly to blame, said Friday: "[T]he idea that we're not engaged is just simply ... not there."
The House Transportation and Infrastructure Committee said in a statement:
"The important thing is to learn exactly what happened, what factors played a role in the accident, and what factors did not. The Committee is staying engaged on this issue, but no one should jump to any conclusions or act without all the facts. Which is exactly what the NTSB is working to provide through their investigation."
On the Senate side, the top Democrat and Republican on the Senate Environment and Public Works Committee announced Feb. 17 that they'll hold a hearing on the wreck's "environmental and public health impacts."
Editor's note: This version adds the statement from the House Transportation and Infrastructure Committee.
Go deeper