House committee on China is becoming an oasis of bipartisanship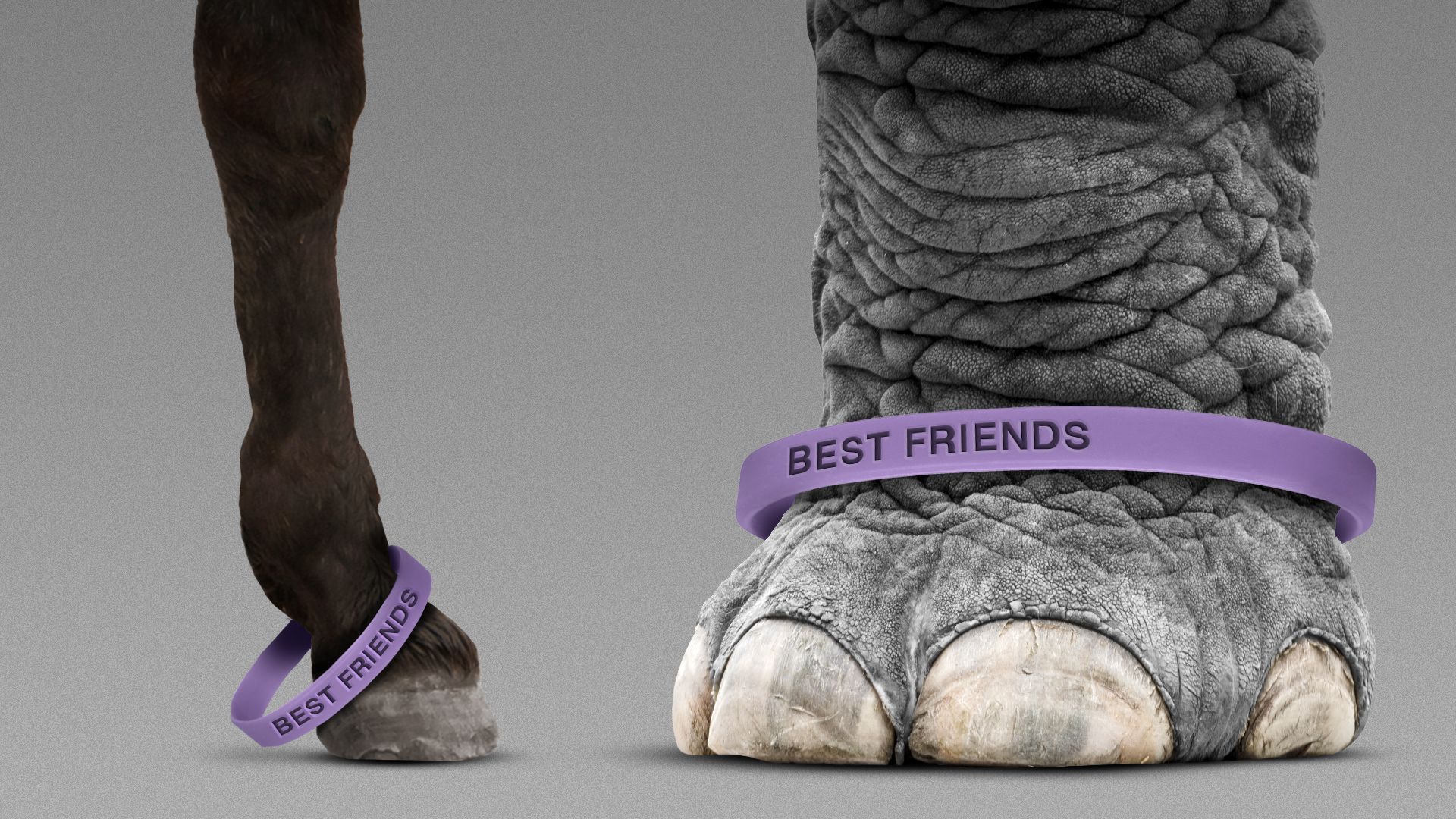 The House Select Committee on China is a rarity in Washington these days: A bipartisan panel that seems determined to work together.
Why it matters: The panel leads — Reps. Mike Gallagher (R-Wis.) and Raja Krishnamoorthi (D-Ill.) — don't agree on several aspects of U.S.-China policy. But they've made a point of showing unity on their mission: protecting U.S. economic and technological interests while focusing on China's government, not its people.
Democrats and Republicans are at each other's throats on other House panels, but the pair issued a rare joint statement about the Chinese balloon, and appeared together on "PBS Newshour" for one of their first interviews as a team.
"It's not a tennis game," Gallagher told Axios. "It's not about winning for winning's sake. It's an existential struggle over what life will look like in the 21st century, and the most fundamental human rights and freedoms are at stake."
The big picture: As the Biden administration seeks to ease tensions with China after the balloon episode, the committee will use its initial hearings to show that the threat to U.S. security posed by the Chinese Communist Party is "present and close to home," Gallagher said.
Gallagher said he and Krishnamoorthi are "very much aligned" in believing that "the threat we face is the party. We don't quarrel with the Chinese people."
It's a refrain echoed by lawmakers and others concerned that the panel's work could be viewed as anti-Asian.
The details: Besides examining China's economic and technological impacts on the U.S., the panel will hear testimony from human rights groups and victims of the country's crackdown on Uyghurs and other minorities in the Xinjiang region.
"There's so many potential witnesses that have firsthand experience with what's happened there," Krishnamoorthi told Axios.
Krishnamoorthi took Rushan Abbas, founder of the Campaign for Uyghurs, to President Biden's State of the Union address. Abbas previously had testified before Congress about forced labor and concentration camps in China.
By highlighting human rights abuses, Gallagher said he aims to "communicate something essential about the Chinese Communist Party and the threat it poses, (and) alleviate any concerns that this committee might be used as a platform for anti-Asian hatred."
Zoom in: Gallagher acknowledges there will be partisan disagreements among the panel's 24 members over issues such as the Biden administration's response to the balloon and the extent to which climate change should affect U.S.-China relations.
Republicans in Congress have been particularly critical of Biden's green initiatives that depend on China-made batteries and solar panels as part of programs to reduce the United States' dependency on energy from gas and oil.
GOP lawmakers say that such programs increase America's reliance on China at a time when the U.S. needs to become less reliant on the communist nation.
"We don't need to gloss over those differences, but we can we can debate them ... and still respect intentions of the members on both sides and preserve good faith," Gallagher said.
"AI, quantum computing, 5G and other technologies of the future" also will be focuses of the committee, Krishnamoorthi said. "The full extent of our deficit in those areas is not widely known."
Between the lines: Gallagher and Krishnamoorthi's friendship goes back six years, when they co-founded the Middle Class Jobs Caucus. They worked on infrastructure bills together, and introduced a bill to ban TikTok when they were on the House Intelligence Committee.
Go deeper