Tesla opening up its chargers could spur electric car adoption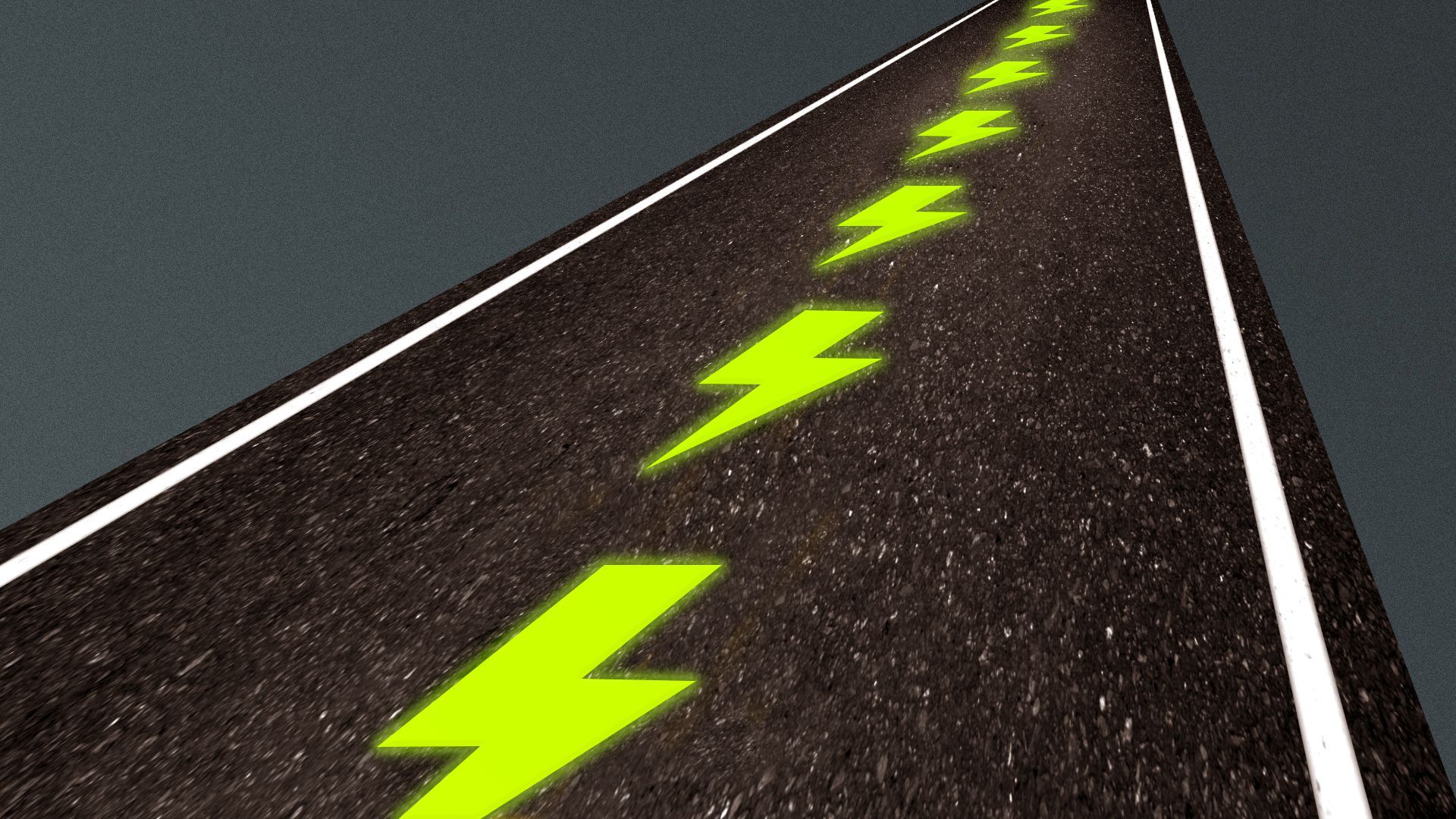 Tesla's agreement to open part of its proprietary car-charging network to drivers of other brands should make it far easier for electric vehicle (EV) owners to charge away from home, potentially accelerating adoption.
Why it matters: The Biden administration's clean energy agenda includes a shift away from gasoline-powered cars and a new domestic supply chain for electric cars. But many Americans have resisted buying EVs because they're worried about charging on long road trips.
Driving the news: The White House on Wednesday detailed a slew of measures meant to address those concerns, and to ensure that chargers are built in America.
Most notably, Tesla agreed to make portions of its U.S. Supercharger network and its slower-speed destination chargers available to non-Tesla EVs.
Of note: The announcement was made by the White House, not Tesla.
Tesla needed a nudge from President Biden to open up its network, the Washington Post reported.
On the flip side, the carmaker can now qualify for federal tax incentives for deploying U.S. charging infrastructure.
Where it stands: S&P Global Mobility estimates there are about 20,430 Level 3 "fast-chargers" and 126,500 slower Level 2 chargers in the U.S. today, plus another approximately 16,800 Tesla Superchargers and slower Tesla destination chargers.
That's not nearly enough to support the quickly maturing EV market, according to S&P researchers.
They forecast we'll need eight times as many chargers by 2030.
What's happening: Tesla will more than double its nationwide network of Superchargers, which are manufactured in Buffalo, New York, the White House said.
At least 7,500 Tesla chargers will be available for all EVs by the end of 2024.
That includes at least 3,500 new and existing 250-kW Superchargers along highway corridors, as well as slower chargers near places like hotels and restaurants.
💬 Our thought bubble: Having just made a 1,500-mile road trip from Michigan to Florida in a Kia EV6, it would have been nice to have those extra Tesla charging locations available to us.
Instead, we stuck to fast-charging networks operated by Electrify America and EVGo.
Yes, but: Most other EVs, including our press loaner Kia, use a different type of plug than Tesla's proprietary connector.
The connectors are incompatible, although adapters are newly available.
What's needed: Charging should be as simple as filling up with gas.
There should be one standard plug, a single, all-access app, and one billing platform, regardless of what kind of car you drive or what network you charge on.
This seems to be the goal of the Biden administration, which is now requiring that federally funded chargers use technology that makes it easier to pay for electricity usage.
Yes, but: The devil is in the details, and a multitude of hardware and software issues will need to be worked out before there's a seamless national network of EV chargers.
Zoom out: The White House's Wednesday announcement also highlighted a bunch of recent private-sector charging investments, such as BP's plan to invest $1 billion in chargers by 2030.
And it detailed new requirements that chargers be made in the U.S. — good news for manufacturers like Tritium, Siemens, ABB, Wallbox and Freewire, among others, which are expanding domestic production.
The big picture: Biden aims to build 500,000 EV chargers across the U.S., and wants at least 50% of new cars sold to be electric by 2030.
Congress has approved $5 billion for highway chargers, plus another $2.5 billion in grants for charging infrastructure.
Those efforts are part of Biden's broader effort to jump-start a U.S. supply chain for EVs, charging equipment and batteries, creating good-paying union jobs.
Go deeper