The administration's next crack at lower drug prices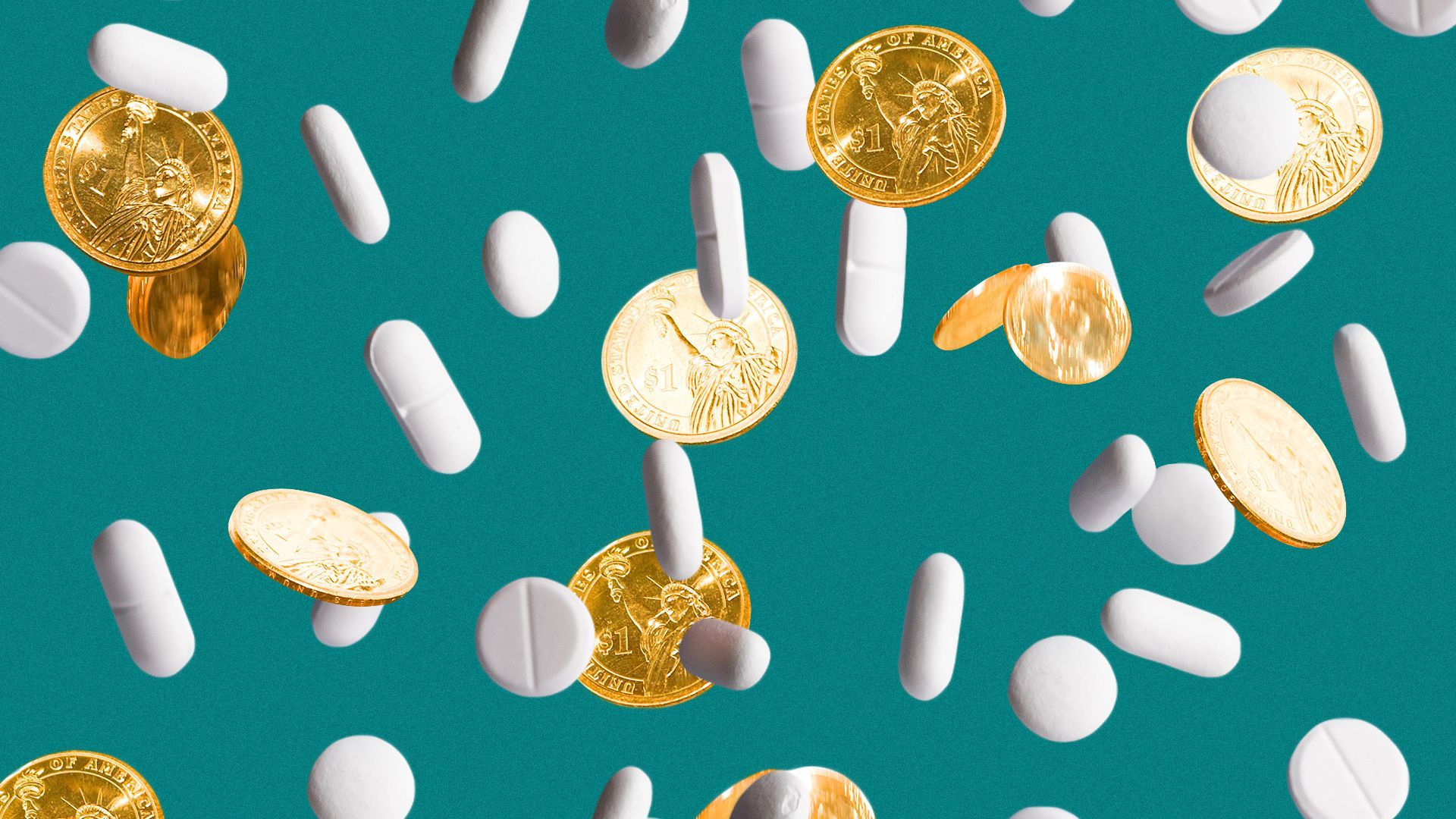 The Biden administration unveiled three drug payment programs Tuesday aimed at helping reduce patients' out-of-pocket costs, including one that would potentially lower Medicare payments for promising treatments approved by the FDA before clinical trials are complete.
Why it matters: The models wade into some of the most timely drug pricing issues of the day, and could boost President Biden's political arsenal for 2024.
Driving the news: In October, Biden directed the CMS Innovation Center, which runs experiments on new ways to deliver and pay for health care, to study how it can use its authority to lower drug costs.
The executive order — and the new programs announced Tuesday — build on Medicare drug pricing reforms enacted by Congress last year. But they don't require lawmakers' blessing.
The accelerated approval process has been in the spotlight as Medicare worked out how to cover a controversial Alzheimer's drug approved by the FDA on an expedited basis, before there was real-world evidence it worked.
The details: The three programs focus on different classes of treatments and coverage.
One would encourage Medicare prescription drug plans to offer a standardized set of about 150 generic drugs to patients for a maximum copayment of $2 per month. The list would target drugs for chronic conditions like hypertension.
Another would give state Medicaid agencies the option to coordinate with manufacturers and other states to test new ways to pay for gene and cell therapies based on health outcomes.
The report specifically mentions gene therapies for sickle cell disease, two of which could hit the market this year with multi-million dollar price tags and would likely present significant affordability challenges for state Medicaid programs.
The third model would try to incentivize manufacturers to complete timely clinical trials to confirm accelerated-approval drugs work by adjusting how much Medicare pays for the products.
"Whether [payments] would go up or down — I think that's a design question that we would have to explore as we start developing the model," Innovation Center director Liz Fowler said during a press call.
The intrigue: The Innovation Center has not ruled out requiring drug manufacturers to participate in the program testing new ways to pay for accelerated-approval drugs.
Participation is usually voluntary, but Fowler has said she'd like to get more mandatory programs into the mix.
The center is working with the FDA to figure out program details, Fowler said. Officials will start exploring the accelerated approval incentive program this year and move forward "if determined appropriate," a report on the programs said.
The big picture: The payment programs, if enacted, would become some of the Biden administration's most notable drug pricing policies made without Congress.
But they risk drawing the ire of the health care industry, particularly pharmaceutical companies, who are already warning that Democrats' drug pricing legislation from last year will discourage new therapies from coming to market and finding new uses for already approved medicines.
What's next: The center wants to begin the program that lowers drug copayments as soon as operationally feasible, and the Medicaid cell and gene therapy program could launch by 2026.
The center also wants to study ways to speed up the adoption of biosimilar drugs, support price transparency and improve cell and gene therapy access in Medicare.
Go deeper