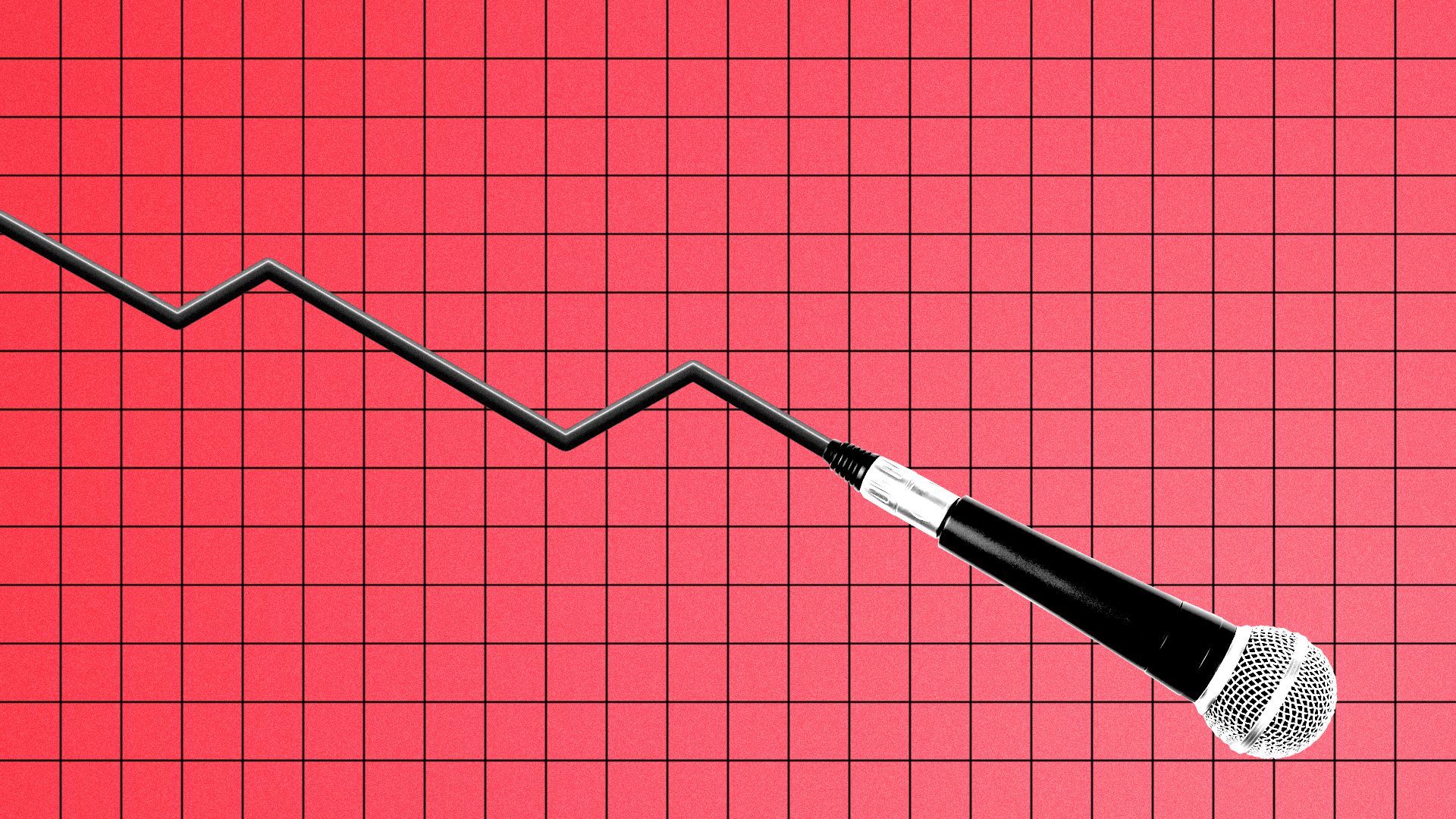 Podcasting has emerged out of years of rapid growth and a pandemic boom to face an identity crisis as its ecosystem contracts, advertisement slows and the medium eases into maturity.
Why it matters: Podcasts changed the listening habits of millions of people over the last decade, but the once-groundbreaking format has settled into a more precarious middle age.
Fewer people are creating new shows, networks are having difficulties recouping investments, and longtime podcasters are on the hunt for ways to keep their shows sustainable.
The podcast ad market has not grown as quickly as many hoped. Its $1.5 billion size in 2022 was minuscule compared to the nearly $70 billion spent on TV ads last year.
What's happening: Podcast search engine Listen Notes' updated 2022 stats showed an 80% drop in new podcasts created last year.
A December report from Insider Intelligence also shows listener growth in 2022 shrank to only 5% after years of double-digit percentage growth.
Additionally, data from Edison released in December found declines for the first time in monthly and weekly U.S. listening habits.
These shrinking numbers can, in part, be chalked up to a rebound, after the pandemic inspired a boom in new shows and gave many people more time to listen.
"The big drop is mostly low-quality shows (e.g., one-episode shows…), which is actually a good thing for the industry," Listen Notes' CEO and founder Wenbin Fang told Axios. "People tried out podcasting during COVID, created one or two short episodes, then moved on and abandoned the show."
State of play: Podcasting's show and listener slowdown has coincided with a larger reckoning for the tech industry's advertising business.
Yes, but: Podcasts appear to be entering a new phase, rather than phasing out. Millions of new podcasts are still being made every year to millions of listeners.
Edison's data found that there were 74 million weekly listeners in the U.S. last year. Listen Notes found over 25 million new episodes were released in 2022.
Furthermore, Listen Notes' 80% drop in new shows might have more to do with Spotify's widening role in the podcast universe. An analysis at Podnews suggests that the Listen Notes tally doesn't include Spotify exclusives.
"I don't think listeners noticed that there are fewer new podcasts in 2022," Fang said. "There are already enough podcasts for people to consume — actually too many podcasts now."
Between the lines: Spotify has become something of a bellwether for all of podcasting as it made giant deals to incorporate networks and quickly multiplied the number of shows on its platform.
Spotify recently laid off a number of workers in its podcast arm. It made cuts there last October and last week laid off 6% of its staff, which included the departure of chief content and advertising business officer Dawn Ostroff, who oversaw the growth of Spotify's podcast and advertising businesses
It also canceled 11 original shows last year.
Despite Spotify spending billions, spinning up new shows and drawing in podcast listeners to its service, it seems to have struggled with monetizing its investment and the layoffs have been seen as a change of course for Spotify's podcasts.
Spotify CEO Daniel Ek told Axios this week that the company spent generously on original shows and exclusive content to retain users and boost advertising revenue. But now that the podcasting arm has reached a point of maturity, Ek said it will focus on being more efficient.
The big picture: Podcasting is also suffering from a lack of innovation and new blood.
According to metrics from Edison, the top 10 most-listened-to podcasts last year are stacked with shows that have been around for years. The most recent show dates from 2019, and six of the top 10 shows are at least seven years old.
2021's top 10 told a similar story.
The intrigue: Though podcast advertising has boomed in recent years, most podcasters haven't benefited from it. With advertising business models softening and consumer adoption outpacing monetization, creators are looking for more ways to stay in the game.
2021 saw a big shift away from free shows and towards paywalls and subscriptions from some of the biggest platforms and podcast producers, including Apple, Spotify, the New York Times and NPR.
Smaller, niche networks, like Comedy Bang Bang World, have followed suit in carving out their own independent payment structures.
Meanwhile, individual shows and creators have swarmed to user-backed sites like Patreon. "Podcasts represent the most profitable in terms of revenue per creator [on Patreon]," a November report from Prosperity For All stated. "Podcasters receive 14.80% of all monthly payments despite making up only 7.66% of Patreon creators."
What they're saying: "Personally I'm still bullish on podcasting," Fang said. "The number of new podcasts declined, but the ratio of high quality shows is increasing."
Go deeper