America's print tabloid era is over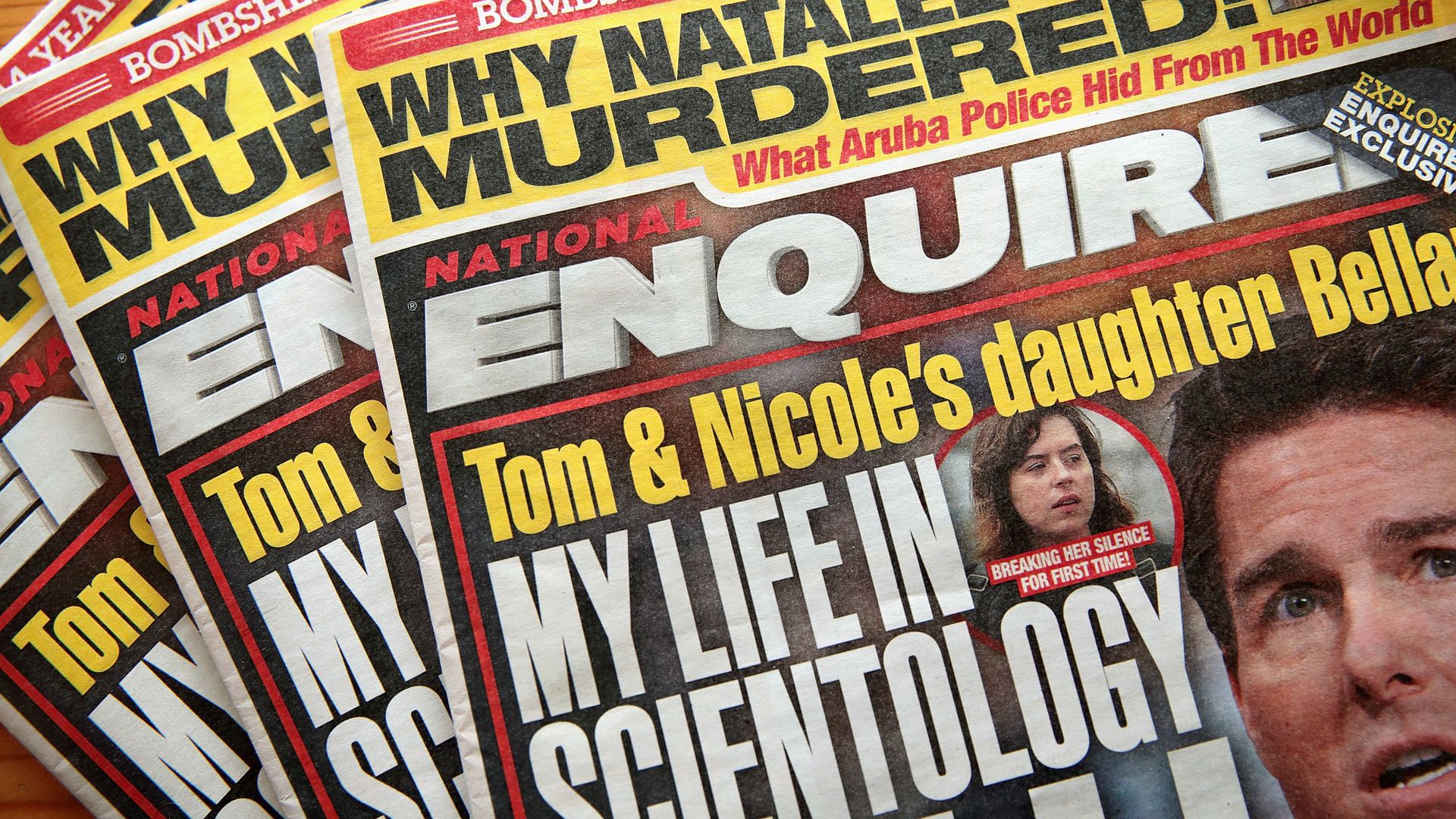 The sale of the National Enquirer, a storied gossip rag that became engulfed in scandals in recent years, represents the latest American tabloid giant to change hands as the era of print gossip fades away.
Why it matters: A small group of powerful voices has been replaced by hundreds of digital influencers and gossip sites that run the same rumors, often with even less accountability.
While many print tabloids run articles without bylines and using anonymous sources, it's still clear who owns most magazines. Online, even that small layer of accountability is often missing.
Be smart: With few exceptions, most major U.S. print tabloids failed to adjust to the digital era, so their audiences have aged with them. Left with smaller business prospects, many titles have been sold for a fraction of their former values to buyers eager to salvage what's left of once-powerful brands.
New York Daily News, once one of the most powerful tabloids in the country and one of the largest newspapers by circulation, was sold to Tribune Publishing (then called "Tronc") in 2017 for just $1. Its new owners cut the paper's newsroom in half the following year and shuttered its offices in 2020. It's now trying to make a local news comeback under hedge fund ownership.
The National Enquirer is being sold alongside its sister publications, the National Examiner and the Globe, in an all-cash transaction. While the transaction value was not made public, the three entities were set to be sold in 2019 for $100 million, before that deal fizzled, providing an idea about what they could be worth today. The Enquirer and its sister publication were sold to its former owners for $412 million in 1989.
Between the lines: Other celebrity and gossip magazines have ceased printing altogether, but remain online.
OK! Magazine reportedly ended its weekly print circulation last year, after selling its website to Empire Media in 2021.
Entertainment Weekly's print edition was cut last year after its parent Meredith was sold to IAC in 2021 and merged with Dotdash.
Yes, but: The online gossip business can be tricky.
Gawker, the buzzy gossip website that launched in 2022, is being shuttered again, its owners said last week. It initially shut down in 2016 as a result of a costly invasion-of-privacy lawsuit that led to a bankruptcy filing.
TMZ, a gossip site founded in 2005, was sold by its parent WarnerMedia to Fox Entertainment in a deal valued at less than $50 million in September.
Be smart: The one major exception has been The Daily Mail, a British tabloid whose U.S. version has become one of the most-trafficked American websites.
The Daily Mail's successful online presence in the U.K. helped jump-start its U.S. digital presence at a time when other tabloids weren't investing much in their websites. Its controlling shareholder took the Daily Mail's parent company private in a deal that valued the parent company at $1.2 billion in 2021.
The big picture: Many of today's biggest internet gossip stories are peddled by anonymous people and accounts.
Most notably, the viral Instagram account DeuxMoi, which rose to popularity during the pandemic, has made a name for itself by posting anonymous tips about everything from celebrity coffee orders to Hollywood affairs.
For tabloids that still make most of their money selling print editions in supermarket checkout aisles, there's little incentive to post juicy tips online first, as the Los Angeles Times notes.
What to watch: The Enquirer's former parent, A360 Media, still owns several other print tabloids, such as US Weekly, Star and In Touch Weekly, although their print circulations are in decline.
Former Enquirer editor Dylan Howard has created a digital holding company that houses Ok!'s digital website and RadarOnline, among other sites.
Go deeper