The investor facing off against Slack at SCOTUS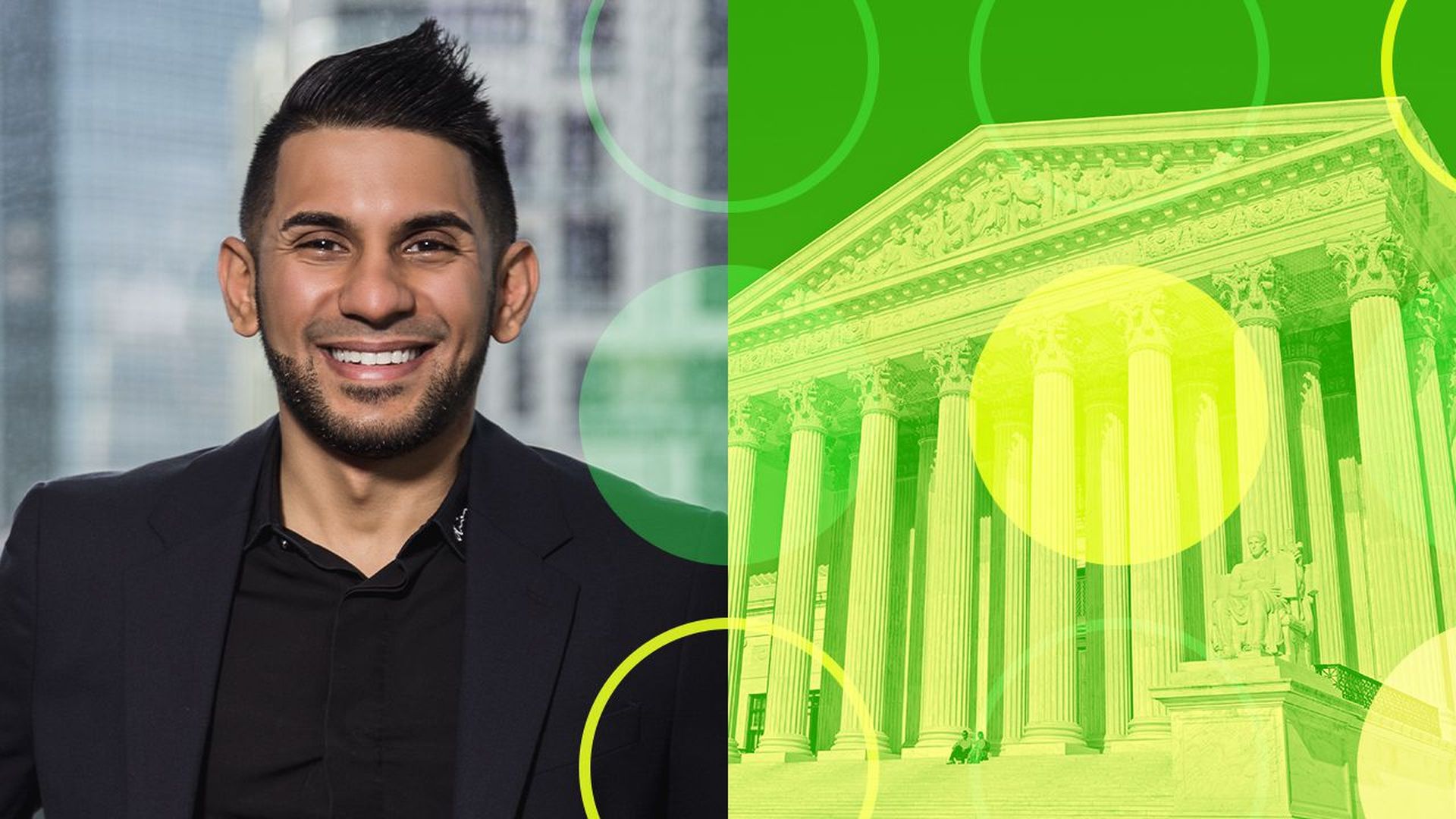 "I'm an American and I feel like if there's some level of civic duty here, why not?" Fiyyaz Pirani tells Axios.
He is the lead plaintiff in a lawsuit against Slack that will be heard in April by the Supreme Court, and he explained his motive for participating in the case.
Why it matters: The lawsuit, filed in relation to the workplace chat company's 2019 direct listing, could have implications for other public listings.
The big picture: Pirani, a 33-year-old software-entrepreneur-turned-stock-trader based in Houston, is now on his third lawsuit as a lead plaintiff. His first — against online education company 2U — was recently settled for $37 million (but how much he'll get personally is still to be determined).
He got involved in the 2U lawsuit after a Google alert flagged a press release from a law firm looking for affected 2U investors.
From there, he was referred by lawyers to the other two lawsuits he's leading — Slack, and most recently, Netflix.
Flashback: Pirani started trading stocks a few years ago after making several millions of dollars from a software company (though he declined to share more about the business). He now manages a portfolio of about $150 million, he says
Back in 2020, he also made nearly $100 million in trading profits, by betting early on the initial downturn from the pandemic.
What he's saying: "I think it's a cool experience, and I kinda enjoy it — it's like a David and Goliath thing," he says, explaining his decision to participate in more cases after his first go-around with 2U. "I'll get to go [to the Supreme Court] and go toe-to-toe with Salesforce (Slack's new owner)."
He also touts the free hours he gets to spend with expensive top lawyers because of the lawsuits — a priceless alternative to doing research himself. "It helps me become a better investor."
Between the lines: For Pirani, the whole legal process is free since his lawyers work on a contingency basis — a financial risk he says makes it fair that they get a huge cut of any winnings. Even his expenses and time spent will be covered if he wins or settles a case.
"The hardest part is the depositions," he says, because of the time commitment and prep required.
The publicity that comes from the cases, however, doesn't bother him. (In fact, Pirani himself reached out to Axios to offer an interview, and he's garnered some press in recent years for various reasons, such as his opulent penthouse).
The intrigue: While his fund lost about $2 million on 2U, Pirani says it ultimately made money on its Slack investment over the long run, despite the initial losses.
Yes, but: Asked if his serial participation in these suits is akin to patent trolling, Pirani immediately responds that he's merely "enforcing integrity in the stock market."
"A patent troll is looking to enrich themselves by stifling competition or stifling innovation," he adds.
One Elon Musk thing: Pirani described the embattled billionaire as "a brilliant innovator… but at the same time he does some boneheaded, stupid things." On Friday, Musk prevailed in a San Francisco federal trial over his infamous "funding secured" tweet about taking Tesla private.
Though Pirani says he's never owned Tesla stock, "I took [the tweet] 100% seriously…everybody in the investment community took it seriously."
The bottom line: Not everyone winces at the thought of protracted lawsuits against multibillion-dollar companies.
Go deeper