Fake meat fad hits the chopping block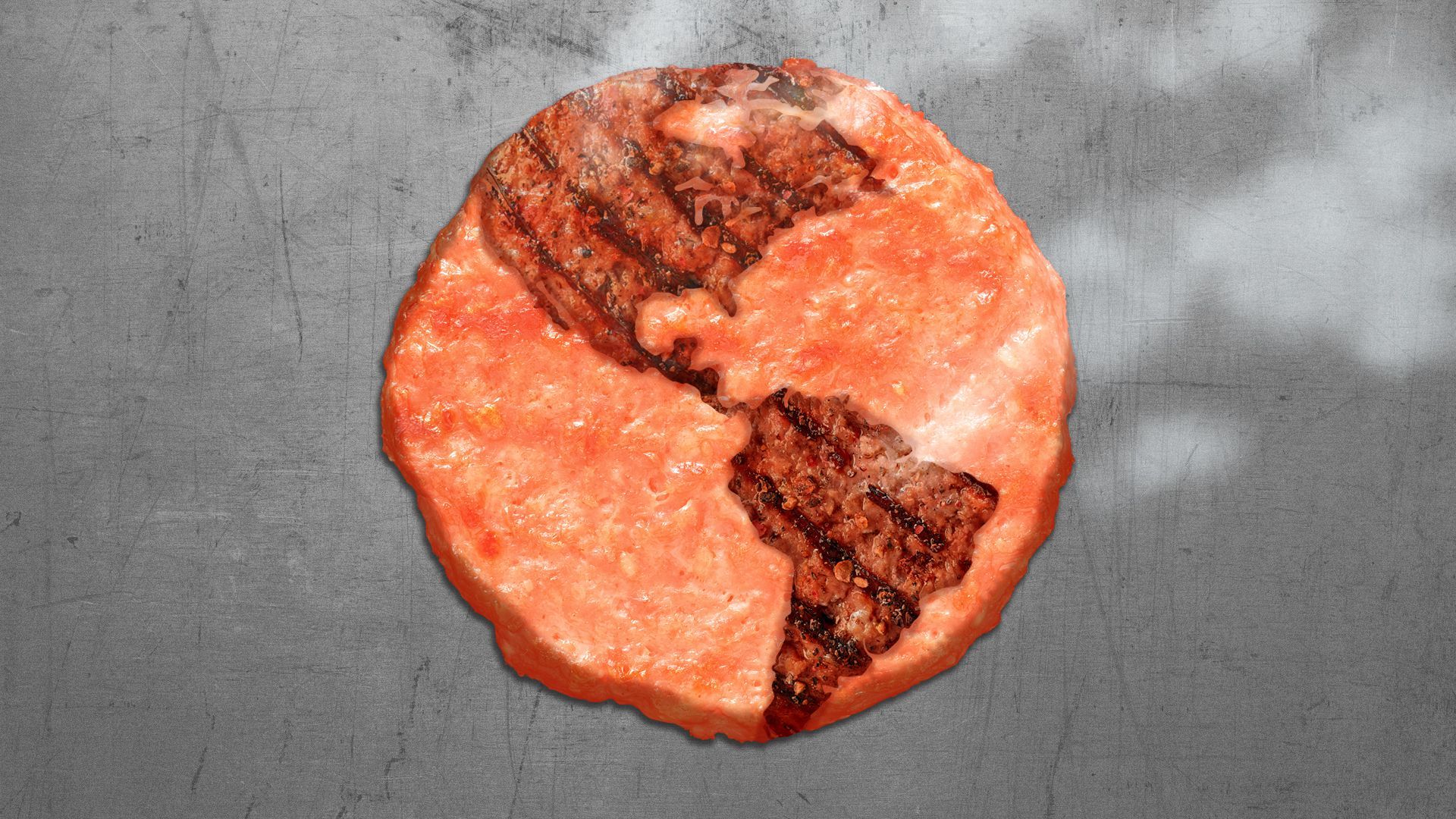 Customers and investors alike are sticking a fork in fake meat.
Why it matters: Eating plant-based meats is one of the easiest ways for Americans to reduce their overall carbon footprint. But after years of hype, the tide is turning against the first generation of plant-based protein makers.
The big picture: Impossible Foods and Beyond Meat captured headlines — and plenty of legitimate interest from consumers — with their plant-based "hamburgers."
Both companies' plant-based burgers were a hit — the "meat" looked and tasted similar enough to beef that many diners couldn't notice the difference.
The meats were so popular that fast food giant Burger King noticed and added an Impossible Whopper to its menu.
Impossible and Beyond started looking at other types of meat they could replace, and expanded their range of offerings to other highly processed meats like chicken nuggets and sausages.
But now, the sector's overall fortunes appear to be waning, with prominent industry names facing headwinds from a slowing economy, and a loss of buzz.
Impossible Foods plans to lay off roughly 20% of its workforce, per a Bloomberg report. However, the company tells Axios that it saw record growth last year.
Impossible's primary competitor, Beyond Meat, also cut roughly 20% of its workers, and lost several executives, amid its own stock slump.
Beyond Meat's sales fell more than 22% in the third quarter of 2022 compared to 2021. In an Q3 earnings call, company executives blamed inflation for consumers' souring tastes on pricier plant-based meats.
Beyond Meat's stock is down roughly 67% compared to a year ago.
What they're saying: "We feel good about our growth and performance, and we haven't been experiencing what some of the other brands in the space have reported," an Impossible Foods spokesperson tells Axios in an email.
What we're watching: Impossible Foods and Beyond Meat use a process called high-moisture extrusion, which effectively pre-cooks the protein prior to sale.
The technique works well with ground meat that doesn't require a uniform texture or single cut of meat.
A new set of startups is working on developing new techniques to create more types of plant-based proteins to replace large cuts of meat and fish.
Go deeper