Fed raises rates by a quarter point, notes lower inflation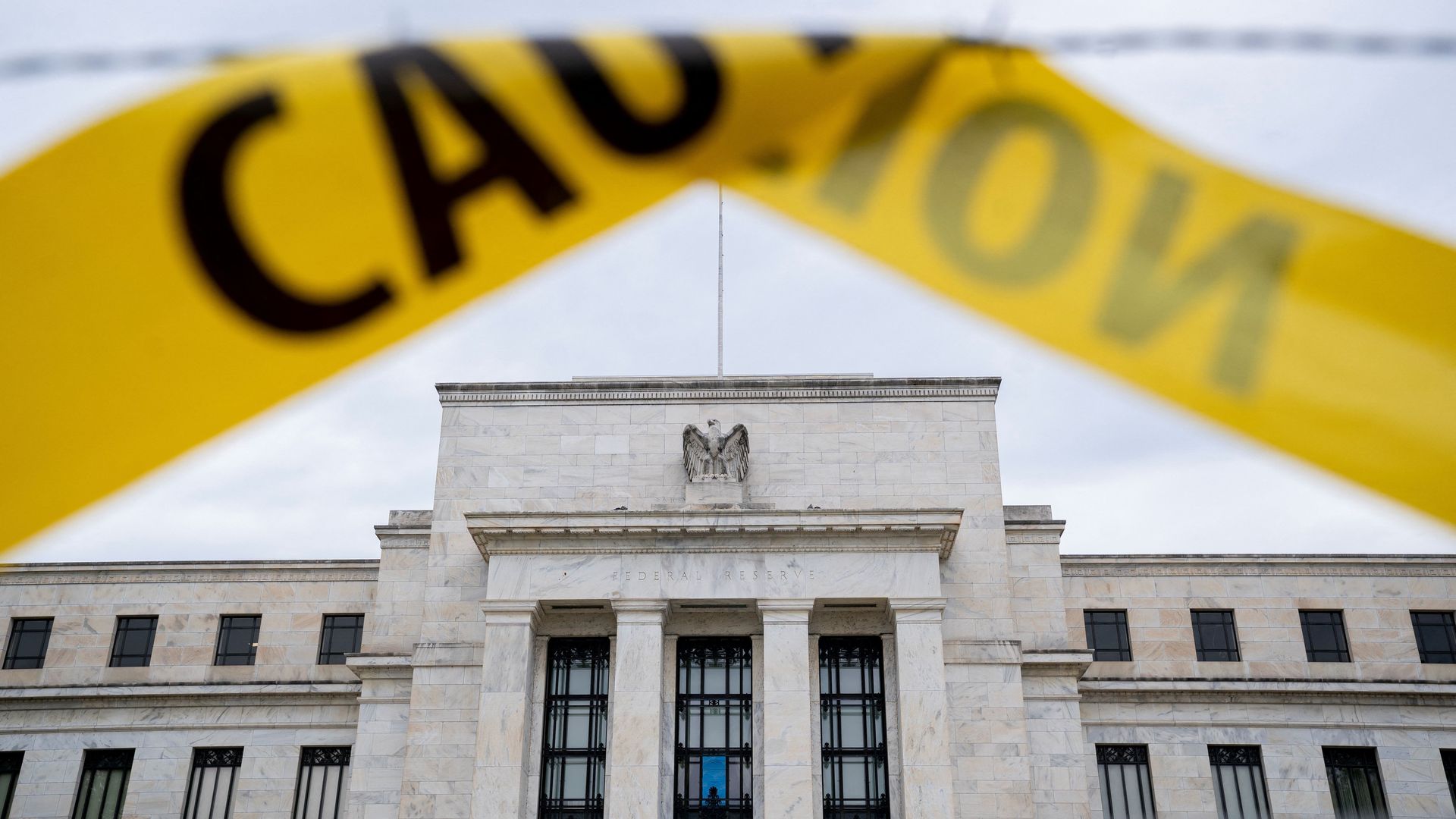 The Federal Reserve slowed down its campaign of interest rate increases Wednesday, raising its target interest rate a quarter percentage point after months of more aggressive steps and signaled that more increases are ahead.
Why it matters: The Fed raised interest rates at a breakneck pace last year as inflation soared. Now they have further slowed the pace of hikes, but Fed chair Jerome Powell emphasized that the central bank's job is not done and warned that the economy is only in the early stages of easing inflation.
"Inflation has eased somewhat but remains elevated," the central bank's policy statement said, an acknowledgement that the inflation data has improved since its last meeting in mid-December.
The policy-setting Federal Open Market Committee concluded a two-day policy meeting by raising its target range for the federal funds rate to between 4.5% and 4.75%.
Where it stands: Inflation has come down alongside a labor market that has remained solid — and, by some measures, strengthened.
But, speaking to reporters during a press conference, Powell was cautious about whether that would continue.
"It is a good thing that the disinflation that we have seen so far has not come at the expense of a weaker labor market," Powell said. "But I would also say that that that disinflationary process that you now see underway is really at an early stage."
Powell acknowledged that a key area of the economy the Fed is watching — core services, excluding housing — has not seen disinflation yet.
Between the lines: The committee kept language in its statement that it "anticipates that ongoing increases in the target range will be appropriate" to return inflation to 2%.
The plural "increases" implies that there will be at least two more rate hikes this year.
That throws cold water on a view held by many analysts and traders that there might be only one more rate hike, in March, with the Fed pausing its tightening campaign after that point.
If the Fed follows through on enacting "ongoing increases" in its policy rate, it would be on track to bring its target interest rate above 5%, consistent with Fed officials' own projections but not with current market pricing.
"The job is not fully done," Powell said at the news conference.
The intrigue: Alongside the issues of inflation and employment, there is also another potential issue brewing that will inevitably involve the Fed: The possibility that Congress does not raise the debt ceiling.
But at the news conference, Powell would not offer any detail about any actions the Fed would take should that scenario play out.
"There's only one way forward here. And that is for Congress to raise the debt ceiling so that the United States government can pay all of its obligations, when due and any deviations from that path would be highly risky," Powell said.
"No one should assume that the Fed can protect the economy from the consequences of failing to act in a timely manner."
Catch up quick: The Fed raised rates seven times in 2022, including four times in super-sized 0.75 percentage point increments in an effort to bring down inflation. That created the most rapid tightening of monetary policy in decades and sent ripples across global financial markets.
Now, though, the end looks to be in sight. As of December, Fed officials expected to raise rates only another 0.75 percentage point across all of 2023, and with Wednesday's move they're one-third of the way there.
In another tweak to its latest statement, the committee referred to how it will determine the "extent" of future rate hikes, instead of the "pace" of them. That implies the pace is now a settled matter, with quarter-point rate moves at a time.
Markets price in a likelihood of rate cuts in the second half of 2023, a notion Fed officials themselves have pushed back on.
The decision, which included first-time policy votes from Dallas Fed President Lorie Logan and newly-installed Chicago Fed President Austan Goolsbee, was unanimous.
Editor's note: This story has been updated with additional reporting.
Go deeper