Scoop: Biden's EV surprise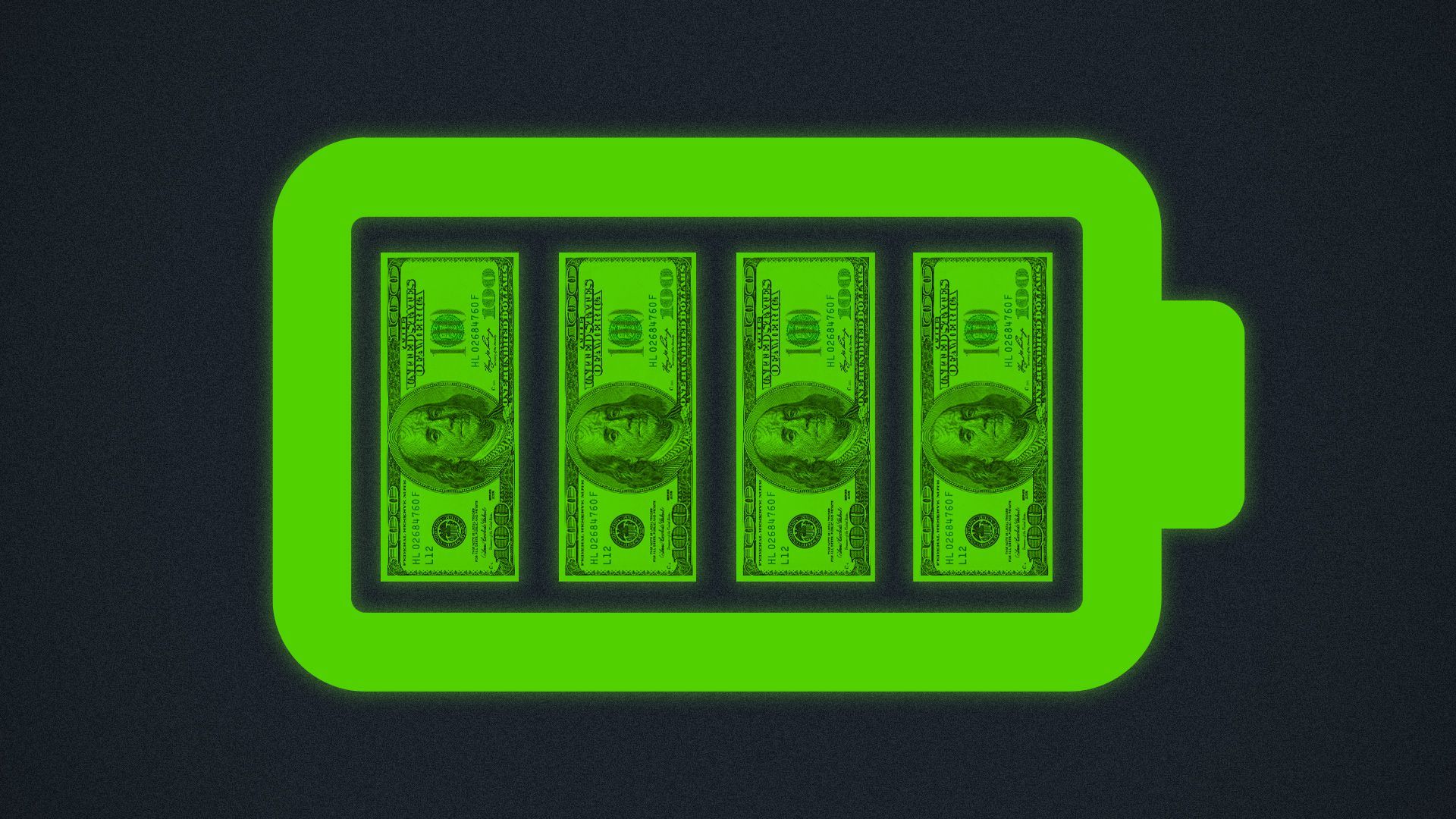 The Biden administration's plan to jump-start a domestic supply chain for electric vehicles (EVs) is on track to shatter expectations.
The big picture: Democrats offered carmakers new tax credits as an incentive to scale up domestic battery manufacturing — and they're racing to take advantage.
Why it matters: This is what President Biden and congressional Democrats wanted — to seed a domestic EV supply chain and reduce America's dependence on China, while accelerating the transition to cleaner transportation.
Details: The Inflation Reduction Act, passed last year, is loaded with goodies for consumers and carmakers to spur EV sales.
The most lucrative incentive offers battery manufacturers a tax credit of $35 per kilowatt-hour for each U.S.-made cell, which slices their production costs by a third.
Example: If a manufacturer produces 70-kWh batteries for 1 million vehicles, its total credits would be worth $2.45 billion a year.
By the numbers: When the bill was being debated last summer, the Congressional Budget Office projected the tax credits would add up to about $30.6 billion over 10 years (including credits for solar and wind manufacturing).
The actual total will almost surely be much higher, thanks to a surge of new battery plants across the country.
One estimate, prepared by Benchmark Mineral Intelligence for Axios, pegs the cost of the battery rebates at $136 billion over 10 years — and Tesla has already announced new plans that will drive the number even higher.
Between the lines: This will add up to big money for automakers. If they pass those savings on to consumers, it could drive down the cost of new electric cars and spur sales.
Tesla alone expects to earn up to $1 billion in battery tax credits this year.
In a recent earnings call, CEO Elon Musk said the value of such credits could become "very significant" and potentially "gigantic" in future years.
Tesla's Nevada plant, for example, will soon be able to produce 100 gigawatt-hours of battery cells, and that could grow to 500 gigawatt-hours in the future. At an annual production rate of 500 gigawatt-hours, the credits would be worth a staggering $17.5 billion per year.
The big picture: Other companies also stand to reap huge credits as they ramp up domestic battery production, including General Motors and Ford Motor and their Korean joint venture partners, such as LG Energy and SK On.
Ford expects more than $7 billion in tax breaks from 2023 to 2026, with CEO Jim Farley predicting a "large step-up in annual credits" starting in 2027 during a recent earnings call.
GM chief financial officer Paul Jacobson told reporters that the automaker will earn about $300 million this year, with the credits eventually being worth $3,500 to $5,500 per vehicle.
What they're saying: "We have already seen hundreds of billions of dollars in new private sector investments across clean energy industries, including batteries, electric vehicles and solar panels," said White House assistant press secretary Michael Kikukawa in a statement to Axios.
"No one should be surprised that the historic Inflation Reduction Act will lead to an explosion in new EV plants that will showcase how American workers are the finest in the world."
The bottom line: The battery production tax credits are just one of many U.S. policy initiatives intended to accelerate the transition to electric vehicles — but they're clearly among the sweetest.
Editor's note: This story has been corrected with the current corporate name of SK On, which was spun off from parent company SK Innovation in 2021.
Go deeper