George Santos tells colleagues he's stepping down from House committees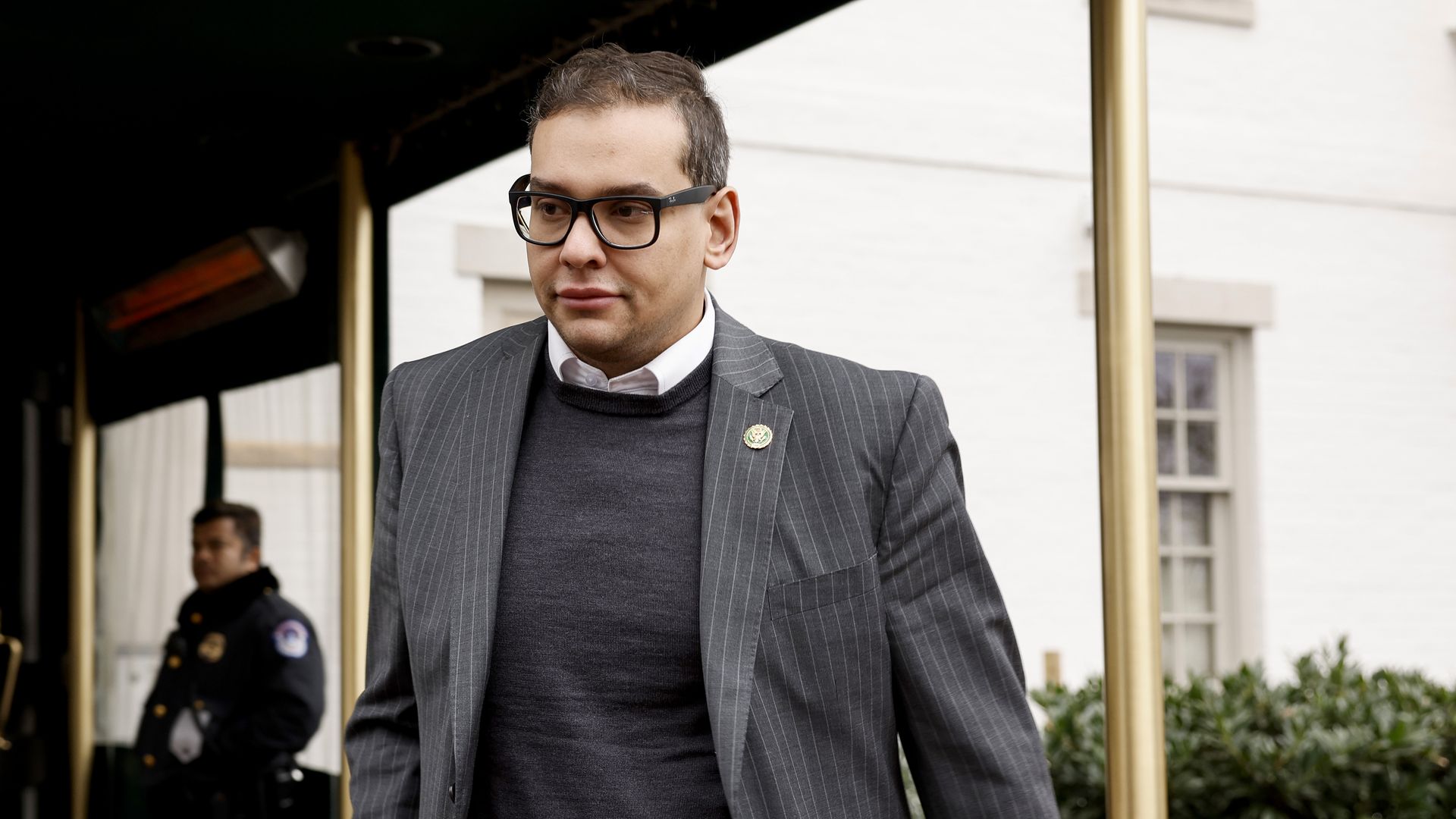 Rep. George Santos (R-N.Y.) told colleagues on Tuesday he is stepping down from his assignments on the Small Business and Science Committees, according to five sources — including two House GOP members.
Why it matters: The announcement comes as the first-term House member from Long Island faces a multitude of investigations into sweeping fabrications he made on the campaign trail, along with considerable blowback from the public and within Congress.
Driving the news: Santos issued a statement Tuesday afternoon confirming that he is recusing himself from the committees.
"With the ongoing attention surrounding both my personal and campaign financial investigations, I have submitted a request to Speaker McCarthy that I be temporarily recused from my committee assignments until I am cleared," Santos said.
"The business of the 118th Congress must continue without media fanfare," he added.
Santos also thanked House Speaker Kevin McCarthy (R-Calif.) for meeting with him "to discuss the matter and allowing me to take time to properly clear my name before returning to my committees." Santos also said he remains committed to serving his district.
What we're hearing: Santos made the announcement at a closed-door GOP conference meeting on Tuesday morning and indicated the recusal is not permanent, Axios is told.
"It sounds to me like it's temporary. … I think until there's a level of what he thinks the issues he's a distraction from are over with," Rep. Roger Williams (R-Texas), the chair of the Small Business Committee, told Axios.
Rep. Mike Lawler (R-N.Y.), who has called on Santos to resign, said, "[Until] this situation is sorted out and the ethics investigations are complete, I think it's the right decision."
What they're saying: McCarthy told reporters he and Santos talked about the move on Monday: "I met with George Santos yesterday. ... We had a discussion and he asked me if he could do that."
"I think it was an appropriate decision that, until he can clear everything up, he's off of committees right now," McCarthy added.
The other side: Democrats are keeping the heat on Santos — Rep. Ritchie Torres (D-N.Y.), a leading Santos critic, said in a statement: "Why is he stopping there?"
"Half-measures like voluntarily taking himself off his committee assignments are not good enough. ... He's a disgrace today. And he'll be a disgrace tomorrow. He should resign from office immediately," Torres said.
The intrigue: Santos' announcement comes ahead of an expected House vote to strip Rep. Ilhan Omar (D-Minn.) of her assignment on the Foreign Affairs Committee over past statements she made that colleagues in both parties labeled antisemitic.
That vote is in limbo as some Republicans argue against removing Democrats from their committees, a matter typically handled internally by the party caucuses.
Santos, for his part, said he's voting to remove her. "I've never been undecided," he said. "She doesn't deserve a seat in the committee."
Editor's note: This story has been updated with a statement from Rep. Ritchie Torres and Rep. George Santos.
Go deeper