Exclusive: Facebook to reinstate Trump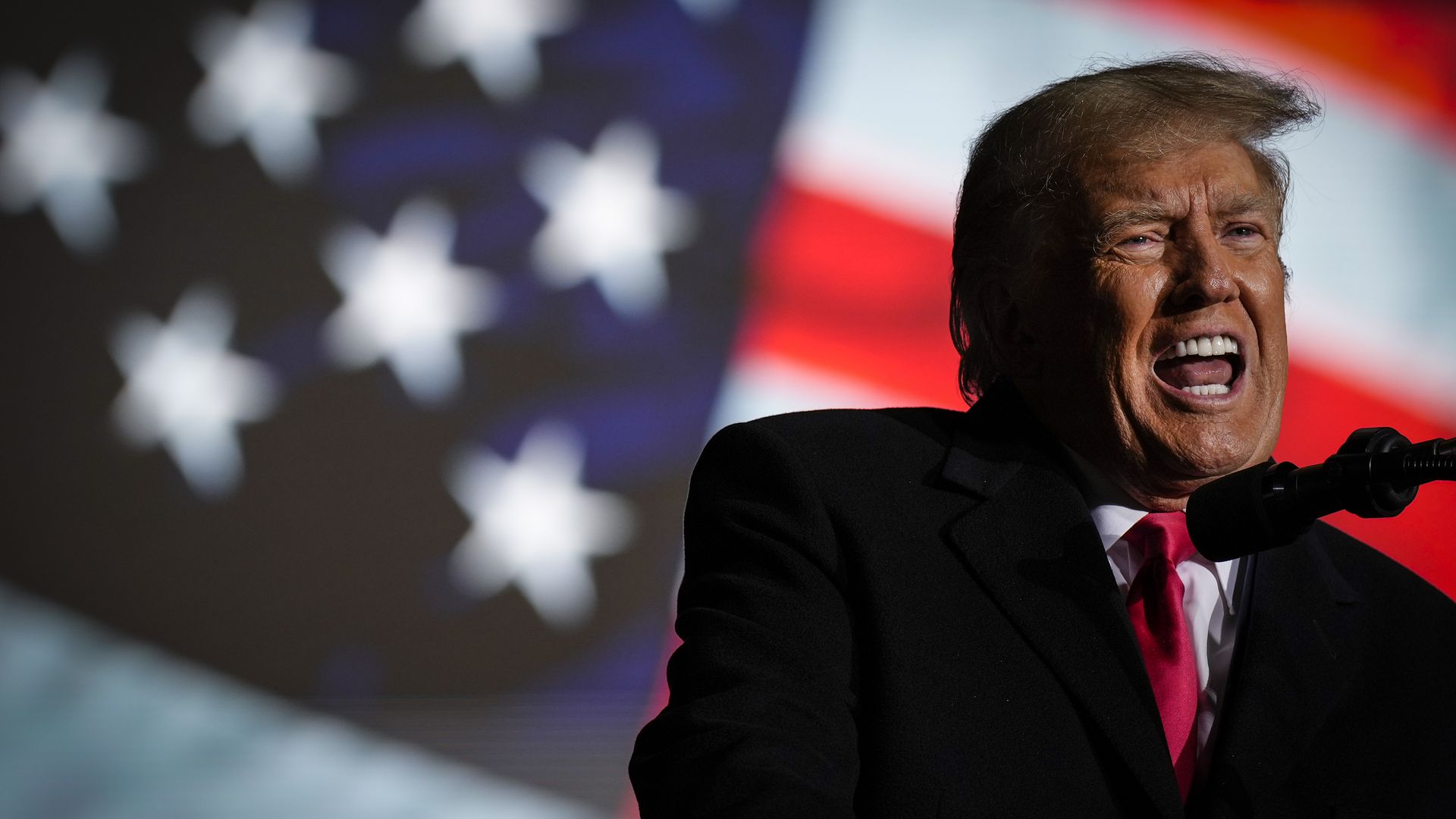 Meta will reinstate former President Trump's Facebook and Instagram accounts "in coming weeks" following a two-year suspension, according to Nick Clegg, the company's president, global affairs.
Why it matters: The decision sets a new precedent for how the company treats world leaders, and it could change the trajectory of the 2024 U.S. presidential election.
"We've always believed that Americans should be able to hear from the people who want to lead the country," Clegg told Axios. "We don't want to stand in the way of that."
Flashback: Facebook, along with Twitter and many other social media platforms, barred Trump soon after the Jan. 6 attack on the U.S. Capitol for breaking their rules and over fears of further incitements to violence.
The big picture: The reinstatement of Trump's accounts will allow him to run ads via his Facebook and Instagram pages, which have 34 million and 23 million followers, respectively.
Trump relied heavily on Facebook ads in previous election cycles for fundraising and list-building.
Under Elon Musk, Twitter has also reinstated Trump's account, but he has not posted yet, continuing to rely on his account at Truth Social instead.
Yes, but: Trump will be subject to new policies that Meta has created following feedback from its independent Oversight Board that could restrict his accounts — including his ability to run ads — should he violate the company's policies in the future.
"We just do not want — if he is to return to our services — for him to do what he did on January 6, which is to use our services to delegitimize the 2024 election, much as he sought to discredit the 2020 election," Clegg said.
His accounts will not be reinstated immediately, Clegg said, because Meta's engineers will need time to build out some of the new functionality necessary to restrict certain posts or ad capabilities in the future, if needed.
How it works: Trump will be subject to new policies around restricting accounts by public figures during civil unrest. Under those policies, Meta can decide to restrict the account of a public figure that violates its community standards for a time ranging from one month to two years.
Trump will also be subject to a crisis policy protocol, introduced by Meta in August, that will consider both on and off-platform risks of imminent harm to evaluating whether the actions or speech of any public figures requires sanctioning.
"If he now posts further violating content, that content will be removed, of course, and he could be suspended for between one month and two years, depending on the severity of the violation," Clegg said.
Be smart: For actions or speech that don't explicitly violate Meta's community standards, Clegg said the company will retain discretion to take action, and may enforce different types of guardrails, including limiting the distribution of posts without removing them or temporarily restricting access to its advertising tools.
"Oblique references to QAnon content, for instance ... is the kind of material that — even if it's done obliquely, and doesn't violate our community standards — we would seek to restrict the distribution of the content and/or restrict his ability to advertise," he said.
These steps would allow content to remain visible on Trump's account but not get distributed in users' feeds, even for those that follow the former president.
For example, Meta may opt to remove the "re-share" button from such posts, and may stop them from being recommended or run as ads.
Of note: If Trump posts content that violates the company's standards, but falls within Meta's characterization of "newsworthy content" — meaning the public interest in understanding what Trump said outweighs any potential harm — the company may opt to restrict the distribution of the content but leave it up.
What they're saying: After Axios reported the news of Facebook's decision, Trump, in a post at Truth Social, said, "FACEBOOK, which has lost Billions of Dollars in value since 'deplatforming' your favorite President, me, has just announced that they are reinstating my account. Such a thing should never again happen to a sitting President..."
Between the lines: Clegg said Meta did not speak with Trump or any of his associates leading up to the decision being made and has no insight as to whether he plans to use his accounts once reinstated.
"We saw that his team had written to us publicly — I think they were asking for a meeting with Mark and myself and Joel [Kaplan]. That meeting did not take place," Clegg said, referring to Meta chief executive Mark Zuckerberg and Meta vice president for U.S. public policy Joel Kaplan.
Trump was not briefed on the decision to lift his suspension before it was made public, Clegg said. He noted that the company will "always make ourselves available to explain and emphasize the policies that we've laid out."
"I think it would help if Donald Trump's team was as well informed as possible about where these lines are drawn and how these guardrails will operate," Clegg said.
"This whole process was really about our decision on our terms," he noted.
Catch up quick: Meta initially banned Trump from posting on his Facebook and Instagram accounts for at least two weeks following the Capitol attack, until President Biden's inauguration.
Several months later — in response to guidance from Facebook's independent Oversight Board to revisit its decision — the company said Trump's ban would last two years, beginning with his initial suspension on Jan. 7, 2021.
Meta has been the subject of criticism from both the right and left over how it handles content moderation, especially over its handling of noteworthy figures during times of crisis or unrest.
Conservatives have alleged that the company's ban of Trump and others' accounts constitutes censorship, while progressives have argued that Meta hasn't done enough to stop the spread of dangerous misinformation in real time.
To help shield Zuckerberg from some of that pressure and criticism, the company promoted Clegg last year to a new role that gives him complete oversight of policy decisions, like the one to reinstate Trump's account.
Clegg said the decision to bring Trump back was "not remotely" made for business reasons. "In general terms, it's not great for business to be, you know, dragged into and embroiled in controversy," he said.
The bottom line: "I am the the ultimate decision maker on these kinds of issues in the company," Clegg said.
Editor's note: This story is breaking news and will be updated.
Go deeper