First look: Clean water for Texas colonias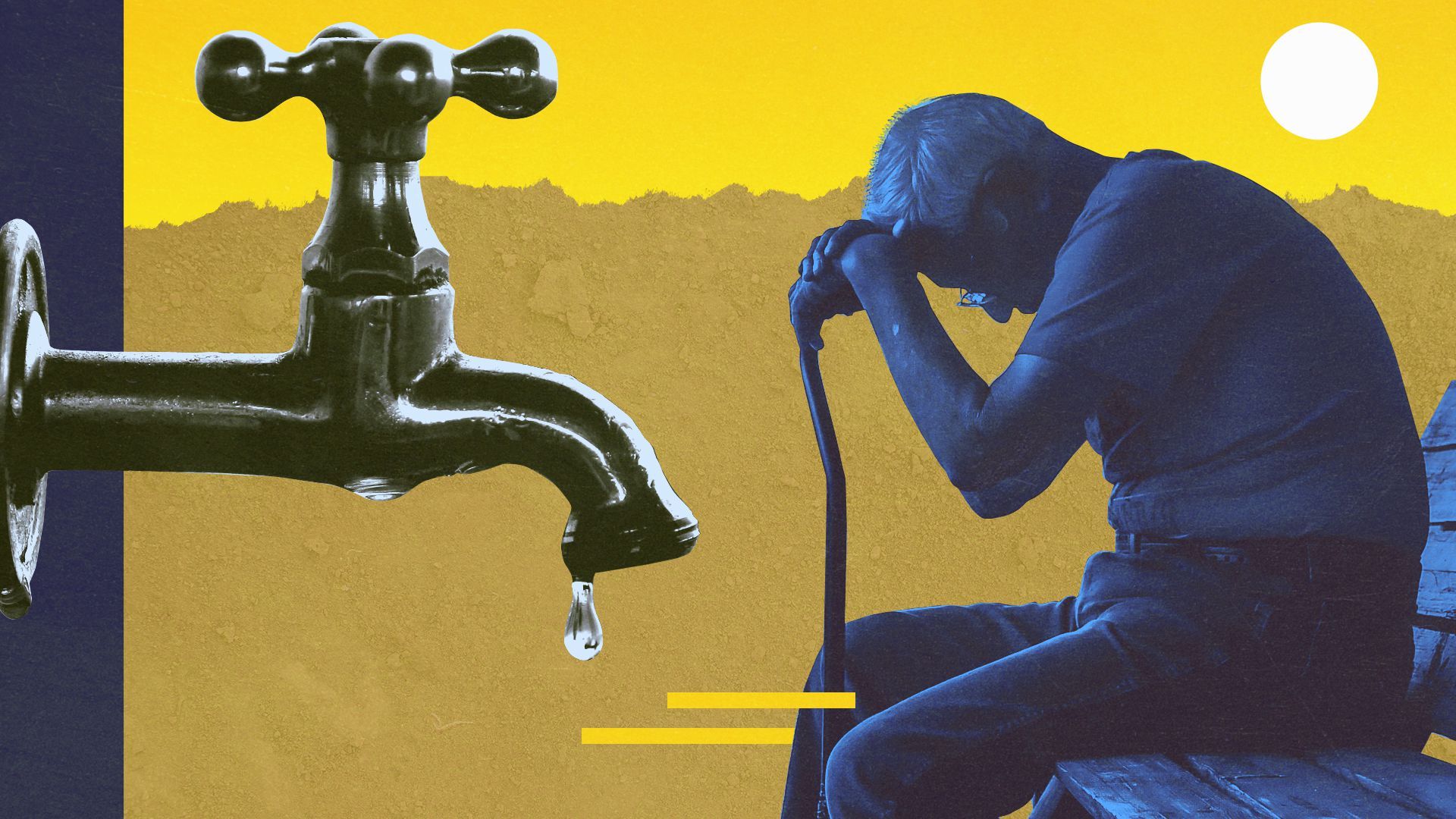 A new pilot initiative is tapping into solar-powered tech as a solution to the water crisis affecting hundreds of thousands of people living in colonias along the U.S. and Mexico border.
Driving the news: SOURCE Global, a public benefit corporation, is partnering up with Texas politicians and nonprofits to provide clean drinking water access to several colonias — unincorporated, low-income communities with limited resources, organizers tell Axios.
The water crisis has been driven by climate-related impacts on statewide water supply as well as a lack of political will to connect colonias to municipal water sources.
The backstory: For the largely low-income, Latino residents living in colonias — communities that don't have basic human services like traditional water infrastructure — the state's increasingly unreliable water supply, which relies heavily on drought-stricken rivers and reservoirs, worsens existing barriers to access.
"Colonia residents bought their land because they saw the opportunity to be homeowners, but they were never properly informed of the lack of political will to bring municipal water service to colonias," Laura Ponce, executive director of the El Paso County nonprofit Project Bravo, tells Axios in an email.
"Without a safe source for drinking water, low-income colonia families take health risks like drinking potable water delivered by trucks, storing water in unsealed large containers, and minimizing their water consumption," says Ponce.
Olga Ramos, a county commissioner in Maverick County, Texas, tells Axios in an email that there are more than 19 colonias in her precinct alone — and most are without access to safe water.
"It's a problem we have to solve, but building water infrastructure is a complicated and expensive task, one that could take years to complete, and these families can't wait that long," says Ramos.
A new pilot initiative led by SOURCE Global is aiming to mitigate this by installing solar-powered tech that produces clean drinking water for about 500 colonia households across Hueco Tanks and Quemado, which are in El Paso County and Maverick County.
SOURCE hydropanels suck up water vapor from the air, drawing only pure water molecules before condensing it into liquid, leaving pollutants behind, then transforming those molecules into liquid water and adding calcium and magnesium.
What they're saying: Ramos sees the hydropanels as a quick, cost-effective way to give colonia residents safe water at their homes.
"They also don't rely on groundwater, which we know is threatened by drought," Ramos says.
A recently published Texas Department of Agriculture report found that climate instability — which is linked to water restrictions, failed crops, and increased risk of wildfires and floods — is also imperiling the state's food supply, per the Texas Tribune.
Zoom out: "People who have been underserved historically are getting locked into being underserved, because of the finiteness of the resource [water] and the nature of the headwinds that are facing all of us with climate change," SOURCE CEO Cody Friesen tells Axios.
Yes, but: Ponce, of the nonprofit Project Bravo, says the hydropanels only provide enough water for drinking and cooking.
"They do not produce enough water for washing clothes, flushing toilets, bathing, and other functions that are needed to run a household," says Ponce, adding that while the SOURCE project is an "ethical short-term solution," bringing piped water to the colonias is the "ideal solution."
The bottom line: "These families still need the work of ... grassroots groups to make sure our elected officials don't forget them," Ponce tells Axios.
Go deeper