Live music execs grilled on Capitol Hill after Taylor Swift tour mess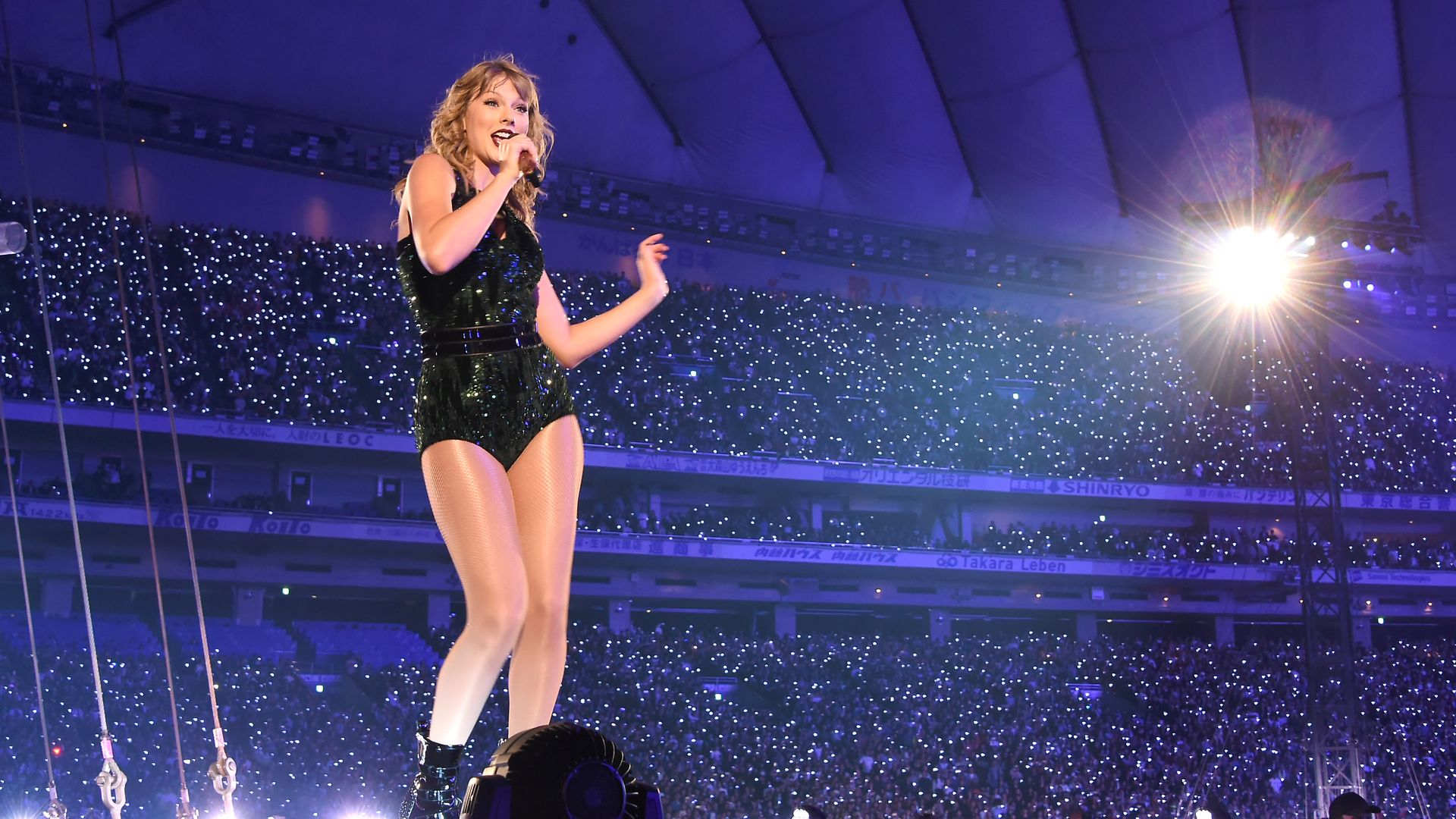 Ticketmaster was in the spotlight on Capitol Hill on Tuesday following the Taylor Swift Eras tour debacle, which saw droves of fans unable to secure tickets to her wildly popular upcoming tour.
Why it matters: It took an artist as big as Taylor Swift to get the conversation about why Ticketmaster controls so much of the live event industry going again, and now lawmakers have their sights on Live Nation, the site's parent company.
In a time of unprecedented antitrust scrutiny over big companies, especially tech, LiveNation was grilled by lawmakers eager to notch wins for consumers.
The hearing featured many puns tied to Swift's lyrics, with senators quoting from some of the star's biggest hits.
Driving the news: Joe Berchtold, president and CFO of LiveNation, which owns Ticketmaster, testified Tuesday before the Senate Judiciary Committee on the state of competition in the ticketing industry.
"The recent onsale experience with Taylor Swift, one of the world's most popular artists, has highlighted the need to address [ticket scalping] issues urgently," said Berchtold. "We were hit with three times the amount of bot traffic than we've ever experienced. [...] This is what led to a terrible consumer experience, which we deeply regret."
"We apologize to the fans, we apologize to Miss Swift. We need to do better."
Other witnesses included Jack Groetzinger, CEO of SeatGeek; Jerry Mickelson, CEO and president of JAM Productions; two antitrust scholars, and a singer-songwriter.
What they're saying: "LiveNation is so powerful that it doesn't even need to exert pressure, it doesn't need to threaten, because people just fall in line," said Sen. Amy Klobuchar (D-MN), who during her opening remarks said young people should have the opportunities to go to concerts like she did when she was young.
"Restoring competition to our markets is about making sure that fans get fair prices and better service," she said.
Sen. Richard Blumenthal (D-CT) urged LiveNation's CEO to do more to root out bots, and said that if the previous agreement allowing the two companies to merge wasn't working for consumers, there should be structural remedies like breaking LiveNation and Ticketmaster up: "Your approach seems to be it's everyone else who's responsible here, not us. I hope that approach will change in the future."
Details: Sen. Mike Lee (R-Utah) said at the end of Tuesday's hearing that more competition reduces prices for consumers, ending his remarks with a quote from Swift's song "Karma."
"Karma's a relaxing thought," he said. "Aren't you envious that for you it's not?"
Context: Ticketmaster has previously blamed the Taylor Swift "Eras" tour debacle on bot attacks and unprecedented demand and interest.
Flashback: LiveNation and Ticketmaster merged in 2010, in a deal that was brokered by the Justice Department during the Obama administration. Senators and witnesses suggested during the hearing Tuesday that the deal should be re-examined.
"As long as LiveNation remains remains both the dominant concert promoter and ticketer of major venues in the U.S., the industry will continue to lack competition and struggle," said SeatGeek's Groetzinger. "Our industry provides a cautionary tale about how behavioral remedies cannot solve the problems inherent in an anti-competitive merger."
Groetzinger said venue owners fear losing out on LiveNation concerts if they don't use Ticketmaster, and the two companies should be broken up.
Go deeper: Ticketmaster blames bots, demand for ticket issues
Ticketmaster cancels general public sale after Taylor Swift shatters record
Editor's note: This story has been updated with details throughout.
Go deeper