Yellen honors U.S.-Africa bond at historic site of slave trade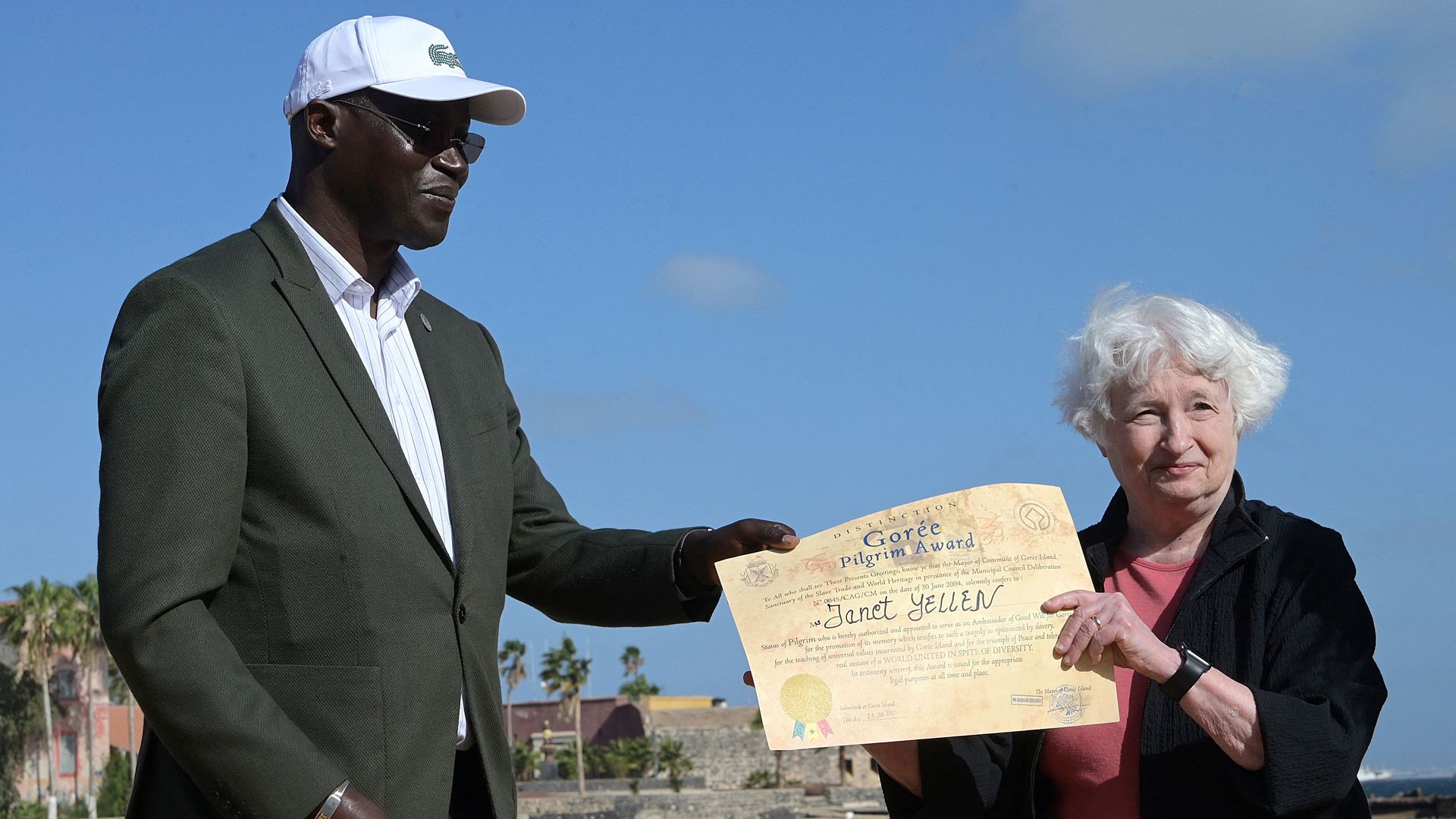 DAKAR, Senegal — On a trip to Gorée Island, Treasury Secretary Janet Yellen condemned the horrors of human bondage while honoring the suffering and spirit of enslaved Africans — as well as their descendants in the United States.
Why it matters: Yellen used the visit to the "House of Slaves" memorial to emphasize the central theme of her 10-day trip: Africa and the U.S. are intimately linked.
It's an argument she has already delivered in Senegal under the shade of an Acacia tree in a dusty village and in the colonial grandeur of the presidential palace. It's one she'll repeat in Zambia and South Africa.
What they're saying: "I can't help but think about the unspeakable cruelty of those who engaged in the slave trade," Yellen said.
"In the United States, what is remarkable is how many African American men and women overcame the odds," she said.
"With remembrance, I believe, can come progress and renewal," she said.
The big picture: The overarching goal of Yellen's trip is to convince business leaders, presidents and everyday Africans that the United States is committed to partnering with Africans as equals.
While China's presence and influence in Africa cannot be avoided, Yellen doesn't want to pressure any countries into an either-or decision.
"This is not a competition with China," Yellen said in Dakar on Saturday, in response to a U.S. reporter's question about Chinese and Russian leaders also hopscotching in the continent.
African governments "don't want to have to choose which countries they're going to become involved with," she said.
The intrigue: Yellen's trip is the first of many conspicuous U.S. visits, including one scheduled by President Biden later this year.
More trips — to different countries — will be announced in the coming months, including a visit by Vice President Kamala Harris and Wally Adeyemo, the Nigerian-born deputy Treasury secretary.
Be smart: For Yellen's tour, no town is too small. On Saturday afternoon, she traveled to a village off a dirt road — and off the electricity grid — to shovel concrete to stabilize new transmission lines, part of a project financed by the Export-Import Bank.
Speaking to approximately 200 villagers over the sound of bleating goats, Yellen promised that the U.S. was "a partner and friend for the long haul."
Go deeper